Kimkalem
Kimberly Kalem
Learning Technology Coordinator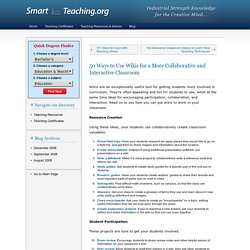 Wikis are an exceptionally useful tool for getting students more involved in curriculum. They're often appealing and fun for students to use, while at the same time ideal for encouraging participation, collaboration, and interaction. Read on to see how you can put wikis to work in your classroom.
DCMO BOCES
Disclosure: Mastery Connect is an advertiser on Free Technology for Teachers . Among other things related to Common Core standards Mastery Connect hosts an active community of teachers who are sharing lesson ideas built around the Common Core standards. Now you can also find more than 300 LearnZillion videos in the Mastery Connect community. LearnZillion videos provide math lessons tied to Common Core standards for grades three through nine. Applications for Education If you would like to include a video element to your classroom lessons, take a look at the LearnZillion videos found in the Mastery Connect community. If you're not familiar with the Mastery Connect community, here are a few highlights: As a member of the community you can browse and download the materials shared by other educators.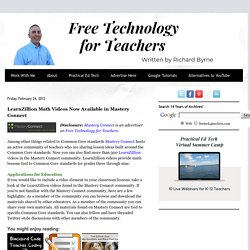 LearnZillion Math Videos Now Available in Mastery Connect
Emerging Education Technologies
Professional Learning Networks
File Storage Educators Have Options for Storing Files on the Cloud A number of reasonably priced cloud-based file storage sites exist, but not all are optimized for education or designed specifically for the classroom. While the services are free upfront, there may still be costs involved, even if they are not readily apparent. As classrooms plug into technology with increasing frequency, schools are naturally turning to cloud-based file storage to keep students' assignments accessible and organized.
Educators Have Options for Storing Files on the Cloud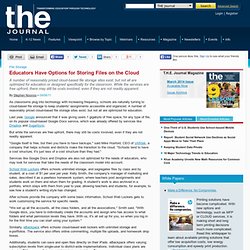 Technology to Promote Thinking
Spific Search
This is a cool way to search! Thanks.. :-) by technerd Jan 31
Learning Management Systems