EDUCATION
100+ Google Tricks for Teachers. It's Google's world, we're just teaching in it.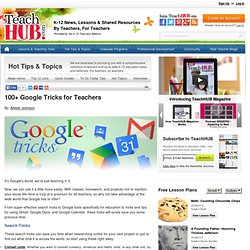 Now, we can use it a little more easily. With classes, homework, and projects–not to mention your social life–time is truly at a premium for all teachers, so why not take advantage of the wide world that Google has to offer? From super-effective search tricks to Google tools specifically for education to tricks and tips for using Gmail, Google Docs, and Google Calendar, these tricks will surely save you some precious time. Why I Gave Up Flipped Instruction. A little over a year ago I wrote a post about the flipped classroom, why I loved it, and how I used it.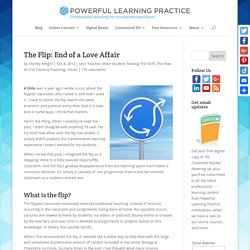 I have to admit, the flip wasn't the same economic and political entity then that it is now. And in some ways, I think that matters. Here's the thing. When I recently re-read the post, I didn't disagree with anything I'd said. Yet my brief love affair with the flip has ended. Brain Based Learning » Blog Archive » Meet TED-Ed, The newest member of the TED family. 13 March 20121,215 viewsNo Comment Yesterday TED, an organization dedicated to Ideas Worth Spreading, announced the launch of a new Youtube channel focused on providing educators with a platform to create high quality, professional animations on almost any topic.
TED has a fabulous track record of creating inspiring educational videos. Now they're reaching out to educators everywhere and offering to help anyone with something to say to create an inspiring video. Videos will be hosted on Youtube's education channel, hopefully making it easier for teachers to access content behind school filters and firewalls and without having to display ads. Fabulous news. 10 Brain-Based Learning Laws That Trump Traditional Education. If you play cards you know the importance of a trump.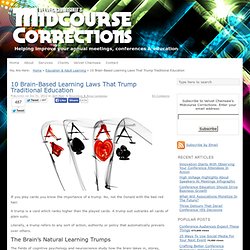 No, not the Donald with the bad red hair. A trump is a card which ranks higher than the played cards. Digital Learning Day :: Toolkits | Best Practices in Instructional Design & Use of Learning Technologies. Encouraging Collaboration in an Online Course | I Love Instructional Design. First eTextbook is Free for Computer or iPad - Offer Ends Soon. Flippin' heck –is the whole of education doing things backwards? The TES has just published an article on 'flipped learning' with views from myself, Salman Khan and others.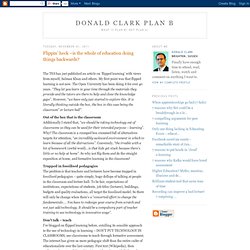 My first point was that flipped learning is not new. The Open University has been doing it for over 40 years. Cursive seems soon to join the typewriter, VCR player and flip-phone as relics of a past age. - South Florida Sun-Sentinel.com. October 30, 2011|By Cara Fitzpatrick, Sun Sentinel When asked for their John Hancock, future generations might print it in block letters or scrawl some scribbles across the page.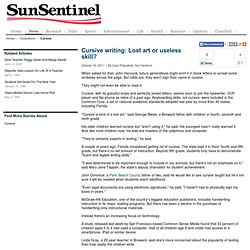 But odds are, they won't sign their name in cursive. They might not even be able to read it. Add Audio to Your Courses | The Learning House, Inc. Blog. In an effort to incorporate more media into online courses, instructors often consider adding audio and video content.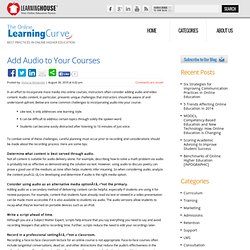 Audio content, in particular, presents unique challenges that instructors should be aware of and understand upfront. Below are some common challenges to incorporating audio into your course: Like text, it only addresses one learning style.It can be difficult to address certain topics through solely the spoken word.Students can become easily distracted after listening to 10 minutes of just voice. To combat some of these challenges, careful planning must occur prior to recording and considerations should be made about the recording process. The Value of Instruction. When I first began teaching, I bristled with the desire to instruct, inspire, coach, and enlighten.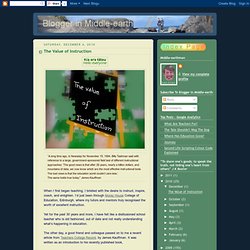 I'd just been through Moray House College of Education, Edinburgh, where my tutors and mentors truly recognised the worth of excellent instruction. Yet for the past 30 years and more, I have felt like a disillusioned school teacher who is old fashioned, out of date and not really understanding what's happening in education. The other day, a good friend and colleague passed on to me a recent article from Teachers College Record, by James Kauffman.
Also see INSTRUCTIONAL DESIGN.
---