Kilakro
Google+, Google Plus. Google Tips, Tricks & Hacks.
Gaming
S Lair: Preserving the Classics. The Vault contains every game ever released in the US for the Nintendo, Super Nintendo, Genesis, Nintendo 64, Game Boy, Game Boy Color, and Game Boy Advance.
Each game has detailed information, screen shots, codes, user submitted ratings and reviews, and more! Nothing beats the feel of a real controller in your hand, so now you can purchase games and consoles here at Vimm's Lair and have them shipped right to your door! Hundreds of used NES and SNES games are currently available, and all proceeds go towards the continued maintenance of Vimm's Lair.
Need help? Don't know what to do? Poor Folk Bows. You Will Never Kill Piracy, and Piracy Will Never Kill You. Survive a Zombie Attack by ~ChristinasHighJinks on deviantART. DIY Energy Projects – Solar generators, wind power… Creating a low budget composting toilet For a number of years, we have used a composting toilet (often called a Joe Jenkins Sawdust Toilet) when our water / sewer solution would not support a flush toilet. up to 40% of our water usage is used to turn fertilizer into sewage, by mixing it with drinking water.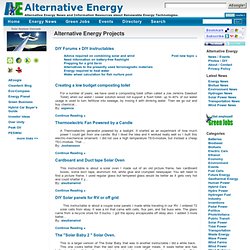 Then we go out and buy chemical...By: sspence Continue Reading » Thermoelectric Fan Powered by a Candle.
Green Living. Game Theory. Funkyrockerextreme. Engines. Life Hacks: Institute of Hacking.
---