Webcomics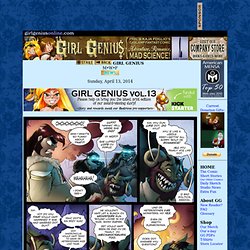 Girl Genius is written by Professors Phil & Kaja Foglio of TPU, with drawings by Prof. P. Foglio. Volume One was inked by Brian Snoddy. Volumes Two and Three were colored by Mark McNabb.
Errant Story » Archive » [CT] Don't
Freefall 00001
The unfeasible archive of Beaver and Steve!
Earthsong ~ An Online Graphic Novel by Crystal Yates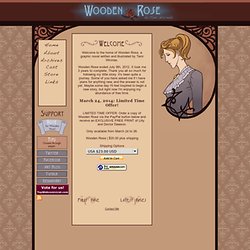 Welcome to the home of Wooden Rose, a graphic novel written and illustrated by Tami Wicinas. Wooden Rose ended July 9th, 2012. It took me 3 years to complete. Thank you all so much for following my little story.
Wooden Rose
Gaia | Fantasy Webcomic Comic Graphic Novel | » Archive » Shadowdancers 006
Mortal Half Chapter 7, Page 30
Mortal Half Chapter 15, Page 43 Announcement!- December 2013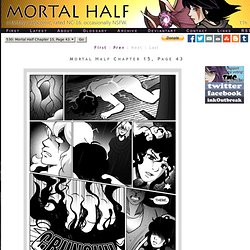 Strays Online - Page 219
- Home
April 13, 2012, at 12:00 AM Whatever the movie, show, or comic you're in, always listen to your second-in-command. They are always right. And that's a wrap for this chapter!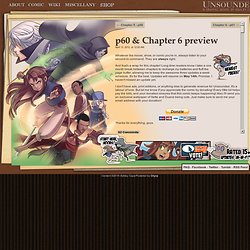 Unsounded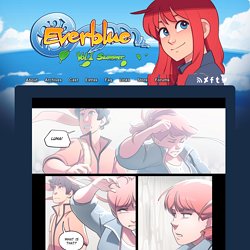 Author's Comment Done! Sorry about the wait. I'm still job hunting at the moment >_> Thanks for all the vote incentive suggestions last time.
Devilbear: The Grimoires of Bearalzebub Webcomic
Home - Twokinds - Next Update: Thursday
Grrl Power - Archives
The Other Grey Meat - TOGM Glorious TOGM!
Tres politique
News & Comments posted 01-15-2014 at 12:00 am If you're interested in the Paleo diet, which I follow along with one of my room-mate, there are one or two interesting articles about it, and I'm sure google can tell you more about it.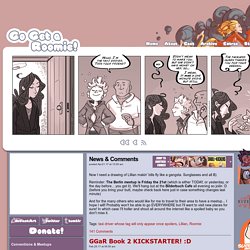 Witch Hunter :: Chapter 1 - Page 34
Amazing Agent Luna :: File 03 - Page 28
Amazing Agent Jennifer :: Control Agent
Aoi House :: Something Deeper
April 2, 2014 - The spouse of Mischa Jones, creator of Absurd and one of WLP's most frequent shirt-art providers has some truly hefty medical bills to pay. We'd love it if some of our loyal and generous fans would give them a little help... which is why we've made their fundraiser our current crowd-forward. - Kris@WLP March 12, 2014 - A frequent and long-time donor to WLP projects sent us the BAR-1 commission from last A-Kon that we're using for this week's filler! See you next week! February 19, 2014 - The Great Luke Ski has done a parody song about our comic! Listen to it here and vote for it on the Dementia Top 20 here!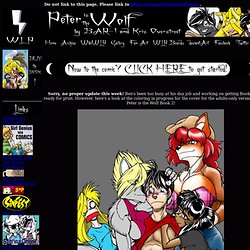 PETER IS THE WOLF by BAR-1 & Kris Overstreet
OCTOBER 30, 2013 I'm contributing art, along with Shouri on colors, to the Nelvana of the Northern Lights Kickstarter. Ends on Nov. 1st, so check it out! Also, Eerie Cuties volume 3 is at the printer and will ship mid-November. We're taking orders right now at our store.
Eerie Cuties :: Your dearest friend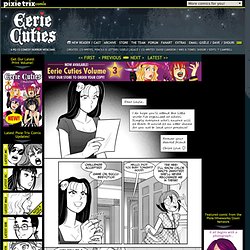 To wet your appetite with the bonus story found in our new EC book, here's a sample page of the 8 page print-exclusive bonus story. We're pretty happy with the story, so we hope you'll like it! Also, the crossover between Magick Chicks and Eerie Cuties is in full swing. Be sure to visit both sites for twice the fun! Annnnd, if you're an artist/creator who'd be interested in contributing a guest comic for either Eerie Cuties or Magick Chicks, we're looking for comics or illustrations that we could run during the Xmas & New Year holidays.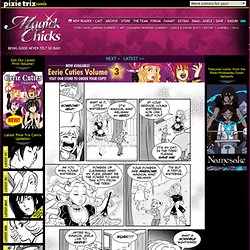 Magick Chicks :: tis but a trifle
I showed Shiei a cover of Larry Welz's Cherry #12 the other day and asked her to imagine Aoi House's Echiboo in Sandy's hand there instead of a gerbil. Well, Shiei did better than just imagine... she actually put Echiboo on the cover!! AUGUST 7, 2013 Vampire Cheerleaders returns Monday, August 12 for its fourth crazy story arc! See you then! JULY 23, 2013 Vampire Cheerleaders Must Die! is now available in print and ebook.
Vampire Cheerleaders :: Big Big Finish