Internet_tools
Your email has been sent. Thank you. Operating System X11 Ubuntu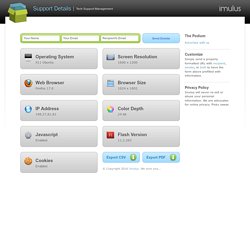 MyStickies lets you save the web for later To put it simply, MyStickies allows you to place little yellow squares of digital paper anywhere and everywhere you feel like in the whole wide web. Along with the ability to put sticky notes on webpages mystickies offers a powerful interface to browse, search, sort, edit and generally have a wonderfull time with your sticky notes from any computer that has internet access. Goodbye to Bookmarks? MyStickies is like bookmarks on steroids. While bookmarks store the title of a webpage and its link, they do little to help you find what was important about the page and why exactly you chose to mark it.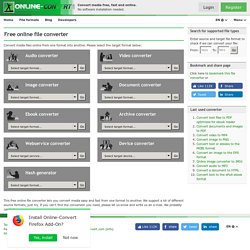 Convert media files online from one format into another. Please select the target format below: This free online file converter lets you convert media easy and fast from one format to another. We support a lot of different source formats, just try. If you can't find the conversion you need, please let us know and write us an e-mail. We probably can help you...
Dear visitor of TuneTune, As you may have heard already, Google has send out cease-and-desist to some sites that contain the same functionality as TuneTune (Source). Google threatens with "legal consequences" to sites that won't comply. A few months ago, the servers of TuneTune had already been blocked from accessing YouTube. We created a work-around at that time, but it is very money and time-consuming to continue this way. We decided to shutdown TuneTune to prevent legal consequences from Google, the company with the slogan "don't be evil".