Others
Paper Designs. Movies from an Alternate Universe. Imgur. Minimalism Poster Designs. Enquête 2014 sur Mozilla Firefox - Samedi, 12 Avril 2014 Question : 1 sur 4 De quel sexe êtes-vous ?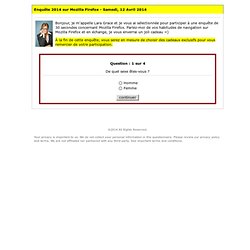 Question : 2 sur 4 À partir d'où utilisez-vous Mozilla Firefox ? Question : 3 sur 4. The Book Surgeon. Using knives, tweezers and surgical tools, Brian Dettmer carves one page at a time.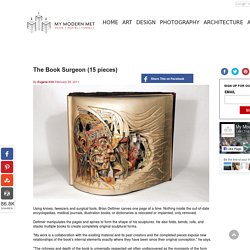 Nothing inside the out-of-date encyclopedias, medical journals, illustration books, or dictionaries is relocated or implanted, only removed. Dettmer manipulates the pages and spines to form the shape of his sculptures. He also folds, bends, rolls, and stacks multiple books to create completely original sculptural forms. "My work is a collaboration with the existing material and its past creators and the completed pieces expose new relationships of the book's internal elements exactly where they have been since their original conception," he says. "The richness and depth of the book is universally respected yet often undiscovered as the monopoly of the form and relevance of the information fades over time.
---