Google services/products & related to google
Google Isn't A Monopoly If Consumers Choose Speed Over Options. While the Federal Trade Commission absolved Google of monopoly accusations earlier today for prioritizing its own products in search results, it's questionable whether the search giant can ever be considered a monopoly, if consumers continue to rely on Google to offer up solutions without the inconvenience of comparison shopping other services.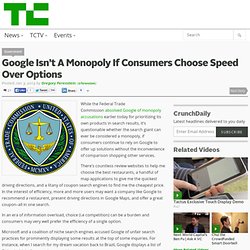 There's countless review websites to help me choose the best restaurants, a handful of map applications to give me the quickest driving directions, and a litany of coupon search engines to find me the cheapest price. In the interest of efficiency, more and more users may want a company like Google to recommend a restaurent, present driving directions in Google Maps, and offer a great coupon–all in one search. In an era of information overload, choice (i.e competition) can be a burden and consumers may very well prefer the efficiency of a single option. Code University - Google Code. Google Code. Publications by Googlers in Algorithms and Theory. Research. MarakanaTechTV's Channel. Upload Open Source Training Subscription preferences Loading...
GoogleDevelopers's Channel. This morning we welcomed 6,000 developers to our 7th annual Google I/O developer conference.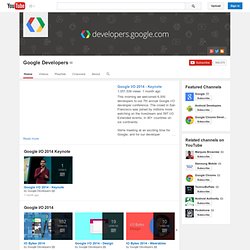 The crowd in San Francisco was joined by millions more watching on the livestream and 597 I/O Extended events, in 90+ countries on six continents. We're meeting at an exciting time for Google, and for our developer community. There are now one billion of you around the world who use an Android device. One billion. Google. Google Plus vs. Facebook: Who's Winning? By Susan Mayes Ostrander | The Daily Muse There's a hot new social media contender in town: She's just shy of three months old and already boasts more than 25 million users -- the fastest growing platform of her kind.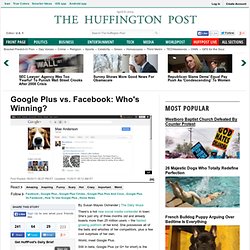 She possesses all of the bells and whistles of her competitors, plus a few cool surprises of her own. World, meet Google Plus. Still in beta, Google Plus (or G+ for short) is the search engine giant's latest attempt at social networking dominance (and the successor to its similarly-veined -- but failed -- ventures, Google Wave and Google Buzz). Your feed is ready for the world. Now what? How Google's Self-Driving Car Works. Once a secret project, Google's autonomous vehicles are now out in the open, quite literally, with the company test-driving them on public roads and, on one occasion, even inviting people to ride inside one of the robot cars as it raced around a closed course.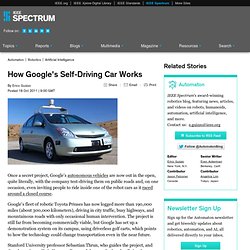 Google's fleet of robotic Toyota Priuses has now logged more than 190,000 miles (about 300,000 kilometers), driving in city traffic, busy highways, and mountainous roads with only occasional human intervention. The project is still far from becoming commercially viable, but Google has set up a demonstration system on its campus, using driverless golf carts, which points to how the technology could change transportation even in the near future. Stanford University professor Sebastian Thrun, who guides the project, and Google engineer Chris Urmson discussed these and other details in a keynote speech at the IEEE International Conference on Intelligent Robots and Systems in San Francisco last month. Google Plus. How Google's Self-Driving Car Works. Google's Self-Driving Golf Carts.
Plusone-button. Documentation You can add and customize the +1 button to meet the needs of your website, such as modifying the button size and load technique.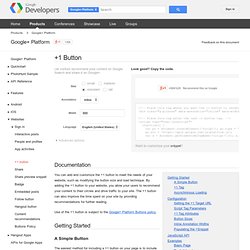 By adding the +1 button to your website, you allow your users to recommend your content to their circles and drive traffic to your site. The +1 button can also improve the time spent on your site by providing recommendations for further reading. Business Solutions. Welcome to Google Advertising Programs. "Zygote Body" by Zygote. From the Author: Explore a detailed 3D model of the human body.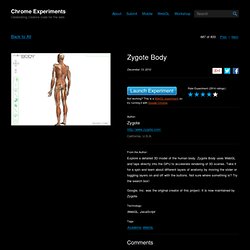 Zygote Body uses WebGL and taps directly into the GPU to accelerate rendering of 3D scenes. Take it for a spin and learn about different layers of anatomy by moving the slider or toggling layers on and off with the buttons. Not sure where something is? Try the search box! Google's First Production Server.jpg - Wikipedia, the free encyclopedia. Search Engine Optimization (SEO) - Webmaster Tools Help. SEO is an acronym for "search engine optimization" or "search engine optimizer.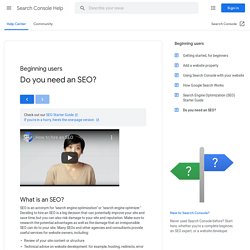 " Deciding to hire an SEO is a big decision that can potentially improve your site and save time, but you can also risk damage to your site and reputation. Make sure to research the potential advantages as well as the damage that an irresponsible SEO can do to your site. Webmaster Tools Help. Preview: Privacy FAQ – Policies & Principles. How does Google protect my privacy?
Why does Google store search engine logs data? Why are search engine logs kept before being anonymized? How can I remove information about myself from Google's search results? Preview: Privacy Policy – Policies & Principles. There are many different ways you can use our services – to search for and share information, to communicate with other people or to create new content.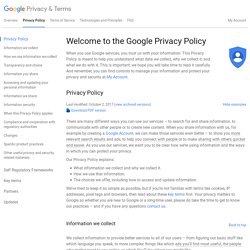 When you share information with us, for example by creating a Google Account, we can make those services even better – to show you more relevant search results and ads, to help you connect with people or to make sharing with others quicker and easier. As you use our services, we want you to be clear how we're using information and the ways in which you can protect your privacy. Our Privacy Policy explains: Terms of Service – Policies & Principles. Welcome to Google! The below terms are effective April 14, 2014. To view previous versions click here. Thanks for using our products and services ("Services"). The Services are provided by Google Inc. Dart – will Google make HTML5 applications viable? | Colin Eberhardt.
Just a few weeks ago I wrote a blogpost "Can Microsoft 'fix' JavaScript and make HTML5 applications viable? ", where I described some of the issues with JavaScript and how these could be solved by Microsoft if they wrote a C# to JavaScript compiler. Just a couple of days ago it was announced that Google have been working on a new language that they hope will replace JavaScript and its deficiencies. This new language is called 'Dart'. Google Voice. Google Wave Developer Preview at Google I/O 2009.
---