Archaeology
Archaeology diciplines, Branches of Archaeology / Anthropology, Diciplines of Anthropology. Archeology in Peru. The Archaeology Channel - Welcome. Archaeology Homepage. Accessibility navigation University Of Reading Archaeology World-leading Archaeology.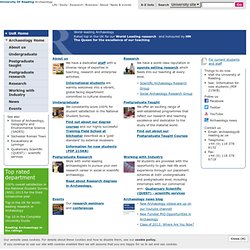 Articles - archaeology/history
Meritime Archaeology. Computers and the Humanities, Volume 35, Number 2. An appropriate standardized data model is necessary tofacilitate electronic publication and analysis ofarchaeological data on the World Wide Web.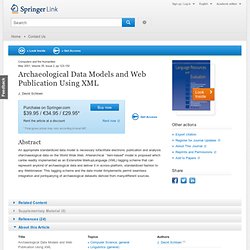 Ahierarchical ``item-based'' model is proposed which canbe readily implemented as an Extensible MarkupLanguage (XML) tagging scheme that can represent anykind of archaeological data and deliver it in across-platform, standardized fashion to any Webbrowser. This tagging scheme and the data model itimplements permit seamless integration and jointquerying of archaeological datasets derived from manydifferent sources. History - Games. Archaeological Institute of America - Archaeology - Site Preservation. The Archaeological Conservancy. Notice: The Archaeological Conservancy's online services do not use OpenSSL, therefore we are not affected by the Heartbleed Bug.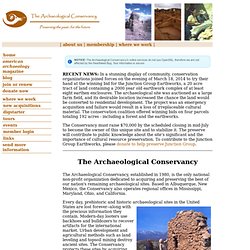 Your information is secure. RECENT NEWS: In a stunning display of community, conservation organizations joined forces on the evening of March 18, 2014 to try their hand at the winning bid for the Junction Group Earthworks, a 20 acre tract of land containing a 2000 year old earthwork complex of at least eight earthen enclosures. The archaeological site was auctioned as a large farm field, and its desirable location increased the chance the land would be converted to residential development.
The project was an emergency acquisition and failure would result in a loss of irreplaceable cultural material. The conservation coalition offered winning bids on four parcels totaling 192 acres - including a forest and the earthworks. Interactive Dig - Archaeology Magazine's Online Excavations. UK Archaeology Map. Open Archive > Home. Cambridge Journals Online - Archaeological Reports. Archaeology. Digital Dead Sea Scrolls.
Dig™ - The archaeology magazine for kids!
---