Archaeology
Archaeology diciplines, Branches of Archaeology / Anthropology, Diciplines of Anthropology
The Preceramic Period 10,000 – 1,800 b.C. The Preceramic Period is considered between the 10,000 – 1,800 years b.C. according to the research proposed by John Rowe (1962) and Edward Lanning (1967), based on a series of common cultural and technological facts. The Preceramic is defined in three periods: The Early Preceramic 10,000 – 6, 000 b.
Archeology in Peru
Video News from TAC - March 2013 Play with Windows Media Player: 300k or 700k A Tomb Raider in Cyprus; film clips from TAC Festival 2013 (1) During his stay on the island from 1865 until 1876, the American consul in Cyprus, Luigi Cesnola, became an amateur archaeologist to profit from the trade of antiquities. He gathered up more than 35,000 objects. When local authorities prohibited the export of this enormous collection, Cesnola loaded his treasures onto boats and shipped them to New York. (2) Lisa Westwood launches our preview series for The Archaeology Channel International Film and Video Festival (7-11 May 2013, Eugene, Oregon) with nine short clips.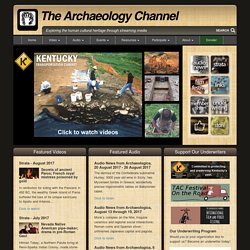 Accessibility navigation University Of Reading Archaeology World-leading Archaeology
Archaeology Homepage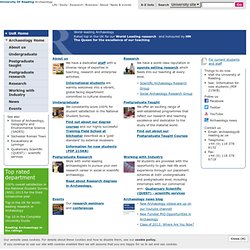 Articles - archaeology/history
Computers and the Humanities, Volume 35, Number 2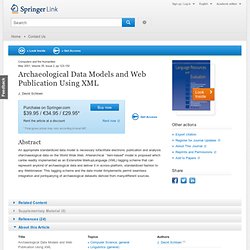 An appropriate standardized data model is necessary tofacilitate electronic publication and analysis ofarchaeological data on the World Wide Web. Ahierarchical ``item-based'' model is proposed which canbe readily implemented as an Extensible MarkupLanguage (XML) tagging scheme that can represent anykind of archaeological data and deliver it in across-platform, standardized fashion to any Webbrowser. This tagging scheme and the data model itimplements permit seamless integration and jointquerying of archaeological datasets derived from manydifferent sources.
History - Games
The Archaeological Conservancy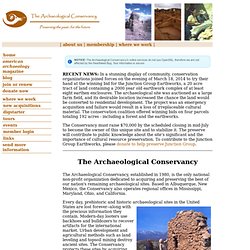 BREAKING NEWS: In a stunning display of community, conservation organizations joined forces on the evening of March 18, 2014 to try their hand at the winning bid for the Junction Group Earthworks, a 20 acre tract of land containing a 2000 year old earthwork complex of at least eight earthen enclosures. The archaeological site was auctioned as a large farm field, and its desirable location increased the chance the land would be converted to residential development. The project was an emergency acquisition and failure would result in a loss of irreplaceable cultural material. The conservation coalition offered winning bids on four parcels totaling 192 acres - including a forest and the earthworks. The Conservancy must raise $70,000 by the scheduled closing in mid-July to become the owner of this unique site and to stabilize it. The preserve will contribute to public knowledge about the site's significant and the importance of cultural resource preservation.
We bring the excavations to you! Follow online as ancient civilizations are unearthed. Get full access to frequently updated field notes, Q&A with archaeologists, personal journals, and more! Cahal Pech, BelizeRecent excavations have suggested that Cahal Pech, which was most likely settled by Maya from Guatemala, is one of the earliest Maya settlements in Belize.
Interactive Dig - Archaeology Magazine's Online Excavations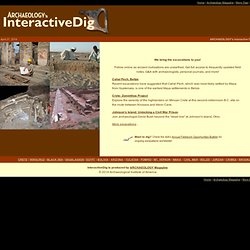 UK Archaeology Map
Open Archive > Home
Cambridge Journals Online - Archaeological Reports
Archaeology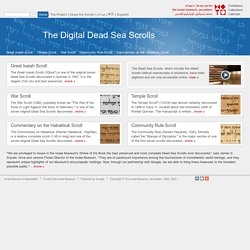 Great Isaiah Scroll The Great Isaiah Scroll (1QIsaa) is one of the original seven Dead Sea Scrolls discovered in Qumran in 1947. It is the largest (734 cm) and best preserved...more » The Dead Sea Scrolls, which include the oldest known biblical manuscripts in existence, have been digitized and are now accessible online. view »
dig™ - The archaeology magazine for kids!