Archaeology
Archaeology diciplines, Branches of Archaeology / Anthropology, Diciplines of Anthropology
Archeology in Peru
Accessibility navigation
Archaeology Homepage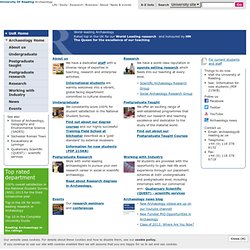 Articles - archaeology/history
Computers and the Humanities, Volume 35, Number 2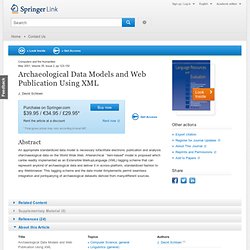 An appropriate standardized data model is necessary tofacilitate electronic publication and analysis ofarchaeological data on the World Wide Web. Ahierarchical ``item-based'' model is proposed which canbe readily implemented as an Extensible MarkupLanguage (XML) tagging scheme that can represent anykind of archaeological data and deliver it in across-platform, standardized fashion to any Webbrowser. This tagging scheme and the data model itimplements permit seamless integration and jointquerying of archaeological datasets derived from manydifferent sources.
History - Games
The Archaeological Conservancy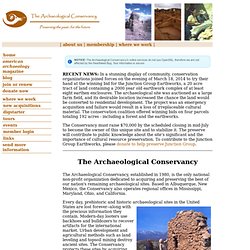 The Archaeological Conservancy, established in 1980, is the only national non-profit organization dedicated to acquiring and preserving the best of our nation's remaining archaeological sites. Based in Albuquerque, New Mexico, the Conservancy also operates regional offices in Mississippi, Maryland, Ohio, and California. Every day, prehistoric and historic archaeological sites in the United States are lost forever-- along with the precious information they contain. Modern-day looters use backhoes and bulldozers to recover artifacts for the international market. Urban development and agricultural methods such as land leveling and topsoil mining destroy ancient sites.
Interactive Dig - Archaeology Magazine's Online Excavations
UK Archaeology Map
Open Archive > Home
Cambridge Journals Online - Archaeological Reports
Archaeology
dig™ - The archaeology magazine for kids!