Kgabela
Karina Gabela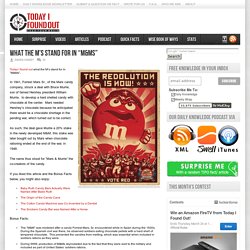 What the M's stand for in "M&Ms"
Today I found out what the M's stand for in "M&Ms". In 1941, Forrest Mars Sr., of the Mars candy company, struck a deal with Bruce Murrie, son of famed Hershey president William Murrie, to develop a hard shelled candy with chocolate at the center. Mars needed Hershey's chocolate because he anticipated there would be a chocolate shortage in the pending war, which turned out to be correct. As such, the deal gave Murrie a 20% stake in the newly developed M&M; this stake was later bought out by Mars when chocolate rationing ended at the end of the war, in 1948. The name thus stood for "Mars & Murrie" the co-creators of the candy.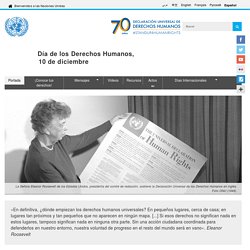 El Día de los Derechos Humanos (el 10 de diciembre) presenta cada año una oportunidad para celebrar los derechos humanos, destacar una cuestión específica y abogar por el pleno disfrute de todos los derechos humanos por todos y en todas partes. La cuestión que acaparó la atención este año es el derecho de todas las personas –mujeres, niños, minorías, personas con discapacidad, la población indígena, los pobres y los marginados– a hacer oír su voz en la vida pública y a ser incluidos en el proceso de adopción de decisiones políticas. Esos derechos humanos –los derechos a la libertad de opinión y de expresión, a la libertad de reunión y asociación pacíficas y a participar en el gobierno (artículos 19, 20 y 21 de la Declaración Universal de Derechos Humanos )- han estado en el centro de los cambios históricos en el mundo árabe desde hace dos años, período en que millones de personas se han lanzado a la calle para demandar cambios.
Día de los Derechos Humanos 2012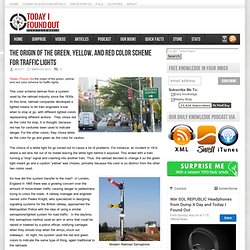 Today I found out the origin of the green, yellow, and red color scheme for traffic lights. This color scheme derives from a system used by the railroad industry since the 1830s. At this time, railroad companies developed a lighted means to let train engineers know when to stop or go, with different lighted colors representing different actions. They chose red as the color for stop, it is thought, because red has for centuries been used to indicate danger. For the other colors, they chose white as the color for go and green as the color for caution. The choice of a white light for go turned out to cause a lot of problems.
The Origin of the Green, Yellow, and Red Color Scheme for Traffic Lights
Why do we flirt?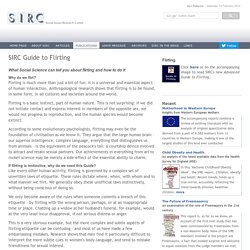 How To Find The Perfect Skinny Jeans
Horarios y direcciones - Museo della Civiltà Romana
TRIENNALE - PALAZZO DELL'ARTE - Milano - Exibart.com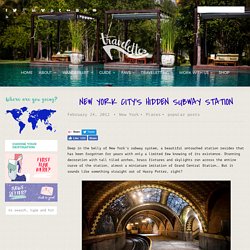 Deep in the belly of New York's subway system, a beautiful untouched station resides that has been forgotten for years with only a limited few knowing of its existence. Stunning decoration with tall tiled arches, brass fixtures and skylights run across the entire curve of the station, almost a miniature imitation of Grand Central Station… But it sounds like something straight out of Harry Potter, right? It was opened in 1904, with the hope of making it the crowning glory of the New York subway system in elegant architecture and a place for commemorative plaques to honour the work that had resulted in such a successful underground mass transit system. It was to be the original southern terminus of the first 'Manhattan Main Line'; however the station was closed and boarded up in 1945.
*UNIVERSITY LIFESTYLE*
Mas de tres años con la misma cabecera y hoy cambia. Abrí el blog porque supe que al entrar en la universidad mi vida iba a cambiar y quería ver como yo también cambiaba a lo largo de los años. Este curso ha sido el final de un ciclo y creo que llega otro giro importante en mi vida. El año que viene continuo mis estudios de arquitectura, pero en Milán.
There comes a time in most relationships when you must decide to, excuse my Texan, 'shit or get off the pot.' Relationship milestones are no mystery. There's the "getting to know one another and going on dates" phase, the "okay, we're more than casual but not calling each other boyfriend or girlfriend (you know, because it's really trendy to have commitment issues these days)" phase, followed by the "I mean, it's obvious that we're together exclusively, but we haven't really talked about it" phase, and finally the "yeah, we've been dating for years" phase. Maybe there are a few I overlooked, but at each intersection of relationship stages, a moment of decision arises. To stay or not to stay? That is the question.
15 Signs It's Time To Walk Away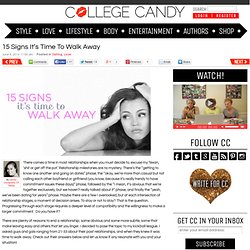 10 paradojas de innovar y emprender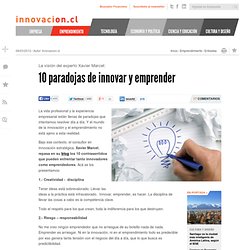 La vida profesional y la experiencia empresarial están llenas de paradojas que intentamos resolver día a día. Y el mundo de la innovación y el emprendimiento no está ajeno a esta realidad. Bajo ese contexto, el consultor en innovación estratégica, Xavier Marcet , repasa en su blog los 10 contrasentidos que pueden enfrentar tanto innovadores como emprendedores .
Worth St Passenger service: 1904-1962. Existing abandoned portions: 2 platforms (on tracks in service).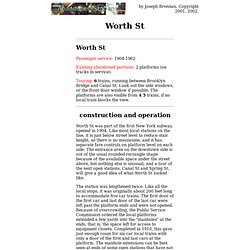 Abandoned Stations : Worth St
City Hall Subway Station
horoscopos/ astrology/dreams
all about books and writting
summer ideas in Quito- Ecuador
Posted by Site Administrator in Online Learning May 7th, 2009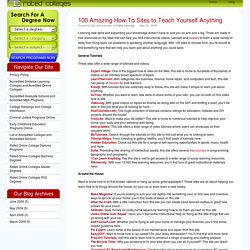 Women's Health Quizzes, Astrology Quizzes, Celebrity Quizzes, Personality Quizzes, Relationship Quizzes
Into The Wild Bus Alaska | Visiting the magic bus Alaska | Stampede Trail Bus Alaska
Chris McCandless 142 Magic Bus Book
John Jay Osborn, Jr.
John Jay Osborn, Jr. is the author of the bestselling novel, The Paper Chase , a fictional account of one Harvard Law School student's battles with the imperious Professor Charles Kingsfield. The book was made into a movie starring John Houseman and Timothy Bottoms . Houseman won an Oscar for his performance as contracts professor Kingsfield. The Paper Chase also became a popular television series . Osborn wrote many of the scripts.
VNU Servicio Voluntariado en Línea | Inicio
Surya Namaskar or the Sun Salutation is a most complete series of postures.
Stay in one of our rustic cabins, accommodating up to four, or our bunkhouse, holding up to six. Each has air-conditioning/heating, private bath, refrigerator and a porch from which to enjoy the beautiful Texas Hill Country. Included in your stay are two meals (breakfast and lunch) provided by our cook and 2 hours of horseback riding per day. Other special activities can be planned such as barbeques, cowboy breakfasts, and hayrides. After a busy day at the ranch you are welcome to spend your evenings as you wish. Choose to sample the restaurants in the area or enjoy the quiet and relaxing evenings at the ranch, cooking your own meals on the barbecue pits provided or using the microwave in our lodge.
Rates for our Texas family guest ranch Running-R
Love & Dating - how to videos Dating, Sex, Kissing (Most Viewed)
Websites That Will Make You Smarter
Forget formal schooling for 30 minutes. Here are outstanding examples of how a simple half-hour of web reading can increase your ability to understand and influence the world around you. Want to get smarter at understanding taxes or the economy? Want to better understand your own risk fears or why your teenager is so defiant? Want to improve your leadership ability at the office?
all about careers and college
gap year and summer programs