Kgabela
Karina Gabela
Literature and Books
What the M's stand for in "M&Ms" Today I Found Out what the M's stand for in "M&Ms".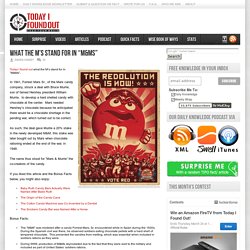 In 1941, Forrest Mars Sr., of the Mars candy company, struck a deal with Bruce Murrie, son of famed Hershey president William Murrie, to develop a hard shelled candy with chocolate at the center. Mars needed Hershey's chocolate because he anticipated there would be a chocolate shortage in the pending war, which turned out to be correct. As such, the deal gave Murrie a 20% stake in the newly developed M&M; this stake was later bought out by Mars when chocolate rationing ended at the end of the war, in 1948. The name thus stood for "Mars & Murrie" the co-creators of the candy. Día de los Derechos Humanos 2012. «Con ocasión de la conmemoración del vigésimo aniversario de la Declaración y el Programa de Acción de Viena redoblemos nuestros esfuerzos para cumplir la responsabilidad colectiva de promover y proteger los derechos y la dignidad de todas las personas en todo el mundo.»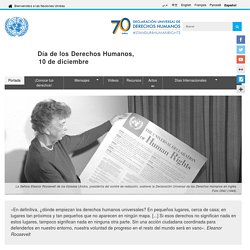 Secretario General de las Naciones Unidas, Ban Ki-moon La Asamblea General de las Naciones Unidas proclamó el 10 de diciembre como Día de los Derechos Humanos en 1950, para señalar a la atención de «los pueblos del mundo» la Declaración Universal de Derechos Humanos como ideal común de todos los pueblos y todas las naciones. El Día de los Derechos Humanos de 2013 cobra una importancia especial en este año en el cual se cumple el 20º aniversario del establecimiento del mandato del Alto Comisionado para los Derechos Humanos.
The Origin of the Green, Yellow, and Red Color Scheme for Traffic Lights. Today I Found Out the origin of the green, yellow, and red color scheme for traffic lights.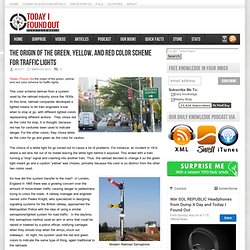 This color scheme derives from a system used by the railroad industry since the 1830s. At this time, railroad companies developed a lighted means to let train engineers know when to stop or go, with different lighted colors representing different actions. They chose red as the color for stop, it is thought, because red has for centuries been used to indicate danger. For the other colors, they chose white as the color for go and green as the color for caution. The choice of a white light for go turned out to cause a lot of problems. Guide to flirting. Why do we flirt?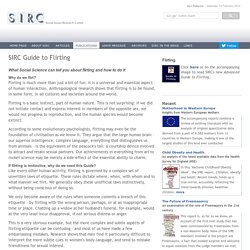 Flirting is much more than just a bit of fun: it is a universal and essential aspect of human interaction. Anthropological research shows that flirting is to be found, in some form, in all cultures and societies around the world. Flirting is a basic instinct, part of human nature. How To Find The Perfect Skinny Jeans. Horarios y direcciones - Museo della Civiltà Romana. TRIENNALE - PALAZZO DELL'ARTE - Milano.
Derecho
New York City's Hidden Subway Station. Deep in the belly of New York's subway system, a beautiful untouched station resides that has been forgotten for years with only a limited few knowing of its existence.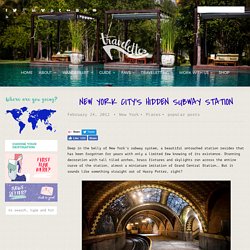 Stunning decoration with tall tiled arches, brass fixtures and skylights run across the entire curve of the station, almost a miniature imitation of Grand Central Station… But it sounds like something straight out of Harry Potter, right? It was opened in 1904, with the hope of making it the crowning glory of the New York subway system in elegant architecture and a place for commemorative plaques to honour the work that had resulted in such a successful underground mass transit system. It was to be the original southern terminus of the first 'Manhattan Main Line'; however the station was closed and boarded up in 1945. *UNIVERSITY LIFESTYLE* 15 Signs It's Time To Walk Away.
There comes a time in most relationships when you must decide to, excuse my Texan, 'shit or get off the pot.'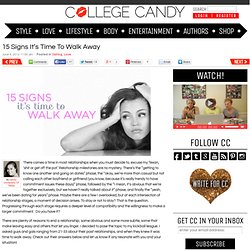 Relationship milestones are no mystery. There's the "getting to know one another and going on dates" phase, the "okay, we're more than casual but not calling each other boyfriend or girlfriend (you know, because it's really trendy to have commitment issues these days)" phase, followed by the "I mean, it's obvious that we're together exclusively, but we haven't really talked about it" phase, and finally the "yeah, we've been dating for years" phase. Maybe there are a few I overlooked, but at each intersection of relationship stages, a moment of decision arises. To stay or not to stay? That is the question. 10 paradojas de innovar y emprender. La vida profesional y la experiencia empresarial están llenas de paradojas que intentamos resolver día a día.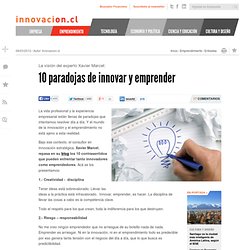 Y el mundo de la innovación y el emprendimiento no está ajeno a esta realidad. Bajo ese contexto, el consultor en innovación estratégica, Xavier Marcet, repasa en su blog los 10 contrasentidos que pueden enfrentar tanto innovadores como emprendedores. Abandoned Stations : Worth St. Worth St Passenger service: 1904-1962.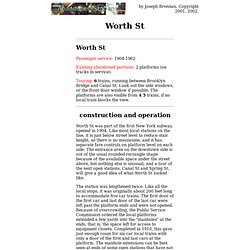 Existing abandoned portions: 2 platforms (on tracks in service). City Hall Subway Station.
Interesting blogs
Horoscopos/ astrology/dreams. Funn facts. Free books/ audio books. All about books and writting. Tips for a beter life. Inspiration. Fashion. Bedroom design. Picture quotes. Helping the world.
100 Amazing How-To Sites to Teach Yourself Anything | Rated Colleges - StumbleUpon. Posted by Site Administrator in Online Learning May 7th, 2009 Learning new skills and expanding your knowledge doesn't have to cost you an arm and a leg.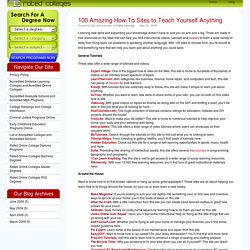 There are loads of free resources on the Web that can help you find instructional videos, tutorials and classes to learn a wide variety of skills from fixing basic car problems to speaking another language. With 100 sites to choose from, you're bound to find something here that will help you learn just about anything you could want. Women's Health Quizzes, Astrology Quizzes, Celebrity Quizzes, Personality Quizzes, Relationship Quizzes. My Home Page. Languages - Italian: All you need to start learning Italian. Into The Wild Bus Alaska | Visiting the magic bus Alaska | Stampede Trail Bus Alaska. Chris McCandless 142 Magic Bus Book The Bus from the story has many names - The Magic Bus, The Stampede Trail Bus, the 142 Bus, Fairbanks Bus etc etc.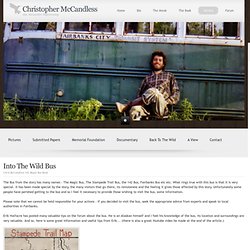 What rings true with this bus is that it is very special. It has been made special by the story, the many visitors that go there, its remoteness and the feeling it gives those affected by this story. John Jay Osborn, Jr. Background[edit] His parents were John Jay and Anne Kidder Osborn and he is a descendant of John Jay,[3] the first Chief Justice of the United States and of Cornelius Vanderbilt.[4] He received his undergraduate degree from Harvard University in 1967 and graduated from Harvard Law School in 1970.[5] He also did graduate work at Yale Law School.
He taught law at the University of Miami, the Benjamin N. Cardozo School of Law at Yeshiva University[1] and The University of San Francisco School of Law, from which he retired in 2010.[4] He clerked for the United States Court of Appeals for the Third Circuit and was an attorney with the firm Patterson Belknap Webb & Tyler. TasteKid | Recommends music, movies, books, games. VNU Servicio Voluntariado en Línea | Inicio. Aprender idiomas gratis online | Aprende inglés, francés, alemán, italiano, portugués, español | busuu. Mission - Surya Namaskar - Sun Salutation. Surya Namaskar or the Sun Salutation is a most complete series of postures. It is a very good exercise which takes only a few minutes to do and serves as a warm up routine before the practice of yoga asanas. It is one of the best home exercises requiring little space, only eight by three feet. Be sure to have enough space to lie down, and enough clearance to stretch the arms above the head while standing.
Love & Dating - how to videos Dating, Sex, Kissing (Most Viewed) Websites That Will Make You Smarter. Forget formal schooling for 30 minutes. Here are outstanding examples of how a simple half-hour of web reading can increase your ability to understand and influence the world around you. Want to get smarter at understanding taxes or the economy? Want to better understand your own risk fears or why your teenager is so defiant? Want to improve your leadership ability at the office?
Psychology. All about careers and college. Gap year and summer programs. Art and photography. Movies. Travel. Music. Deserts and recepies.
---