Room & Bathroom
Pour a Glass of Wine and Sink Into One of These Unusual, Luxurious Bathtubs - StumbleUpon. This is the photo that got me busy writing this ideabook.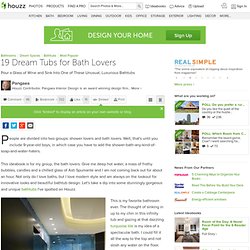 I had never before seen a glass-sided bathtub, and this one completely appeals to my minimalist tendencies. The architect, David Stern, says the client wanted this custom made tub for the kids bathroom and wanted it to feel fresh and fun. Well, he succeeded. You knew i was going to make one. They are all over pinterest....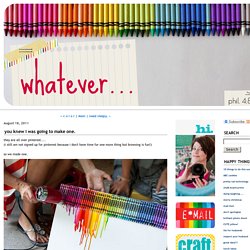 (i still am not signed up for pinterest because i don't have time for one more thing but browsing is fun!) So we made one. i took a box of 64 crayons and took out the blacks and browns.i used another small box and doubled up on the good colors i liked and hot glued them to the top of our canvas. then we turned our blow dryer to hot on high. not long after you set the hair dryer by the crayons they get shiny and then the wax starts to melt!
I feel melty. | Light&Spoon - StumbleUpon. EDIT 11/5/2012: We are no longer selling custom crayon pieces in our Etsy shop.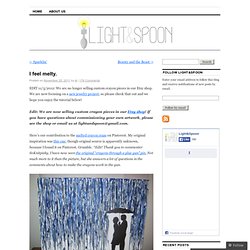 We are now focusing on a new jewelry project, so please check that out and we hope you enjoy the tutorial below! Edit: We are now selling custom crayon pieces in our Etsy shop! If you have questions about commissioning your own artwork, please see the shop or email us at lightandspoon@gmail.com. Here's our contribution to the melted crayon craze on Pinterest. Read your bookcase - Creative Collection - StumbleUpon. How to Make Baby Wipes - StumbleUpon. 30 Fun DIY Crafts To Keep You and the Family Busy During the Holidays | The Aimless Curator - StumbleUpon. How To Build A Fireball You Can Hold&Video - StumbleUpon. Wednes-diy | Free People Clothing Boutique Blog - StumbleUpon.
UPDATE: This post originally ran on March 23 2011, but with summer winding down we wanted to bring it back up for some late summer inspiration!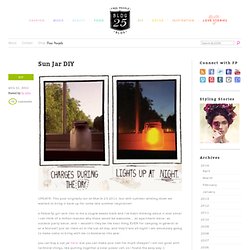 A fellow fp girl sent this to me a couple weeks back and i've been thinking about it ever since! I can think of a million reasons why these would be awesome… as apartment décor, as outdoor party décor, and – wouldn't they be the best thing EVER for camping in general or at a festival? Just let them sit in the sun all day, and they'll last all night! I am absolutely going to make some to bring with me to bonnaroo this year. DIY Project: Repurposing your maps! - StumbleUpon. Good Morning darlings...Hope you have a fabulous day today!!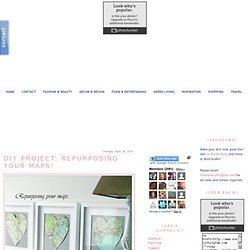 With the use of GPS there is really not much use to all those maps we collected through out time...but somehow I have a hard time throwing them away. How about this lovely way of repurposing them?? I think they are super cute for a corridor to the kids room, or a small side wall!! I also love the vignette inspiration (Tray + vintage spoons & other + apothecary jars= total bliss!!). Bedroom Designs: Modern Interior Design Ideas & Photos | Designs &Ideas on Dornob - StumbleUpon.
Do you prefer plush padding a minimalist pillow, a decked-out design or toned-down interior?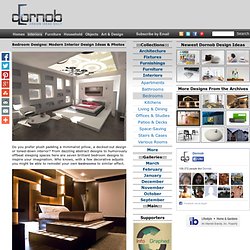 From dazzling abstract designs to humorously offbeat sleeping spaces here are seven brilliant bedroom designs to inspire your imagination. Who knows, with a few decorative adjusts you might be able to remodel your own bedrooms to similar effect. If you love soft illumination and hate to sacrifice privacy, this bedroom interior has a brilliant combination of strategies from uplighting around the bed itself to wall panels that block direct views and sunlight but let light in around them. If you are more of a minimalist, this simple bedroom space has a rhythmic modularity and combines soft white walls and ceiling with variegated wood furniture and furnishings for a pleasantly mixed aesthetic experience. At the opposite end of the spectrum, how would you like to have your bedroom be in the middle of your pool room?
Lofted Space-Saving Furniture for Bedroom Interiors | Designs &Ideas on Dornob - StumbleUpon. Tumidei is more than just a furniture company – they construct modern and relatively inexpensive (no, not cheap) pieces of furniture that they also create compositions from – interior design photos that you can use to shape your own space.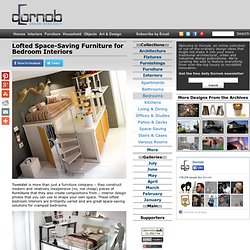 These lofted bedroom interiors are brilliantly varied and are great space-saving solutions for cramped bedrooms. A lot of these lofted interiors are clearly designed for children and teens in terms of sizes, colors and material quality. They incorporate elements needed for a student office, plenty of clothing, game and toy storage and stairs that older people might not be as eager to climb. For a small space (and a small person) one could really see the appeal of fitting everything in. Dorm Room Spa: 3 Easy DIY Beauty Recipes to Try - College Fashion - StumbleUpon. Photo Credit It's that taxing in-between time of the semester again – spring break is over, papers and projects are coming due, and finals are looming ahead.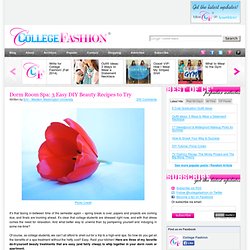 It's clear that college students are stressed right now, and with that stress comes the need for relaxation. And what better way to unwind than by pampering yourself and indulging in some me-time? Before & After: Crazy Beautiful Toy Kitchen :: Green Your Decor - StumbleUpon. 23.2K Flares23.2K Flares × LOOKING for more DIY play kitchens?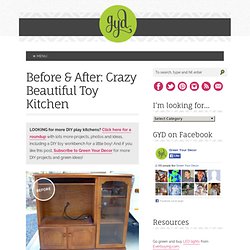 Click here for a roundup with lots more projects, photos and ideas, including a DIY toy workbench for a little boy! And if you like this post, Subscribe to Green Your Decor for more DIY projects and green ideas!
---