Crafts
25 Beautifully Illustrated Thought-Provoking Questions - StumbleUpon. 405 Flares Facebook 137 Twitter 5 Google+ 194 StumbleUpon 1 Pin It Share 68 68 405 Flares × A question that makes you think is worth asking… At the cusp of a new day, week, month, or year, most of us take a little time to reflect on our lives by looking back over the past and ahead into the future.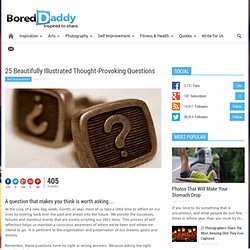 We ponder the successes, failures and standout events that are slowly scripting our life's story.
Bags & Purses | craftgawker - page 2 - StumbleUpon. DIY: Furniture Makeovers. I'm obsessed with making-over old, worn out furniture.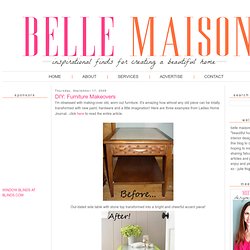 It's amazing how almost any old piece can be totally transformed with new paint, hardware and a little imagination! Here are three examples from Ladies Home Journal...click here to read the entire article. Out-dated side table with stone top transformed into a bright and cheerful accent piece!
A Tiny Toothpick Treehouse in a Bitty Broccoli Tree - StumbleUpon. Holiday. Clothes Related. For electronics. This to That (Glue Advice) - StumbleUpon. Crazy paper thing - StumbleUpon. Colored Pencil Jewelry - StumbleUpon. Note from Design Mom: I asked Kate of Mini Eco to create a Back to School themed project for us to try.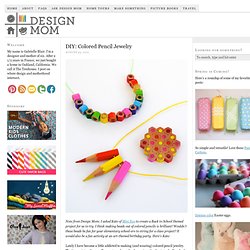 I think making beads out of colored pencils is brilliant! Wouldn't these beads be fun for your elementary school-ers to string for a class project? 6 Summer Bunk Bed Rooms. Whether you have a large family or a busy summer house, a bunk room is an ideal solution for accommodating lots of guests.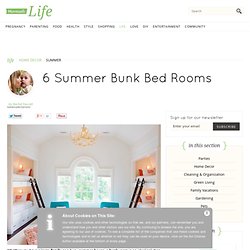 Here are some of our favorites. This nautical-inspired bunk room in a Hamptons home by Steven Gambrel features lots of room for storage with built-ins and under-bed drawers. Custom netting provides safety for the top bunks. An absolutely gorgeous bunk room from the Lerer House in Park City, Utah. 21 Scrapbooking Ideas &Keepsake Crafts for Kids | Easy Crafts for Kids -- Quick Arts and Craft Ideas -- Kids Crafts | FamilyFun - StumbleUpon. Page corner bookmark for kids in Ideas for kids crafts.
---