Kev_acdal
Slutty Brownies - StumbleUpon. Now I don't want to over sell this, so I'm going to be conservative and simply say, that these are...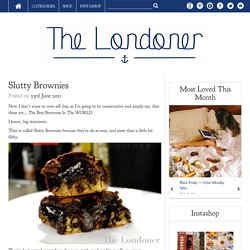 The Best Brownies In The WORLD. I know, big statement. They're called Slutty Brownies because they're oh so easy, and more than a little bit filthy. They're best served warm from the oven, with good quality vanilla ice cream (devastatingly I didn't have any in the freezer this time, so I guess I'll just have to make them again). They take about 45mins to make, including baking time. 100 Ways to Nurture Yourself & Demanding Joy - StumbleUpon. Probably the most important component to demanding your joy is learning to take excellent care of yourself – mind, body, and spirit.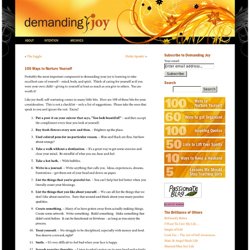 Think of caring for yourself as if you were your own child – giving to yourself at least as much as you give to others. You are worth it! Like joy itself, self-nurturing comes in many little bits. Here are 100 of those bits for your consideration. This is not a checklist – only a list of suggestions. Party Rules - StumbleUpon. Fairy Berries™ Megaminx Duodecahedron Puzzle. Multi-Color LED Lightbulb w/Remote.
Hygiene. Books. Shopping. Recipes. Art, Pictures, & Quotes. Movies & Videos. Electronics. Crafts.
---