Farsight
15 | Jun | 2012 Food producer VION Food Group has gone through an intensive review of its long-term strategic vision of "Balancing the Future" in recent months. This was triggered by the disappointing results delivered by VION in 2011, and the economic prospects for the years to come. This review has resulted in the strategic vision being reconfirmed, and the decision being taken to bring forward planned changes and investments. In 2011, the strategy and activities of VION Ingredients delivered satisfactory results. The strategy of adding value and of making the processing of raw materials more sustainable was achieved.
VION to strengthen its Food activities
The Rise of Growth Markets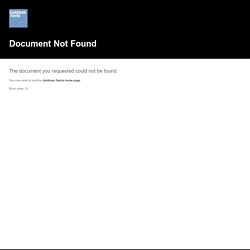 Goldman Sachs has adopted the term "Growth Markets" to describe some of the world's most dynamic and fast-growing economies.
Focus On - Growth Markets