Social Media Tips
Everything college students need to know about Klout
By Rachel Gates No matter what your major, industry or dream job might be, it's difficult to ignore the affect Klout.com is having on your personal brand. Whether you like it or not, Klout is already measuring your influence…and anyone and everyone can see your score. So…What is Klout exactly? Klout.com was started in 2008 with the goal of quantifying the influence that each person has on his or her own social networks. If you post a Facebook status, how likely is it to be shared or commented on?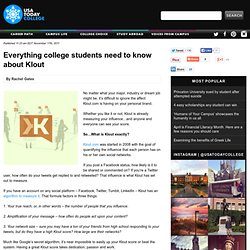 Google Hangout Recording & Streaming Setup, The setup used to recording and stream a Google Hangout simultaneously thewheat on USTREAM. Other Education
Social Media Intelligence | NM Incite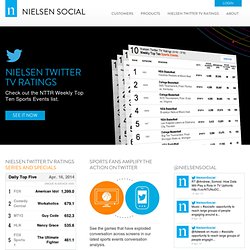 SocialGuide, a Nielsen Company, is the leading provider of social TV measurement, analytics and audience engagement solutions. SocialGuide identifies, captures and analyzes conversation on Twitter in real time for every program aired across over 250 of the most popular U.S. television networks, including Spanish language networks. SocialGuide uses this data to power its SocialGuide Intelligence platform and Twitter TV API Suite. SocialGuide also delivers Nielsen Twitter TV Ratings, the first-ever measure of the total reach of TV-related conversation on Twitter.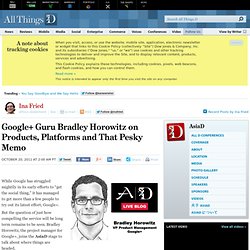 Google+ Guru Bradley Horowitz on Products, Platforms, Pesky Memo - Ina Fried - AsiaD
While Google has struggled mightily in its early efforts to "get the social thing," it has managed to get more than a few people to try out its latest effort, Google+. But the question of just how compelling the service will be long term remains to be seen. Bradley Horowitz, the project manager for Google+, joins the AsiaD stage to talk about where things are headed. Peter Kafka: So what is Google+?
Aidez vos amis à trouver les meilleurs contenus sur le Web Lorsque vos amis naviguent sur Internet, vos +1 peuvent les aider à trouver rapidement les pages les plus intéressantes. Partagez en un clin d'œil les pages Web que vous aimez Lorsque vous trouvez des contenus de qualité, informez-en vos amis. Vous pouvez partager ces pages en mode public ou avec un groupe restreint de personnes.
1 Button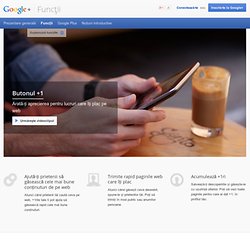 Documentation You can add and customize the +1 button to meet the needs of your website, such as modifying the button size and load technique. By adding the +1 button to your website, you allow your users to recommend your content to their circles and drive traffic to your site. The +1 button can also improve the time spent on your site by providing recommendations for further reading.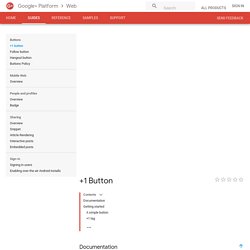 Ok, so at this point, we are all newbies at Google Plus, right? At least if you got in recently via a Google Plus invite. At this point I've spent a decent amount of time with it and have concluded that Google has finally made a positive mark in social networking. It's still early, but there is a lot of excitement around Google+ by those who have jumped on early, and for good reason.