Magic
Witches' Voice Inc. - 02 February, 2012 - 8:00:40 PM. Hold an Imbolc Candle Ritual (for Solitaries) Hundreds of years ago, when our ancestors relied upon the sun as their only source of light, the end of winter was met with much celebration.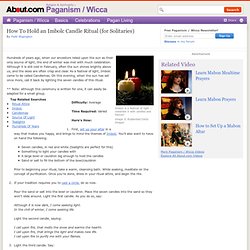 Although it is still cold in February, often the sun shines brightly above us, and the skies are often crisp and clear. As a festival of light, Imbolc came to be called Candlemas. On this evening, when the sun has set once more, call it back by lighting the seven candles of this ritual. ** Note: although this ceremony is written for one, it can easily be adapted for a small group. First, set up your altar in a way that makes you happy, and brings to mind the themes of Imbolc. How to make your own (magickal or crafty) inks and oils. By Stitchilicious Whether you love arts and crafts - or spellwork - or both, we'll show you how to make your own crafty inks and oils.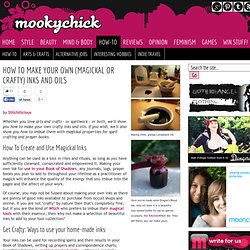 If you wish, we'll also show you how to imbue them with magickal properties for spell crafting and prayer books. The CRAFT .. Witchcraft / Wicca. Pagan Culture. If you are searching for my broom, PLEASE, keep an eye out for my witchy Daily Thirteen Routine, too.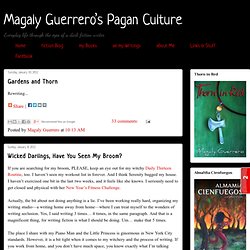 I haven't seen my workout list in forever. And I think Serenity bugged my house. Angel Card Readings - The Healing Waterfall. Books In Wicca And Witchcraft Category - Books On Occult, Esoteric, Magic, Rare Books And Texts. Grimoires, Spellbooks, Manuscripts. Demonology And Witchcraft by Walter Scott Sir Walter Scotts Demonology and Witchcraft contains among others the case of Bessie Dunlop, whose familiar was the ghost of one Thome Reid, killed at the battle of Pinkie (1547), who enabled her to give answers to such as consulted her about the ailments of human beings or cattle, or recovery of...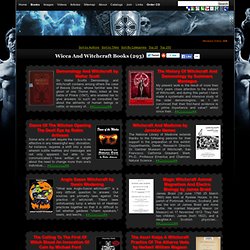 >>Download<< The History Of Witchcraft And Demonology by Summers Montague My present work is the result of more than thirty years close attention to the subject of Witchcraft, and during this period I have made a systematic and intensive study of the older demonologists, as 1 am convinced that their first-hand evidence is of prime importance and value? Book of Shadows, Celtic Magic, Witchcraft, Pagan, Moon magic, Herbal grimoire, Celtic magic, Wicca, Candle Magic, Free Spells and Rituals Recipes, Herbal Magic*
2014 Barbara Morris / Moonsmuses.com Moonsmuses.com for the modern pagan weaving an ancient magic.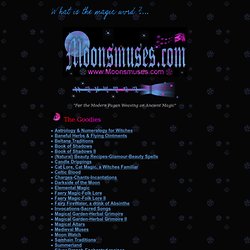 All Spells, Rituals Incense, herbs, Amulets. talismans, blessed candles, smudge kits are rooted in White magic earth based beliefs and created by practicing Celtic Witch / Pagan. Traditional Witchcraft. An Introduction to the Blue Moon Manor Trad of The Traditional Craft Traditional Witchcraft of the British Isles, more often called The Traditional Craft, makes it possible to embark on a magical spiritual personal journey that will fascinate the spirit within you and enrich your life around you by elevating your abilities, bring insight into your awareness, enable you to heal yourself and others, forge personal development and change, withdraw the veil for spiritual growth, and bring command into your life.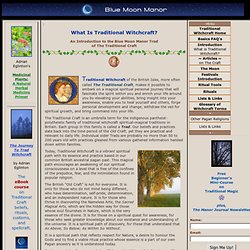 The Traditional Craft is an umbrella term for the indigenous pantheist-polytheistic family of traditional witchcraft spiritual-magical traditions in Britain. Gypsy Sorcery and Fortune Telling: Chapter I: The Origin of Witchcraft, Shamanism and Sorcery. Gypsy Sorcery and Fortune Telling, by Charles Godfrey Leland, [1891], at sacred-texts.com p. xiii p. 1 AS their peculiar perfume is the chief association with spices, so sorcery is allied in every memory to gypsies.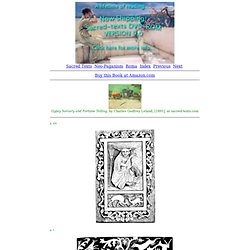 ---