Dream House Architecture
Glass door with a surprise. Google Image Result for. p1070774r800te.jpg (JPEG Image, 800x600 pixels) - Scaled (81%) Living Library: Marvelous Home with Multi-Story Bookcases. It would be easy to mistake this large private residence for a most public branch library.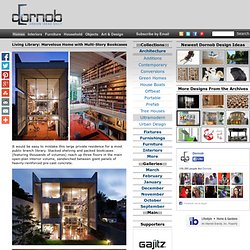 Stacked shelving and packed bookcases (featuring thousands of volumes) reach up three floors in the main open-plan interior volume, sandwiched between giant panels of heavily-reinforced pre-cast concrete. A series of floating metal mesh walkways and suspended concrete staircases weave been different levels. Each floor is left incomplete, with gaps and voids allowing views and light to pass up and down. Old Garage turned Mini Dream Home! | Hello there!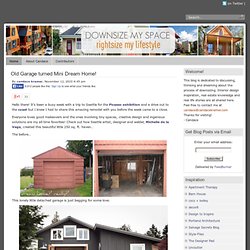 It's been a busy week with a trip to Seattle for the Picasso exhibition and a drive out to the coast but I knew I had to share this amazing remodel with you before the week came to a close. Everyone loves good makeovers and the ones involving tiny spaces, creative design and ingenious solutions are my all time favorites! Check out how Seattle artist, designer and welder, Michelle de la Vega, created this beautiful little 250 sq. ft. haven…
Floor Plan Light Switch by Taewon Hwang. Photo_gallery7.jpg (JPEG Image, 1200x710 pixels) - Scaled (85%) Futuristic Home in Karuizawa, Japan by Artechnic Architects. Like this article?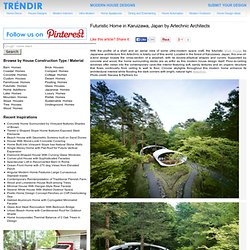 Share it: With the profile of a shell and an aerial view of some ultra-modern space craft, the futuristic Shell House by Japanese architecture firm Artechnic is totally out of this world. Modern House in Tempe, Arizona. A stylish addition to the landscape in Tempe, Arizona, this modern house is a stunning site-specific design that seamlessly blends art and entertainment.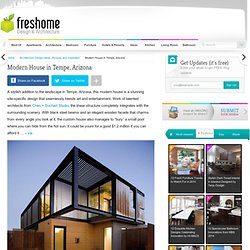 Work of talented architects from Chen + Suchart Studio, the linear structure completely integrates with the surrounding scenery. With black steel beams and an elegant wooden facade that charms from every angle you look at it, the custom house also manages to "bury" a small pool where you can hide from the hot sun. It could be yours for a good $1.2 million if you can afford it … – via. All sizes | Minister's Treehouse, Crossville, TN. Upscale Home Was Once a Cement Factory. Posted on24 April 2011.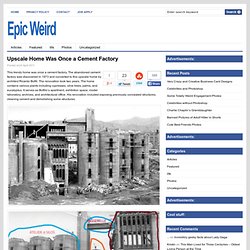 This trendy home was once a cement factory. The abandoned cement factory was discovered in 1973 and converted to this upscale home by architect Ricardo Bofill. The renovation took two years. The home contains various plants including cypresses, olive trees, palms, and eucalyptus. Amazon Tree Houses | Happy Photon. Contemporary photography eZine. Funny funny posts, glad most people like them.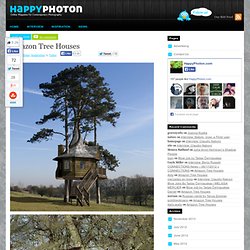 Image 1: is computer generated and photoshop, the image was a propsal for a client that never got built. Image 2: is a real Treehouse for children, yes it's photoshop, but who cares. Transforming Safe House tells the zombie hordes to bring it. There's being prepared for a zombie invasion by keeping a shotgun and some spare brains in your basement, and then there's being actually eager for a zombie invasion, which is how you'll feel if you live in this absurdly safe house, called the Safe House.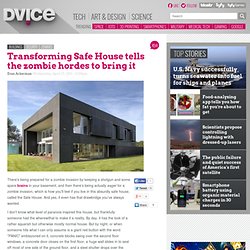 And yes, it even has that drawbridge you've always wanted. I don't know what level of paranoia inspired this house, but thankfully someone had the wherewithal to make it a reality. By day, it has the look of a rather squarish but otherwise mostly normal house. But by night, or when someone hits what I can only assume is a giant red button with the word "PANIC" emblazoned on it, concrete blocks swing over the second floor windows, a concrete door closes on the first floor, a huge wall slides in to seal off most of one side of the ground floor, and a steel shutter drops over the entire front of the house.
321, GO!!! Slide 3 Stories Down 2 Sides of a 1-Family Home. While it is far for the first time a family has indulged its children with such a whimsical addition, this may be one of the most well-integrated (and longest) at-home slides yet created.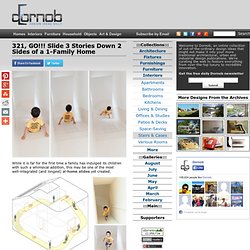 The long slide down (designed, ironically, by Level Architects)? Completes a circuit that starts with a staircase running along two walls of the home – one could endlessly move in a circle, effectively, running up and sliding down (definitely a good way to tire the kids out before bedtime!).
---