Cooking
Miss Charming's Crazy & Dirty Recipes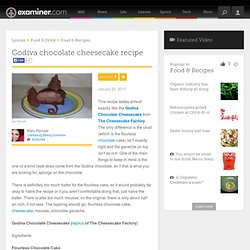 This recipe tastes almost exactly like the Godiva Chocolate Cheesecake from The Cheesecake Factory. The only difference is the crust (which is the flourless chocolate cake) isn't exactly right and the ganache on top isn't as rich. One of the main things to keep in mind is the one-of-a-kind taste does come from the Godiva chocolate, so if that is what you are looking for, splurge on the chocolate. There is definitely too much batter for the flourless cake, so it would probably be okay to halve the recipe or if you aren't comfortable doing that, just halve the batter. There is also too much mousse; on the original, there is only about half an inch, if not less. The layering should go: flourless chocolate cake, cheesecake, mousse, chocolate ganache.
Godiva chocolate cheesecake recipe - Clarksburg baking
Macaroni and Cheese including Black and Bleu, Bacon Bacon and Vegan Mac
Calorie Counter (CalorieLab)
Calorielab supplies a calorie calculator for generic foods, nutrition facts for brand name foods, a calorie counter for fast food chains, and nutritional information for table service restaurants. In addition to calorie content, you'll find carbohydrate information for low carb diets, and, for many foods, trans fat, sodium, sugar, and other food composition data to help you plan a weight loss or fitness diet. The values in the "Pts" column are computed by CalorieLab from our nutrient database, and are not endorsed by or connected with Weight Watchers International, Inc.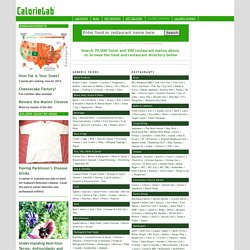 Homemade butter is easy, relatively quick to make and amazingly delicious. If it cost less than buying butter at the grocery store, it would be too good to be true, which is why this is not the case. All things considered, though, I still think it's well worth it. This stuff is precious, so I think the best use of it is not in baking, but rather, on top of freshly baked, still warm, bread, muffins or crumpets. Are you ready for this?
makes » how to make butter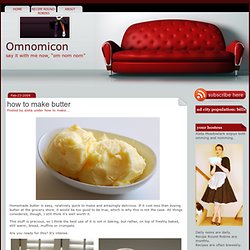 I have been on a search for the best waffle that is light and crispy and guess what? I found it. It's Pam Anderson's Light and Crispy Waffle from her cookbook Cook Smart. After reading the reviews from Food and Wine and Fine Cooking I knew that I couldn't go wrong.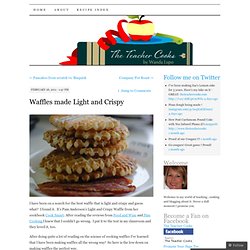 Waffles made Light and Crispy | The Teacher Cooks