eLearning Resources
Agencies and Organisations BETT is the annual trade show for educational technology, held each January at Olympia in London. Entry is free and limited to those who work in education. A visit to BETT is an essential INSET activity for anyone who is concerned about using ICT in education.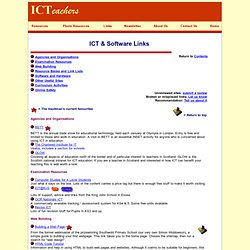 ICTeachers ICT Links
20 Technology Skills that Every Educator Should Have | Digital Learning Environments
By Laura Turner In 2005 I wrote a similar article and have had requests to write an update. Technology has changed a great deal in the last 5-6 years. Although, realistically, you would not use all of these technologies, you should be knowledgeable in what each of the following technology is and how it could be/might be used in a classroom.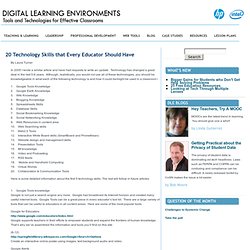 10 Questions about bPortfolios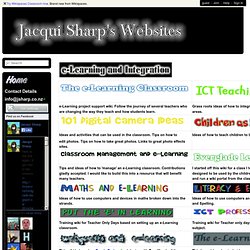 jacquisharpwebsites - home
Get your Wikispaces Classroom now: the easiest way to manage your class. guest|Join|Help|Sign In Contact Details
For a while now (ok, a year) I've been in the process of writing an article for the Association of Science Education (ASE) for their Primary Science journal on the topic of visualisers in primary school science. Well, after a lot of documents flying backwards and forwards, the final version has made it into print. You need to be an ASE member to read the full journals, but selected articles are available on their site free of charge.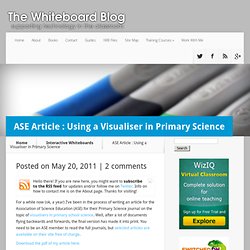 ASE Article : Using a Visualiser in Primary Science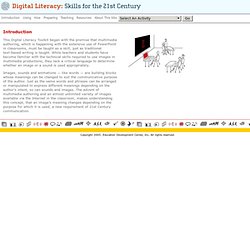 This Digital Literacy Toolkit began with the premise that multimedia authoring, which is happening with the extensive use of PowerPoint in classrooms, must be taught as a skill, just as traditional text-based writing is taught. While teachers and students have become familiar with the technical skills required to use images in multimedia productions, they lack a critical language to determine whether an image or a sound is used appropriately. Images, sounds and animations — like words — are building blocks whose meanings can be changed to suit the communicative purpose of the author. Just as the same words and phrases can be arranged or manipulated to express different meanings depending on the author's intent, so can sounds and images.
Submitted by: Kris Nielsen - Middle Level Specialist from North Carolina I watched my students take a math test the other day. It was one of those tests that seems to take the entire 70-minute block. Some finished early, others took the entire time, a few tended to need another day.