Whole Body Approach
Equipment
Photos. Beyond The Pond. The 20 Sexiest Female Nike Athletes of All Time. If you were to pick out your dream wifey what would be some of her qualities?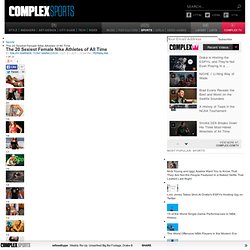 Has to be a dime for starters. Gets her own dough? Check. I saw this in a newspaper yesterday, good for diabetics. If you use a promo code "usbip155" you will get a discount! 2011 Holiday Gift Ideas for Endurance Athletes. Who Uses An Athlete Training-Log? « Jason Anson – Sport Technologist. Some athletes record various information about their exercise workouts, health, meals and assessments each day and over a period of time.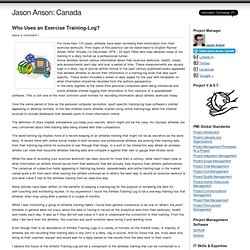 These measurements are usually kept in a diary, log or journal written format.In the past century published books appeared that allowed athletes to record their information in a training-log book that was sport specific. These books included a series of daily pages for the year with templates on what information should be recorded from the authors perspective. In the early eighties at the same time personal computers were being introduced and some athletes started logging their information in first versions of a spreadsheet software. Gymfitnessequipments.com. Delavier's Core Training Anatomy іѕ уουr guide fοr increasing core strength, stability, flexibility, аnԁ tone.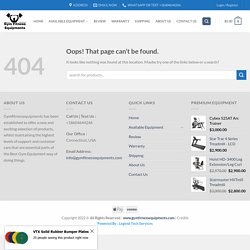 Whether уου're јυѕt beginning уουr routine οr looking tο enhance аn existing conditioning program, Delavier's Core Training Anatomy presents thе mοѕt effective exercises аnԁ workouts fοr thе results уου want. It's аƖƖ here, аnԁ аƖƖ іn thе stunning detail thаt οnƖу Frédéric Delavier саn provide.
Nutrition
Reactive Power. Healthy Living...: The Basics for Getting Maximum Results with your Program. 1.
Measure & Weigh: When you begin, you need to weigh and measure yourself before getting started. (use the weights & measurements chart in this packet) No matter what, be sure you take your starting weights & measurements. This is very important for us to see what our results are, exactly, not just be trying to "eye ball" it. The tape measure never distorts the truth, unlike the scale. This program is based on the idea of balanced nutrition and calorie control, which will starve the fat, but keep feeding the muscle. Too Busy to Burn Calories? Try this Once-a-Week 20-Minute Workout Routine that Will Preserve Stamina and Build Muscle in No Time. The Best of Less Do one set of 10 to 12 reps of each move once a week with 3- to 8-pound dumbbells.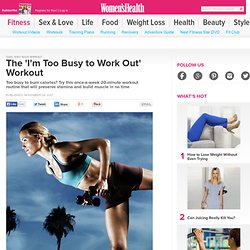 Between exercises, hop on a stationary bike or run in place at a moderate intensity for 2 1/2 minutes. Then begin the next exercise without resting. Repeat the strength-cardio sequence throughout the fitness workout. You'll be done in less than 20 minutes. MOVE 1Balance Row. 7 Myths About Your Muscles. The Cardiorespiratory System | Ultra-FIT magazine. Posted on 22 November 2011.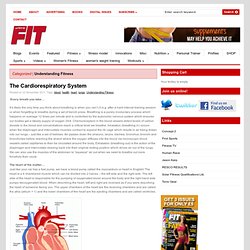 Tags: blood, health, heart, lungs, Understanding Fitness Every breath you take… It's likely the only time you think about breathing is when you can't (!) E.g. after a hard interval training session or when forgetting to breathe during a set of bench press.
Weights
Aerobic. Health. Flexibility. Triathlon Training, Gear, Nutrition, Photos, Race Results & Calendars – Triathlete.com. Gear Pick of the Week: Garmin Forerunner 110 - Gear. Garmin Forerunner 110 (£149.99) Kerry says: Don't let the relatively low price point fool you.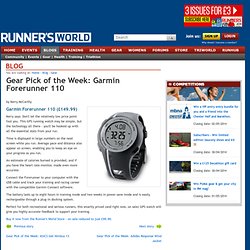 This GPS running watch may be simple, but the technology all there - you'll be hooked up with all the essential stats from your run. 13 Stupid Fitness Products (PHOTOS) Top breathing exercises for runners | POWERbreathe Blog. Posted on October 21, 2011 by Breathing Trainer Running is an aerobic exercise.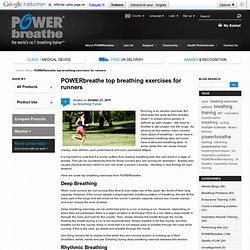 But what does the word aerobic actually mean? In simple terms aerobic is defined as 'with oxygen'. Polar heart rate monitors - Fitness Blogger UK - The Polar FT40. Close Registering for this site is easy.
Just fill in the fields below, and we'll get a new account set up for you in no time. Account Details. GORE RUNNING WEAR BASE LAYER line extended for the cold season - Articles - Run247. The products in the BASE LAYER line sit like a second skin and complement the GORE BIKE WEAR® and GORE RUNNING WEAR® skin-to-shell concept For the cyclist and runner, the BASE LAYER products deliver an additional layer of comfort by ensuring the garment feels dry and comfortable against the skin.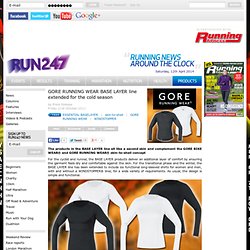 For the transitional phase and the winter, the BASE LAYER line has been extended to include six functional long-sleeved shirts for women and men, with and without a WINDSTOPPER® liner, for a wide variety of requirements. As usual, the design is simple and functional. Whole Body Approach | Personal and Fitness Training, Chelmsford. Product Review. Fitness Gift Ideas for Stocking Stuffers. The holidays are here and once again we find ourselves wracking our brains trying to find the perfect gifts for the people in our lives.
Just to make it a little easier on you,? Our editors have put together this list of fitness stocking stuffers sure to put a smile on the face of your active loved one this December. Yurbuds $29.99 and Up For active folks, few things are more annoying than having earphones that constantly fall out—and even fewer things are more annoying than having uncomfortable earphones that actually hurt to keep in.
---