More Fun
10 T-Shirt Scarf Tutorials. Stencil with freezer paper (harry potter tee)... - StumbleUpon. Yes, I am a nerd.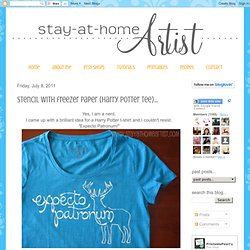 I came up with a brilliant idea for a Harry Potter t-shirt and I couldn't resist. "Expecto Patronum! " However, you can make whatever kind of design you want with a freezer paper stencil. 52 reasons why i love you | pricklypants - StumbleUpon. Update January 2013: Thanks to everyone who has visited, commented and shared this post.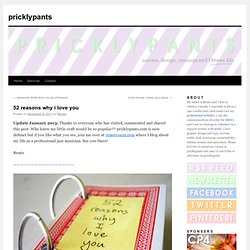 Who knew my little craft would be so popular?? Pricklypants.com is now defunct but if you like what you see, join me over at reneeyoxon.com where I blog about my life as a professional jazz musician. See you there! Renée Craig's 28th birthday was yesterday so I decided to make him a little book out of playing cards to tell him how much I love him. Domestic for Dummies: Fall Pinterest Project: DIY Coasters - StumbleUpon. Is everyone ready for today's Pinterest challenge?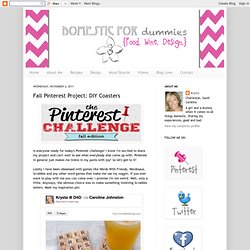 I know I'm excited to share my project and can't wait to see what everybody else came up with. Pinterest in general just makes me tinkle in my pants with joy! So let's get to it! Lately I have been obssessed with games like Words With Friends, Wordosaur, Scrabble and any other word games that make me use my noggin. You knew i was going to make one. - StumbleUpon. They are all over pinterest....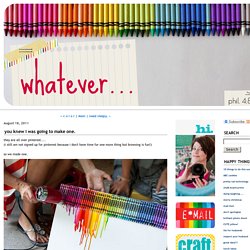 (i still am not signed up for pinterest because i don't have time for one more thing but browsing is fun!) So we made one. i took a box of 64 crayons and took out the blacks and browns.i used another small box and doubled up on the good colors i liked and hot glued them to the top of our canvas. then we turned our blow dryer to hot on high. Inspired Entertaining: DIY Chalkboard Wine Glasses - StumbleUpon. Last month I got an email from one of those "deal of the day" websites featuring a very cute set of wine glasses with chalkboard stems from a company called Chalkboard China.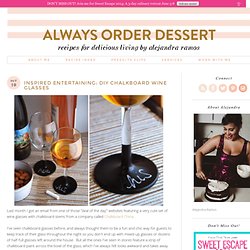 I've seen chalkboard glasses before, and always thought them to be a fun and chic way for guests to keep track of their glass throughout the night so you don't end up with mixed-up glasses or dozens of half-full glasses left around the house. But all the ones I've seen in stores feature a strip of chalkboard paint across the bowl of the glass, which I've always felt looks awkward and takes away from the beauty of the wine or beverage in the glass. What I like about this version is that the writing part is at the bottom on the stem and foot of the glass, so it doesn't compete with the beverage. I also like that the simple black foot on the glass is in itself an elegant design element, and would work just as well with no writing on it. Perfect Summer Bangle - StumbleUpon. Here's a fun tutorial on how to make a message bangle that's one-of-a-kind, done in the sun, waterproof and weatherproof.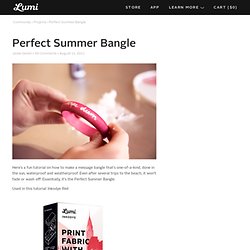 Even after several trips to the beach, it won't fade or wash off! Essentially, it's the Perfect Summer Bangle. Used in this tutorial: Inkodye Red Prepare. How to Make Leaf Skeletons - The Idea Room - StumbleUpon. I wanted to share with you a project from one of my readers who shares with us how to make leaf skeletons.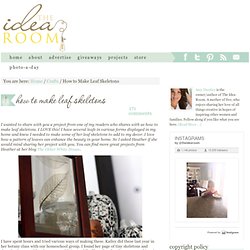 I LOVE this! I have several leafs in various forms displayed in my home and knew I needed to make some of her leaf skeletons to add to my decor. I love how a pattern of leaves can enhance the beauty in your home. So I asked Heather if she would mind sharing her project with you. You can find more great projects from Heather at her blog The Other White House.
---