Social Media
How Speakers Should Integrate Social Into Their Presentation « Whether you're a professional speaker, company representative, or panelist at a conference, you must develop a social strategy during your speaking.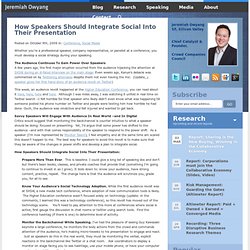 The Audience Continues To Gain Power Over Speakers A few years ago, the first major eruption occurred from the audience hijacking the attention at SXSW during an ill-fated interview on the main stage. Even weeks ago, Kanye's debacle was commented on by Twittering attendees despite them not even having the mic. Google Loses Ground to Bing with Small Biz Search Advertisers - Christopher Heine | November 24, 2009 | 1 Comment inShare0 Small business marketers spent more with Microsoft's search engine last quarter, seemingly at Google's expense.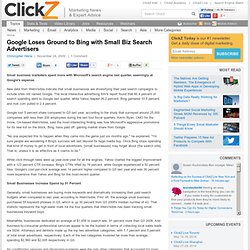 Ikea campaign innovation on Facebook breaks new ground - Marketi. Marketing through Social Media channels still leaves many marketers scratching their heads but occasionally the industry is provided with some inspiration to help provide a guiding light.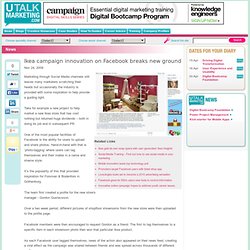 Take for example a new project to help market a new Ikea store that has cost nothing but returned huge dividends – both in doing its job and in subsequent PR. One of the most popular facilities of Facebook is the ability for users to upload and share photos. Hand-in-hand with that is 'photo-tagging' where users can tag themselves and their mates in a name and shame style. The Real-Time PR Man. If you attend a tech event or conference you will probably run into Brian Solis.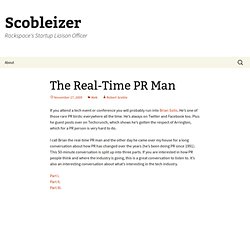 He's one of those rare PR birds: everywhere all the time. He's always on Twitter and Facebook too. Plus he guest posts over on Techcrunch, which shows he's gotten the respect of Arrington, which for a PR person is very hard to do. I call Brian the real-time PR man and the other day he came over my house for a long conversation about how PR has changed over the years (he's been doing PR since 1991). This 50-minute conversation is split up into three parts. Forrester: Interactive Marketing to Hit $55B by 2014. According to Forrester's Five-Year Interactive Marketing Forecast Report, search marketing – which now composes more than half of 2009′s overall interactive spend, will continue to make up the biggest portion of interactive dollars, rising from $5.4 B in 2009 to $31.6B in 2014 at a compound annual growth rate of 15%.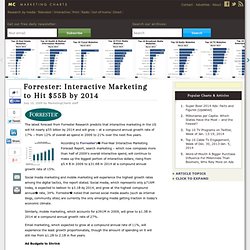 Social media marketing and mobile marketing will experience the highest growth rates among the digital tactics, the report stated. Social media, which represents only $716M today, is expected to balloon to $3.1B by 2014, and grow at the highest compound annual rate, 34%. Calling for open | Chris Saad – Paying Attention. Steve Gillmor often writes fantastic (and fantastically long) editorials on the landscape of the real-time web, but they are often very dense and sometimes fail to cover some key points.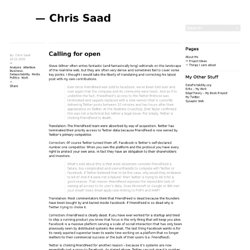 I thought I would take the liberty of translating and correcting his latest post with my own contributions. Ever since FriendFeed was sold to Facebook, we've been told over and over again that the company and its community were toast. And as if to underline the fact, FriendFeed's access to the Twitter firehose was terminated and vaguely replaced with a slow version that is currently delivering Twitter posts between 20 minutes and two hours after their appearance on Twitter. On Twitter, What Are You Doing Was Always The Wrong Question | B. InShare4 What are you doing?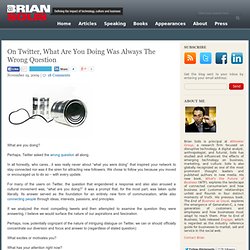 Perhaps, Twitter asked the wrong question all along. In all honestly, who cares…it was really never about "what you were doing" that inspired your network to stay connected nor was it the siren for attracting new followers. We chose to follow you because you moved or encouraged us to do so – with every update. Loic Le Meur Blog: Twitter.com traffic down? Seesmic Web is +30% There are many reports that the traffic from Twitter.com would be going down.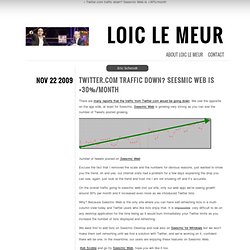 We see the opposite on the app side, at least for Seesmic. Seesmic Web is growing very strong as you can see the number of Tweets posted growing. number of tweets posted on Seesmic Web Excuse the fact that I removed the scale and the numbers for obvious reasons, just wanted to show you the trend, oh and yes, our internal stats had a problem for a few days explaining the drop you can see, again, just look at the trend and trust me I am not showing off and it's accurate. On the overall traffic going to seesmic web (not our site, only our web app) we're seeing growth around 30% per month and it increased even more as we introduced Twitter lists.
Apophenia: spectacle at Web2.0 Expo... from my perspective. Last week, I gave a talk at Web2.0 Expo.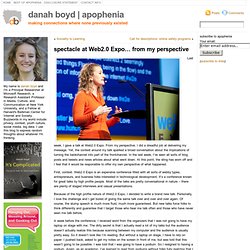 From my perspective, I did a dreadful job at delivering my message. Yet, the context around my talk sparked a broad conversation about the implications of turning the backchannel into part of the frontchannel. In the last week, I've seen all sorts of blog posts and tweets and news articles about what went down. Can Twitter users link out? Home > Archive > 2009 > November > 22 Sunday, November 22, 2009 by Dave Winer.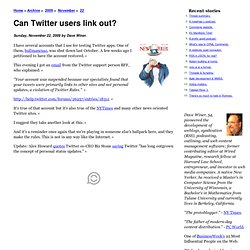 I have several accounts that I use for testing Twitter apps. Hiring For Social Media: What I'd Look For | Brand Elevation Thr. How to Use Twitter Lists To Create Reputation Management Problem. When twitter lists first came out and I commented about how awesome they are, I also warned they had the potential to become a tool for evil and create reputation management problems. Since no one paid attention, I figured what better way to illustrate the problem than to see it in action? I wanted show how it could be used but didn't really want to damage someone's reputation (no one's high enough up on my hit list for that), so I created a dummy list with only one person who didn't actually do what the list says he did.
Mobile Web traffic increasing rapidly for non-smartphones. Apple's iPhone changed the way we think about mobile Web access by giving us the "real" Internet via its Mobile Safari browser. Since its introduction, smartphone vendors have scrambled to offer a comparable browsing experience, generally by building a browser based on WebKit—the same engine that powers Mobile Safari. But consumer expectation is driving demand for mobile Internet access for standard cell phones as well.
---
Patrice Nov 29 2009

Nice pearltree, Ken, hope you don't min if I pick it ;-)
---