Kentwallen
kentwallen
Utvecklingsedare, Viadidakt Katrineholm/Vingåker och ordförande i Nitus - Nätverket för kommunala lärcentra
The Flipped Classroom!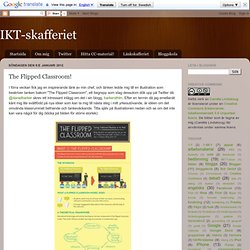 I förra veckan fick jag en inspirerande länk av min chef, och länken ledde mig till en illustration som beskriver tanken bakom "The Flipped Classroom", ett begrepp som idag dessutom dök upp på Twitter då @danielbarker skrev ett intressant inlägg om det i sin blogg, barkersthlm. Efter en termin då jag emellanåt känt mig lite svältfödd på nya idéer som kan ta mig till nästa steg i mitt yrkesutövande, är idéen om det omvända klassrummet befriande och tankeväckande. Titta själv på illustrationen nedan och se om det inte kan vara något för dig (klicka på bilden för större storlek):
Nätverket för IT i högre utbildning » OER-resurser
Wikipedia_i_skolan.pdf (application/pdf-objekt)
viadidakt
Olika tankar runt det digitala lärandet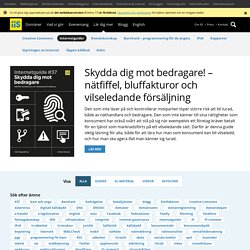 Internetguider
För dig som redan är intresserad av internet eller är sugen på att lära dig mer finns .SE:s Internetguider. Guiderna finns i flera format – som tryckta böcker, i pdf-format och direkt på webben. Väljer du att beställa guiden i tryck tar vi ut en avgift om 20 kr per guide. Guiderna trycks i en begränsad upplaga, men du kan bli prenumerant och säkra att du alltid får ett erbjudande om ett tryckt exempler av den senaste guiden, kostnadsfritt. Klicka här för att läsa mer.
.SE tror att internet kan bidra positivt till såväl individers som samhällets utveckling. Alla människor i Sverige ska ha samma rätt och möjligheter att utnyttja internets tjänster. Därför har vi, tillsammans med flera andra organisationer och myndigheter, dragit igång kampanjen Digidel. Till Digidel.se I dag är det nästan 1.2 miljoner människor i Sverige som inte är digitalt delaktiga eller som använder internet sällan.
Digital delaktighet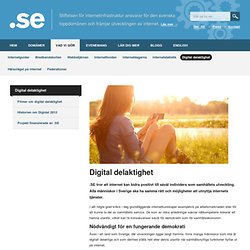 Lärobjekt.se |
I debatten brukar andelen distansstudenter lyftas fram som en faktor som drar ner högskolans effektivitet. Men distansstudenter vid Karlstads universitet presterar över rikssnittet. Lena E Johansson, utbildnings- och forskningssamordnare, och Lars Haglund, professor i ekonomi, har undersökt hur distansstudenterna upplever sina studier och vilka resultat de gör. Undersökningen visar att programstudenter på distans hade 85 procents genomströmning och att siffran för fristående kurser på distans var 55 procent 2009.
Learning Net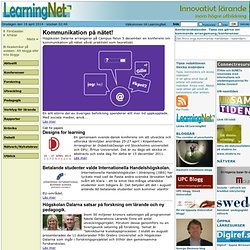 Hello, We launched Writeboard back in October of 2005 as a stand-alone service. A few years later we integrated Writeboards into Basecamp Classic and Backpack. Today, the vast majority of Writeboards are created inside those two products. As part of refocusing our product line, we've decided to retire Writeboard.com. You'll still be able to create Writeboards inside Basecamp Classic and Backpack, but you'll no longer be able to start new stand-alone Writeboards here at Writeboard.com.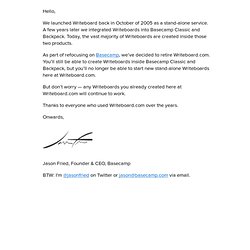 These Technologies Are Changing Education. Are You Familiar With Them? It's been nearly two and half years since the publication of the first "10 internet technologies that educators should be informed about" article on this site and given the fast paced evolution of technology it's time for an update.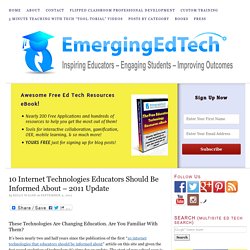 Webb, data och flexibelt lärande
Webb, data och flexibelt lärande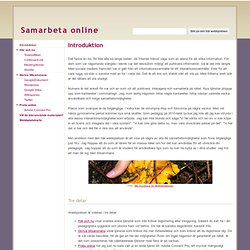 Samarbeta online
Det fanns en tid, för inte alls så länge sedan, då Internet främst sågs som en arena för att söka information. För dem som var någorlunda slängda i teknik var det dessutom möjligt att publicera information. Så är det inte längre. Med sociala mediers framväxt har vi gått från ett informationssamhälle till ett interaktionssamhälle.
I keep finding more and more excellent resources around using iPads, iPods and Apps in (Special) education and wanted to share some of my favourite links with you. The first comes from the great Victorian Government site called Ipads for Education .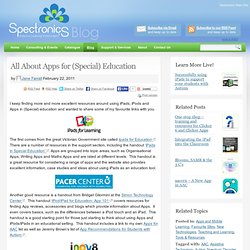 Add In my classroom , I was blessed to have students from amazingly diverse backgrounds and with an array of skills and strengths. I worked relentlessly to build in supports and foster an inclusive community for all of my students. This meant cutting, laminating, velcro-ing, washing, re-making, and constructing what felt like a million supportive learning devices for my students with and without special needs.
This post is part Five of the Special Needs iPad & App Series. In only one year the Apple iPad has revolutionized the tech industry. 15 Million iPads have been sold and estimates are that within the next 3 years over 115 million tablets will be shipped. Dozens if not hundreds of applications have been created that enhance the quality of life for individuals with all types of disabilities. This has lead Apple to create a special education section in the App Store. To try and make sense of all of this we have put together a nine part series on the iPad and useful applications.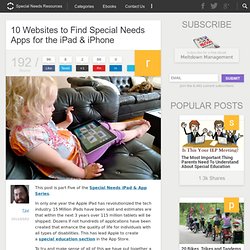 0 Comments March 25, 2011 By: Guest Blogger Mar 24
- iPad apps for children with special needs
Personalize & Unpersonalize iPads All In Same Class Period
Scoop.it's on Education Pearltree
Corridor of learning
Utbildning på nätet
Nitus - Nätverket för kommunala lärcentra
re:flexbloggen
reflexfbrs kanal
Folkbildningens öppna lärresurser 2010 on Vimeo
Nitus.se
Lärcentra
Startsida
Startsida - Högskoleverket