OS tips _ software
Enable Auto Log In for Windows XP & Windows 7 | Free Internet Cafe Software. In the internet cafes, all computers must auto-login to Windows.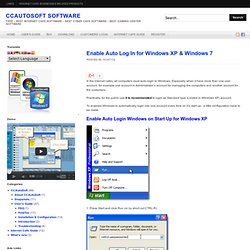 Especially when it have more than one user account, for example one account is Administrator's account for managing the computers and another account for the customers. Practically, for the public use it is recommended to login as Standard type (Limited in Windows XP) account. To enabled Windows to automatically login into one account every time on it's start up, a little configuration have to be made. Glary Utilities | Glarysoft. How to use MSCONFIG in Windows 7: NetSquirrel.com. Here is how to use MSCONFIG in Windows 7 to disable some of the unnecessary programs that automatically load on start-up.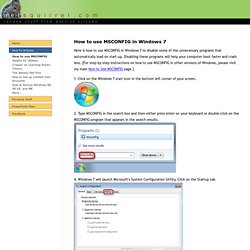 Disabling these programs will help your computer boot faster and crash less. [For step-by-step instructions on how to use MSCONFIG in other versions of Windows, please visit my main How to Use MSCONFIG page.] 1. Click on the Windows 7 start icon in the bottom left corner of your screen. Sysinfo.org. Unfortunately, due to a change in my circumstances, the startup programs database here at Sysinfo.org will no longer be updated and the off-line downloads are no longer available.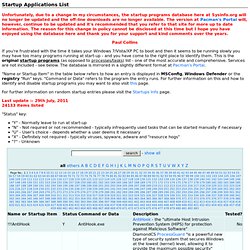 The version at Pacman's Portal will, however, continue to be updated and it's recommended that you refer to that site for more up to date information. The reason for this change in policy cannot be disclosed at this time but I hope you have enjoyed using the database here and thank you for your support and kind comments over the years.
---