Next Economy@ken_howard
This is a collection of the best thinking I have found to date on what the "Next Economy" will look like. There are a variety of viewpoints here, emphasizing everything from green technologies to cooperative consumption. I think there will be room in this topic for a lot of perspectives. I welcome your additions to the discussion. Let's evolve together! Feb 9
from Sustainable Tompkins
Worker Cooperatives Can Revitalize Our Economy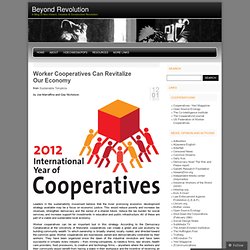 Innovative State and City Government Solutions to Watch in 2012 - Jobs & Economy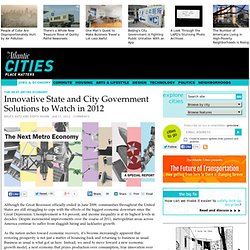 Although the Great Recession officially ended in June 2009, communities throughout the United States are still struggling to cope with the effects of the biggest economic downturn since the Great Depression. Unemployment is 8.6 percent, and income inequality is at its highest levels in decades.
Delivering the Next Economy by Dr. Josef Ackermann
Next Economy
"next economy"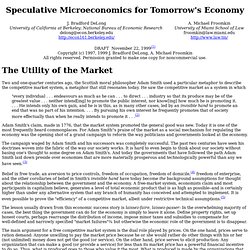 DRAFT November 22, 1999(1)Copyright (c) 1997, 1999 J. Bradford DeLong, A. Michael Froomkin All rights reserved.
Speculative Micro - DeLong & Froomkin
Creating the Next Economy | NDN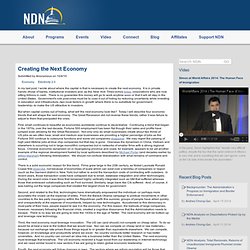 In my last post, I wrote about where the capital is that is necessary to create the next economy.
What would you say to Washington (that you could say in polite company) if you had the chance? 100 PBLN leaders are heading to Capitol Hill to meet with leaders in Congress and the Obama Administration about the state of the American economy and to discuss how to plan for inventing the next one. Of course "next one" doesn't just mean roll it back and play it again.
A Vision for America's Next Economy | Progressive Business Leaders Network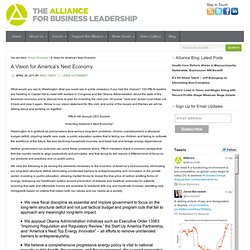 Blog | LIFT Business Coaching | Ambassadors From the Next Economy
The phrase "the next economy" has become common currency in the public debate about economics and public policy. The term itself has been used before--Paul Hawken's book, "The Next Economy," was published in 1983--but the term has evolved as the global situation has changed.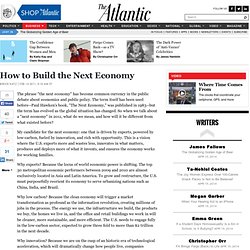 How to Build the Next Economy - Bruce Katz - Business
Cleveland artisans craft their own economic force: Eric Wobser
View full sizeThomas Ondrey/The Plain DealerSam McNulty relaxes at his Bier Market on April 14. He also owns Bar Cento and Speakeasy and will open Market Garden later this spring.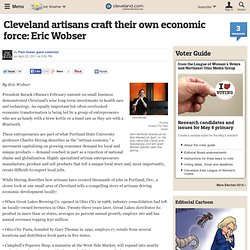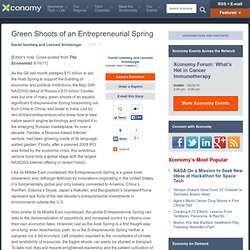 Daniel Isenberg and Leonard Schlesinger6/20/11
Green Shoots of an Entrepreneurial Spring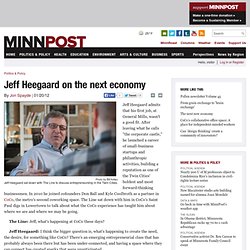 Jeff Heegaard on the next economy
Photo by Bill Kelley Jeff Heegaard sat down with The Line to discuss entrepreneurship in the Twin Cities.
Thomas Fisher: The Next Economy and the 'Next Politics'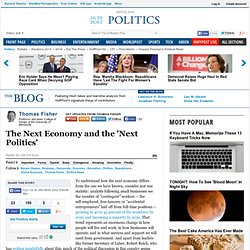 To understand how the next economy differs from the one we have known, consider just one statistic: analysts following small businesses see the number of "contingent" workers -- the self-employed, free-lancers, or "accidental entrepreneurs" laid off from full-time positions -- growing to 40 to 45 percent of the workforce by 2020 and becoming a majority by 2030.
New Economy Network Members Area | Home
The idea that we need a "new economy"—that the entire economic system must be radically restructured if critical social and environmental goals are to be met—runs directly counter to the American creed that capitalism as we know it is the best, and only possible, option. Over the past few decades, however, a deepening sense of the profound ecological challenges facing the planet and growing despair at the inability of traditional politics to address economic failings have fueled an extraordinary amount of experimentation by activists, economists and socially minded business leaders.
The New-Economy Movement
'Next Economy'