Pre-Yummies
Bite-sized Baked Brie
My hair is straight today. My hair is straight today only because a woman spent about two hours pulling, tugging, blowing, and spraying my hair into this state. It's still curly on the bottom.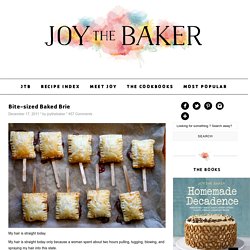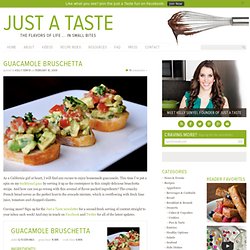 Guacamole Bruschetta
February 10, 2009 Guacamole Bruschetta As a California girl at heart, I will find any excuse to enjoy homemade guacamole. This time I've put a spin on my traditional guac by serving it up as the centerpiece in this simply delicious bruschetta recipe. And how can you go wrong with this arsenal of flavor-packed ingredients? The crunchy French bread serves as the perfect host to the avocado mixture, which is overflowing with fresh lime juice, tomatoes and chopped cilantro.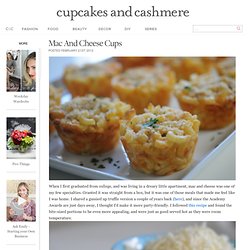 February 21st, 2012 When I first graduated from college, and was living in a dreary little apartment, mac and cheese was one of my few specialties. Granted it was straight from a box, but it was one of those meals that made me feel like I was home. I shared a gussied up truffle version a couple of years back ( here ), and since the Academy Awards are just days away, I thought I'd make it more party-friendly. I followed this recipe and found the bite-sized portions to be even more appealing, and were just as good served hot as they were room temperature.
Personally, I do not like to use toothpicks to keep the bacon attached to the smokies. If you prefer to use toothpicks, as many other similar recipes do, by all means do so. Empty the smokies onto some paper towels and blot them dry.
Bacon-Wrapped Li'l Smokies in a Brown Sugar and Maple Glaze
January 29, 2012 Anyone looking for a fun new appetizer (or even main course!) for the big game this week?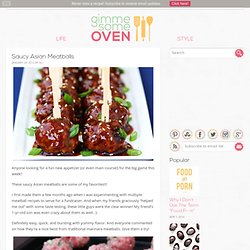 My brother and I have been partners in crime for more years than either of us are prepared to admit. We fought like cats and dogs when we were growing up, and one of the proudest moments of my life is still the time during a loooooong car ride to Vermont when I tricked him into finishing his McDonalds fries before I finished mine…and then stretching mine out for the remainder of the four hour trip. ("Boy, these fries are SO good. I bet you wish you still had some. Mmmmmmmm.")
Framed Cooks: Mini Caprese Bites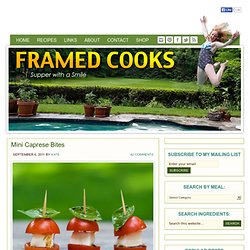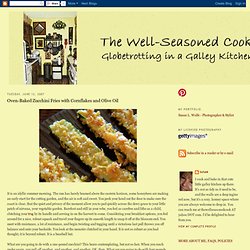 Baseball Bats in the Backyard - Squash Fries
It is an idyllic summer morning. The sun has barely beamed above the eastern horizon, some honeybees are making an early start for the cutting garden, and the air is soft and sweet. You peek your head out the door to make sure the coast is clear, that the quiet and privacy of the moment allow you to pad quickly across the dewy grass to your little patch of nirvana, your vegetable garden. Barefoot and still in your robe, you feel as carefree and lithe as a child, clutching your trug by its handle and zeroing in on the harvest to come. Considering your breakfast options, you feel around for a nice, robust squash and travel your fingers up its smooth length to snap it off at the blossom end. You meet with resistance, a lot of resistance, and begin twisting and tugging until a victorious last pull throws you off balance and onto your backside.
A new year always brings new resolutions.
So Very Blessed...: Cheesy Quinoa Bites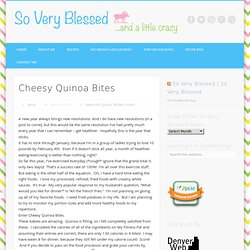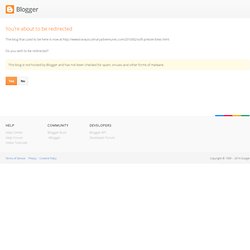 We've been hosting a get-together at our house on Super Bowl Sunday since we moved in a few years ago. Most (if not all) of our friends are Patriots fan, but even when the Patriots don't make it to the big game, we still like getting together to watch the game (and the commercials) and enjoy some good food! Last night's game was really exciting and we definitely enjoyed watching the Saints win so congratulations to all of their fans! Hopefully next year the Patriots will be back in the Super Bowl :) I actually didn't make much food for our party this year since it was a small gathering.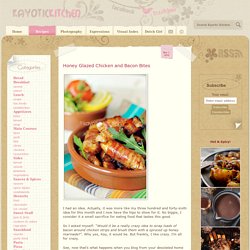 I had an idea. Actually, it was more like my three hundred and forty-sixth idea for this month and I now have the hips to show for it. No biggie, I consider it a small sacrifice for eating food that tastes this good. So I asked myself: " Would it be a really crazy idea to wrap loads of bacon around chicken strips and brush them with a spruced up honey marinade ?". Why yes, Kay, it would be. But frankly, I like crazy.
These will not last long…take them to a party or a potluck and they will disappear before your eyes! Handsome little devils, for sure. High-protein eggs filled with creamy good-for-us avocados…WOW. Make lots. (Prepare these not too long before serving, as the avocados may turn dark.) 6 hard boiled eggs 1 medium avocado, diced small 3 tablespoons mayonnaise 2 teaspoons freshly squeezed lemon juice 1/8 teaspoon garlic powder 1/8 teaspoon cayenne pepper, or to taste Salt to taste
Get 'em while the gettin's good! «
New Year's Eve Party Ideas: Parmesan Pigs In A Blanket Appetizers
I bet that if someone asked a large population of people, 'What is one of your favorite finger or party foods?', many would answer with 'pigs in a blanket'. What is it about having a hot dog wrapped and baked in a puff pastry or some sort of breading that makes adults and kids alike come running? Trust me, that you should probably make a double batch of these Parmesan Pigs in a Blanket…
Cookbook Recipe: Matt Armendariz's Caprese Sticks | Apartment Therapy The Kitchn
Matt Armendariz's new book, On a Stick , inspires us to skewer anything edible! Oh boy, we're glad we put our favorite salad, um, on a stick. Read on to find out more about this wonderful new cookbook and the global flavors it encompasses! Matt Armendariz, acclaimed blogger and food photographer extraordinaire, has just released his first cookbook of his own original recipes (he's photographed many other authors' cookbooks). On a Stick will leave you full, happy and pondering just how many foods you may be able to throw onto a skewer. After I made a few of the recipes, I found myself looking at my kitchen pantry anew, with crazy 'put it on a stick' potential.
Summer is slowly coming to a close, but tomato season is still in full swing. In honor of the great tomato, here is a fresh and tasty appetizer perfect for outdoor entertaining. These tomato bites are the perfect marriage of juicy cherry tomato, dense mozzarella, and basil. You can even stick a toothpick in them to make them more party-friendly.
Recipe: Cherry Tomato Bites | Apartment Therapy The Kitchn
If it's a classic deviled egg you're looking for, you best keep on moving. There's no mayonnaise or mustard here, and we haven't even bothered with any fancy piping. What we do have, though, is one pretty delicious bite. These deviled eggs are made with creamy, tangy Greek yogurt, flavored with smoked paprika and sun-dried tomatoes, and topped with crispy frizzled shallots. Easter in our house isn't complete without a tray of deviled eggs.
Recipe: Smoky Deviled Eggs with Greek Yogurt | Apartment Therapy The Kitchn