Cookies
Chocolate Crinkles Recipe. Please welcome guest author Garrett McCord as he shares some of his best-loved holiday chocolate crinkle cookies.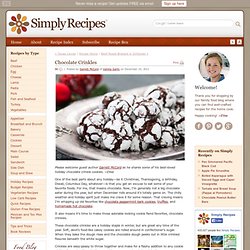 ~Elise One of the best parts about any holiday—be it Christmas, Thanksgiving, a birthday, Diwali, Columbus Day, whatever—is that you get an excuse to eat some of your favorite foods. Espresso-chocolate shortbread cookies. In my mind, there are few higher callings in the baking world than cookies, and simply no higher cookie callings than shortbread, so I cannot think of a better place to start my Week-O-Cookies.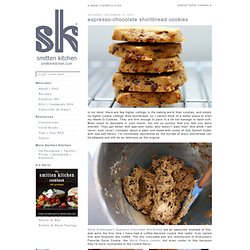 They are firm enough to pack in a tin but manage to taste soft. Bites seem to dissipate in your mouth, but not so quickly that you feel you were shorted. Chai Spiced Sugar Cookies. You may be well on your way into settling into this New Year, and maybe even weaned your way out of your elastic-waist pants.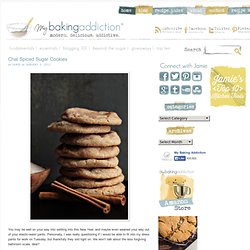 Personally, I was really questioning if I would be able to fit into my dress pants for work on Tuesday, but thankfully they slid right on. We won't talk about the less forgiving bathroom scale, deal? I think I'm finally coming down from my food induced haze and find myself craving structure as opposed to cookies. Ha! Cinnamon Roll Sugar Cookies? Yes!
Have I got a treat for you today right before Valentines day!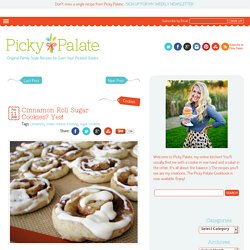 I was getting ready to cut my traditional sugar cookies in the shape of hearts for this post and a little light bulb went off! I don't know if I was craving cinnamon rolls or what, but I thought to myself….I am soooo making these sugar cookies into cinnamon rolls! Brace yourself friends, you will NOT be able to stop eating these, they are that good. My husband and I both agree the only way to enjoy these beauties is after they've chilled in the fridge for at least 30 minutes.
Talk about heaven :) I'll stop talking so you can go make these quickly, make them for your Valentine and he or she will LOVE you forever!! Red Velvet Cheesecake Cookies Recipe | Red Velvet Cookies. Red Velvet Cheesecake Cookies Red velvet cake is so pretty and perfect for the holiday season.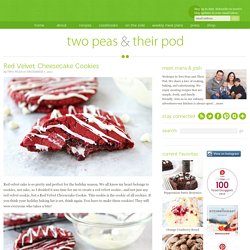 We all know my heart belongs to cookies, not cake, so I decided it was time for me to create a red velvet cookie…and not just any red velvet cookie, but a Red Velvet Cheesecake Cookie. This cookie is the cookie of all cookies. If you think your holiday baking list is set, think again. You have to make these cookies! Red Velvet Crinkle Cookies | Red Velvet Cake Mix Cookies. Red Velvet Crinkle Cookies First of all, thanks everyone for the birthday wishes.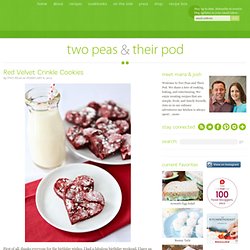 I had a fabulous birthday weekend. I have an easy and festive Valentine's Day cookie recipe for you today. I made Red Velvet Cheesecake Cookies during Christmas time and they were a huge hit. Strawberry Valentine Oreo Cookies Recipe. I'm the only girl in my house which means we don't see much of the color pink, so when Valentine's Day rolls around I finally have an excuse to bake and decorate with pink!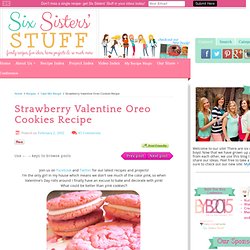 What could be better than pink cookies?! Strawberry Valentine Oreo Cookies Recipe: Ingredients:Cookies: 1 package of strawberry cake mix 2 eggs 3/4 cup of shortening Frosting: 8 oz. cream cheese, room temperature 1/2 stick of butter, softened 2 tsp. vanilla 4 c. powdered sugar. HolyCrapTheseAreAmazing Cookies. Let me start right off by saying that no, that is not the official name of these cookies – but it should be.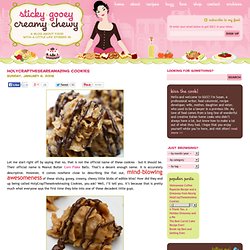 Their official name is Peanut Butter Corn Flake Balls. That's a decent enough name. S'mores Cookies. Yesterday was busy with swimming, BBQing, and relaxing.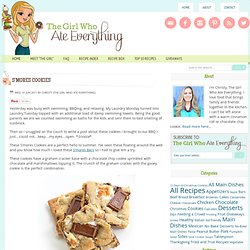 My Laundry Monday turned into Laundry Tuesday topped with an additional load of damp swimming towels. Being the good parents we are we counted swimming as baths for the kids and sent them to bed smelling of sunblock. Then as I snuggled on the couch to write a post about these cookies I brought to our BBQ I just…could not…keep…my eyes…open. *Snooze* Baked Perfection. A delightful summer treat.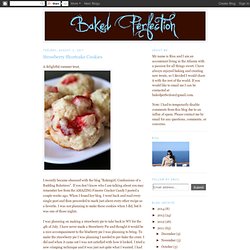 I recently became obsessed with the blog "Bakergirl, Confessions of a Budding Baketress". If you don't know who I am talking about you may remember her from the AMAZING S'mores Cracker Candy I posted a couple weeks ago. Rolo Cookies. Join us on Facebook to see our latest recipes! My college roommate, Mandy, would make these cookies all the time! They are so easy and sooooo good. Colorful Spiral Cookies. Just try to be in a bad mood around one of these. Impossible! I was naturally drawn to these because of the bright, eye-catching swirl, not to mention the jumbo sprinkles-encrusted edges! Watermelon Sugar Cookies. Our local Safeway has a little watermelon slice cookie that I can get in the Summer, and I love the taste.
It just shouts Summer and I have a hard time passing them by when I see them on the store shelf. So when I saw these adorable watermelon cookies that Amanda from Amanda's Cookin had baked up last Summer, I knew I would be making them. . They were so dang cute, I immediately put them on the "must bake" list. S'mores Cookies Recipe. Posted on July 12, 2011 by Christina I made these S'mores cookies a few days ago – 32 of them to be precise. And guess what? They are ALL gone. Not a crumb to be seen. Homemade Fortune Cookies. Strawberry Shortcake Cookies. Lemon Sugar Cookies. Glazed Chai Cookie Bars. Old Fashioned Snickerdoodles.
The Infamous Jacques Torres Chocolate Chip Cookies - StumbleUpon. Drunken Molasses Cookies With Ginger | Apartment Therapy The Kitchn. Cookie Recipe: Best Cut-Out Sugar Cookies | Apartment Therapy The Kitchn. Super-Soft Snickerdoodle Cookies | Apartment Therapy The Kitchn. No-Bake Nutella Peanut Butter Cookies | Apartment Therapy The Kitchn. Chewiest Sugar Cookies - Recipes - food52 - food community, recipe search and cookbook contests. Mint Chocolate Chip Cookies Recipe.
Chocolate Lovers' Triple-Chocolate Brownie Cookies - Cook Like James.
---