Bring on the Booze!
My Jello Americans
Dragon Flowers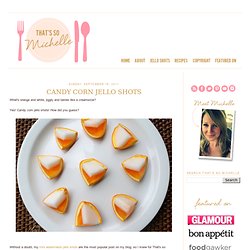 Candy Corn Jello Shots
What's orange and white, jiggly and tastes like a creamsicle?
Recipe: Margaritas Made with Beer | Apartment Therapy The Kitchn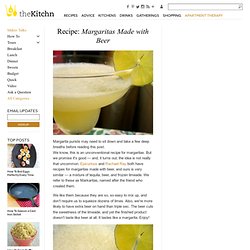 Margarita purists may need to sit down and take a few deep breaths before reading this post. We know, this is an unconventional recipe for margaritas. But we promise it's good — and, it turns out, the idea is not really that uncommon. Epicurious and Rachael Ray both have recipes for margaritas made with beer, and ours is very similar — a mixture of tequila, beer, and frozen limeade.
We didn't stop with rhubarb! There was plenty of basil and the liquor was flowing easily last night, so we came up with another cocktail — this time with pineapple and a hint of lime... Again, we tasted this cocktail using vodka and gin, but this time, gin won out. We're not sure exactly why — maybe some mixologists have a reason — but it just seemed to give the pineapple more body.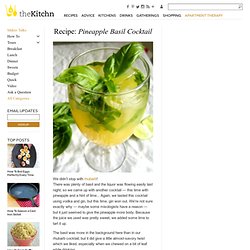 Recipe: Pineapple Basil Cocktail | Apartment Therapy The Kitchn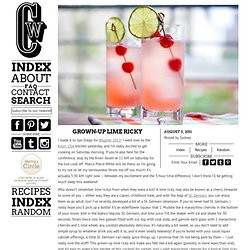 I made it to San Diego for BlogHer 2011! I went over to the Knorr USA kitchen yesterday, and I'm really excited to get cooking on Saturday morning. If you're also here for the conference, stop by the Knorr booth at 11 AM on Saturday for the live cook off. Marco Pierre White will be there, so I'm going to try not to let my nervousness throw me off too much! It's actually 5:30 AM right now – between my excitement and the 3-hour time difference, I don't think I'll be getting much sleep this weekend!
Grown-Up Lime Ricky
Drink Recipe: Asian Pear Sparkler | Apartment Therapy The Kitchn
With several of my family members and friends allergic to alcohol, I'm looking at the holidays as a time to invent seasonal, booze-free drinks that still feel special. This Asian pear sparkler is smooth and refreshing with an enticing undercurrent of warm autumn flavors. I love making drinks with seasonal fruit, simmering the juice with sugar, honey, and other ingredients to form a simple syrup that can be mixed with fizzy water and adjusted to each person's preference for sweetness. Asian pear is especially juicy and it doesn't take much to extract the liquid (a juicer is the easiest way to do this, but you can also use a blender or food processor to make a puree).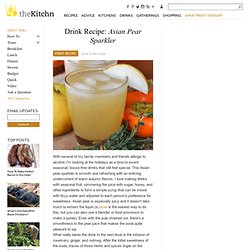 We have been having our share of warm spring air, pretty flowers & nascent green leaves against the blue blue sky (although it seems to have wandered off for the past week, & the nasty cold has butted it's ugly head again). I have been enjoying the outdoors with my kids, the smell of the freshly mowed grass & humming "The spring is in the air/I'll see lovers everywhere/I'm singing a song….." to myself. I also have been thinking Pink. I thought of plain & simple The Pink Drink, & the playful The Pink Wink, & even the elusive Pink Dream.
The Pink Breeze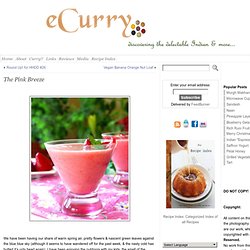 End of Summer Jelly Shots - Mimosa with Orange Flower Water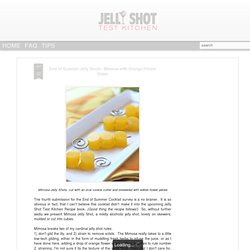 Mimosa Jelly Shots, cut with an oval cookie cutter and skewered with edible flower petals The fourth submission for the End of Summer Cocktail survey is a no brainer. It is so obvious in fact, that I can't believe this cocktail didn't make it into the upcoming Jelly Shot Test Kitchen Recipe book. (Good thing the recipe follows!)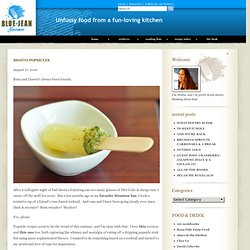 Rum and I haven't always been friends. After a collegiate night of bad choices featuring one too many glasses of Diet Coke & cheap rum, I swore off the stuff for years. But a few months ago at my favorite Houston bar, I took a tentative sip of a friend's rum-based cocktail. And rum and I have been going steady ever since. Dark & stormys?
MOJITO POPSICLES « Blue Jean Gourmet
Skittles Vodka (with instructions)
Fresh mint is super abundant this time of year. The crop in my garden is already a bit out of control, and it's only May! I use mint all summer long in iced tea, fruit salads, tabbouleh, and more. But, hands-down, the best use for fresh mint is for making an icy-cold Mojito on a hot summer evening.
Refreshing Raspberry Mojito | ? la carte kitchen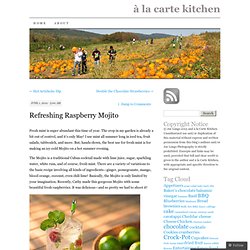 When thinking of Super Bowl foods strawberries don't usually make the cut. However... mix the strawberries with a little tequila and turn them into a margarita and you are getting closer! With our sunny Citrus Blush already mixed and in the pitcher we weren't really in need of another cocktail, but when I came across these cute little shots I couldn't resist putting them on my Super Bowl Extravaganza Table. Hollowed out strawberries work as a vehicle for a Jell-0 concoction of strawberry gelatin, tequila and a touch of Grand Marnier.
Strawberry Margarita Jell-O Shots
As summer leaves us, I thought it was only fitting to go out with one of the most summery cocktails I could possibly think of: the daiquiri. I made these last week when it was gloomy and rainy in New York City, so I figured that these Strawberry Basil Daiquiris would help cheer Kramer and me right up. I switched things up from a typical daiquiri by adding, of course, the basil, but I also used one of my favorite liqours, St. Germain, in addition to rum, for a mellow sweetness that paired perfectly with the fresh strawberries. There's nothing quite like sipping on a frozen daiquiri in the dead of summer – it cools you off and makes you care a little less about the sweltering heat.
Strawberry Basil Daiquiris
Earlier in the week, we posted some ideas for using basil in cocktails, promising to try our own interpretations over the weekend. Well, we did some experimenting, and while our first inclination was to use strawberries, we found piles of rhubarb at the farmer's market — and came up instead with this lovely, pink concoction. Click below for the recipe...Rhubarb definitely needs to be sweetened up from its natural state, especially for a summery cocktail, so we cooked it down with some sugar and made a purée. We cut some basil into ribbons, bruised it a bit with the back of a spoon, and stirred in the rhubarb, liquor, and club soda. In the name of, ahem, thorough research, we tasted two versions — one with gin, one with vodka — and determined that the complexity of rhubarb and the herbal flavor of the basil needed a less flavorful alcohol.
Recipe: Rhubarb Basil Cocktail | Apartment Therapy The Kitchn
Rainbow Jelly Shooter Its been a whirlwind at the test kitchen. The book is progressing (crossing fingers that it is going to press in early December!), we have been working on a little something (three little somethings, actually) for Saveur.com, and about a million more actions items cropping up here and there, many of which have not received appropriate attention and are currently housed in a bin marked "anxiety provoking". One of the highlights of our week was a lovely chat with Erin over at Tablespoon.com, who mentioned that they were hosting a Double Rainbow Week, which sounded like such fun!
Unfettered F-U-N . . . Rainbow Jelly Shooter!
Add a little firecracker spark to your cocktails (or mocktails for the kids) this summer! How? It's easy! POP ROCKS! I used to love this candy as a kid. They make a crackle sound when they hit your tongue and come in a variety of colors and flavors.
Pop Rocks Rimmed Cocktails
For Every Holiday Party, the Right Drink - Multimedia Feature
Candy Corn Cordials Recipe : Food Network Kitchens
The Portal Two (Portal 2 Cocktails) Ingredients:... | The Drunken Moogle - StumbleUpon
Raspberry, coconut, and lime – oh my! | Cocktail Culture
Fancy Watermelon Lime Jello Shots
Caramel Apple Jello Shots [With Real Apples]