Jewellery Tutorials
Jewelry DIY: Suede & Chain Woven Bracelet (Part 3) DIY & Crafts, Jewelry Tutorials Here it is!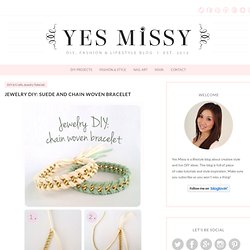 The part 3 in my woven chain bracelet series! So in this week's tutorial, there are 2 variations to this bracelet, both using exactly the same simple wrapping technique! One look creates a chevron style pattern, while the other will create a diagonal stitch pattern. DIY - Gold Bar Bracelet » For the Love of... For the Love of… DIY Macrame Bracelet. Growing up by the beach in Southern California, the ability to knot a macrame bracelet was practically a right of passage.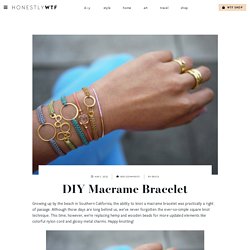 Although those days are long behind us, we've never forgotten the ever-so-simple square knot technique. This time, however, we're replacing hemp and wooden beads for more updated elements like colorful nylon cord and glossy metal charms. Happy knotting! Beaded Wrap Bracelet // diy. I first tackled this DIY over our Easter vacation in South Carolina visiting James' family.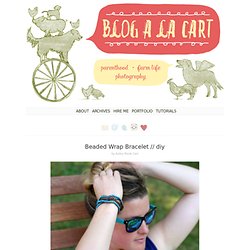 I finally documented it over our summer vacation in Cape Cod visiting my family. And I made it a goal to post it before the official end of summer, i.e. before Labor Day! And yes, we do realize that we are very fortunate to have family that lives in such desirable places. Thanks Moms and Dads! I know I'm late on the Chan Lu Beaded Wrap Bracelet bandwagon. DIY Woven Chain Bracelet. Chain link bracelets, with colorful threads woven through them, have been popping up here and there.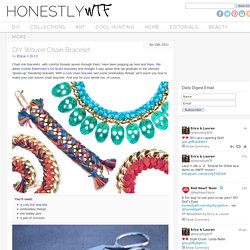 We adore Aurèlie Bidermann's Do Brazil bracelets and thought it was about time we graduate to the ultimate "grown-up" friendship bracelet. With a curb chain bracelet and some embroidery thread, we'll teach you how to make your own woven chain bracelet. DIY Woven Chain Bracelet. Rope Bracelet. ANNOUNCEMENT: A select number of these bracelets are available for sale here.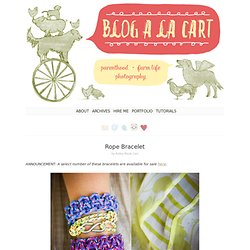 I know, I know, MORE friendship bracelets. I can't stop myself. Rhinestone Bangles. I've had this project on the back burner for a long time and I'm so happy to have finally finished it to show you all!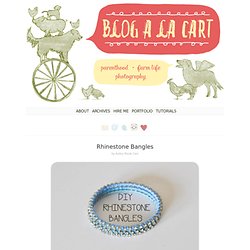 These bangles make great sparkly accessories for the holiday season or easy DIY presents for your fabulous friends! *NOTES: I bought a stack of 20 simple bangles at Target for less than $5. The rhinestone strands are from Michaels. You can use dots of glue to help start and finish off the thread wraps if you find it easier and less stressful than tucking and wrapping. Photos: Courtesy of Ashley Weeks Cart. Anthro Necklace Week – Paisley Rebirth Necklace.
Anthro Necklace Week Day 4!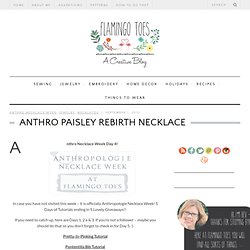 In case you have not visited this week – it is officially Anthropologie Necklace Week! 5 Days of Tutorials ending in 5 Lovely Giveaways!! If you need to catch up, here are Days 1, 2 a & 3. If you're not a follower – maybe you should do that so you don't forget to check in for Day 5. :) Rick Rack Rings — Guest Post By Maize in Montana!! DIY Wrap Bracelet. You should all know by now that we are all about stacking bracelets on our wrists.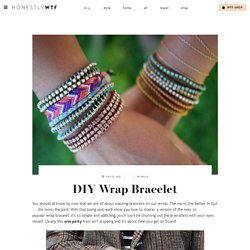 The more, the better. In fact . . . the most, the best! DIY Chan Luu-Style Wrap Bracelet. Lovely Wire Knot Ring Tutorial. You can make this lovely ring (or a version of this design) yourself, using just some basic tools, wire and a lip balm!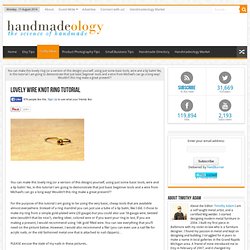 Yes, in this tutorial I am going to demonstrate that just basic beginner tools and a wire from Michael's can go a long way! Wouldn't this ring make a great present?? For the purpose of this tutorial I am going to be using the very basic, cheap tools that are available almost everywhere.
---