Handmade Body Products
How to Make Light & Fluffy Whipped Body Butter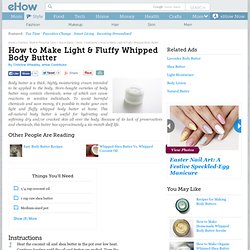 How to Make Body Butter You May Also Like. How to Make Your Own Homemade Body Butter. Body butter is a delightful and rich product that can... Shea Body Butter Recipes Shea Body Butter Recipes. ... How to Make Light & Fluffy Whipped Body Butter. Body butter is a thick, highly moisturizing cream...
How to Make Whipped Body Butter
Homemade whipped body butter recipe
Body butters can be made from many types of butters, shea butter, cocoa butter, aloe butter and mango butter to name a few. You can also use different kinds of liquid oils also, from Olive Oil, Almond Oil, Avocado Oil, etc. You will find that mostly all recipes for bath and body products are done by weight.
Homemade Whipped Body Butter Recipe, Page 2 of 2 - Associated Content from Yahoo! - associatedcontent.com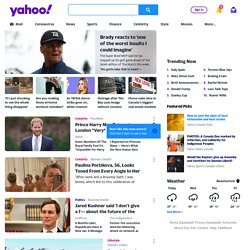 I was experimenting with some shea butter the other day and came up with a pretty cool (and easy) recipe. Here's what I stumbled upon. .. Ingredients 14 oz Shea Butter 5 oz Coconut Oil (76 degree melt Coconut Oil) 6 ml Cranberry Fig Fragrance Oil (or your choice) Electric Mixer 4 ounce jars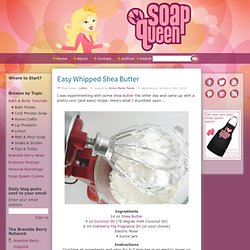 Easy Whipped Shea Butter
Kathy's Canadian Soapmaking Links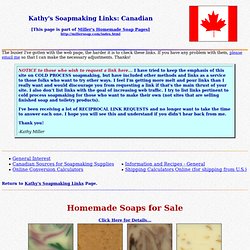 The busier I've gotten with the web page, the harder it is to check these links. If you have any problem with them, please email me so that I can make the necessary adjustments. Thanks! Return to Kathy's Soapmaking Links Page. Homemade Soaps for Sale
Solid Perfume Recipe - Make Your Own Solid Perfume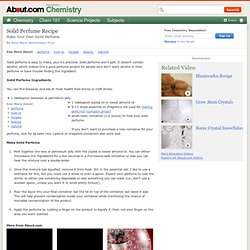 Solid perfume is easy to make, plus it's practical. Solid perfume won't spill. It doesn't contain alcohol, which makes this a good perfume project for people who don't want alcohol in their perfume or have trouble finding this ingredient. Solid Perfume Ingredients
This is an inexpensive and easy way to smell nice! I originally looked into this because I wanted to smell like pine trees, and nobody makes that scent (at least until Ralph Lauren gets a whiff of me). Create a personalized scent for a nifty gift.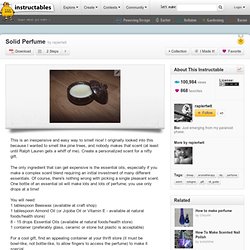 Solid Perfume
I come from a long line of nail-biters, hand-wringers and floor-pacers. My BIG project is due at the end of this month, and I'm more than a little anxious about it. On the whole, I'm handling the work-load well, but for me, stress, and mounting insecurities are my most powerful adversaries. As a champion worrier, I've spent years trying to tailor a de-stressing routine that suits my lifestyle. Exercise is always a good thing.
Stressful Times Call for Bathtub Tea
bare minimum (lip balm recipe)
Lavender & Peppermint Foot Cream Recipe
Posted by Rebecca D. Dillon | | © Rebecca's Soap Delicatessen Love your feet with this easy to make recipe created from rich, skin loving ingredients sure to tackle even the worst feet.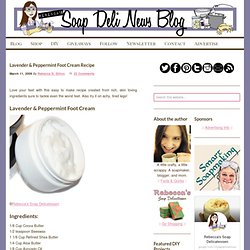 Posted by Rebecca D. Dillon | | I have had several customers inquire about lotion bars. These, unfortunately do not hold up in the summer heat as they're made to melt at body temperature making them near impossible to sell on the downtown market.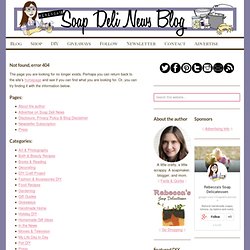 I can't believe it's already time again for another edition of the Secret Recipe Club ! This Summer is seriously just flitting on by! This time around I was given The Mommy Bowl for my assignment, written by Deanna. Her blog is primarly gluten-free, and some allergy free, and very health conscious… which is really just about the exact opposite of what I do here. It's definitely not that I have anything against that, but I just don't have the knowledge or the energy to learn all about alternative types of cooking and baking at this point.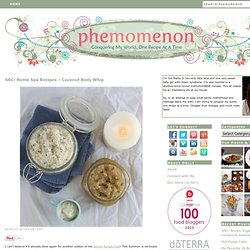 Home Spa Recipes – Body Scrub, Bath Salts, Whipped Body Lotion
Rosemary Mint Sugar Scrub beauty , DIY , handmade gifts | 54 comments Not only is it incredibly easy and fast whip up a batch of homemade sugar scrub for yourself, jars of homemade sugar scrubs make great inexpensive gifts for any occasion.
Homemade Sugar Scrub | Rosemary Mint Sugar Scrub Recipe
When the weather gets cooler my mind turns not only to knitting but also to making body products. I made chapstick already last year, but wasn't overly happy with the recipe, so I tried a different one this year. I used: 20% beeswax 25% coconut oil 15% cocoa butter 40% olive oil
Mountain Rose Herbs Order: shipping_method
Welcome to our new Shopping Cart. We have added new features to make your shopping experience faster and easier. If you had an existing account online with us and have not logged in since 1/10/2011, you will need to re-create your account and enter your address information the first time you check out. You must use your email address as your username. Thanks for your patience with these changes.
Butter Bars/Lotion Bars Recipe
Ingredient List : 4 ounces cocoa butter, shea butter or mango butter 4 ounces beeswax, refined beads, yellow or white 4 or 5 ounces liquid vegetable oil such as refined jojoba, sunflower or sweet almond* 3 to 4 teaspoons of essential oil or fragrance oil of your choice 2 to 3 teaspoons colored wax jojoba beads (optional) Directions : Melt first butter and pour 4 ounces into 8oz Pyrex measuring cup. Add 4 ounces of beeswax beads. (Total of 8 ounces in cup) Add colored jojoba beads if using.
Lotion bars are a soap like bar that is a compressed moisturizing lotion, which is rubbed directly onto the skin without water. They can be used for many purposes, used any where, and the best of all, you can make them using cheap and useful natural constituents at your home. To make the lotion bars, microwave the ingredients on high 30 seconds at a time, stirring in between, until the wax is melted, or by using the double boiler method, beat with a whisk until it gets creamy, add the essential oils and beat again to mix very thoroughly.
Homemade Lotion Bar Recipes
Dreamy Creamy Lotion Bar - Free Bath Recipes