Twitter
Top 10 Uses for Twitter (That Aren't Self-Indulgent)
Use Twitter #Hashtags to Amplify Your Learning!
Today, I don't spend much learning time following people or particular lists on Twitter, but I do spend time following, reflecting and interacting with relevant learning hashtag conversations (streams) taking place around the world. If you are confused about what Twitter hashtags are, you have come to the right place to understand the power and possibilities that these learning conversations can do to amplify your learning!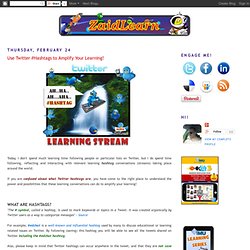 Academic Excellence in 140 Characters
eLearn: Feature Article - The Effects of Twitter in an Online Learning Environment
#Edchat What is #edchat? To answer this question, view the video below, produced by Shelly Terrell (@shellterrell), and also visit her blog posts on the subject: What is #Edchat and #Edchat: Join the Conversation.