Twitter
Top 10 Uses for Twitter (That Aren't Self-Indulgent) In the last 6 months the city I live in (Christchurch, New Zealand) has had two major earthquakes.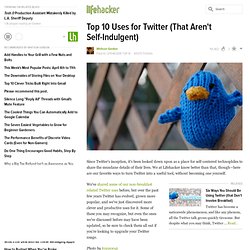 Both times Twitter has been a fantastic tool. The first one was 4.30am local time, so all of my family in the UK and USA found out about the earthquake about the same time it happened - the mobile network was unstable and calls and texts weren't getting through, but data was OK - so using selective tweets to update my facebook status (for those not on twitter) meant I could let my family and friends around the world know we were alive. The second earthquake was in the middle of the day - so this time Twitter let me tell my family and friends in other parts of NZ that I was alive. Use Twitter #Hashtags to Amplify Your Learning! Today, I don't spend much learning time following people or particular lists on Twitter, but I do spend time following, reflecting and interacting with relevant learning hashtag conversations (streams) taking place around the world.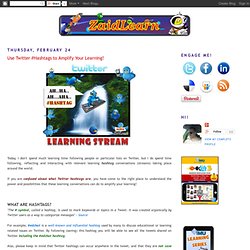 If you are confused about what Twitter hashtags are, you have come to the right place to understand the power and possibilities that these learning conversations can do to amplify your learning! "The # symbol, called a hashtag, is used to mark keywords or topics in a Tweet. It was created organically by Twitter users as a way to categorize messages" - Source For example, #edchat is a well-known and influential hashtag used by many to discuss educational or learning related issues on Twitter. By following (saving) this hashtag you will be able to see all the tweets shared on Twitter including the #edchat hashtag. Academic Excellence in 140 Characters. eLearn: Feature Article - The Effects of Twitter in an Online Learning Environment. FrontPage. #Edchat is the weekly Bammy Award winning Twitter conversation that any educator can join to discuss and learn about current teaching trends, how to integrate technology, transform their teaching, and connect with inspiring educators worldwide.
We also discuss education policy, education reform and often have leaders worldwide join our conversations, such as Alfie Kohn, Diane Ravitch, and the Finnish Education Leaders. #Edchat was founded July 30, 2009 by Shelly Sanchez Terrell (@ShellTerrell), Tom Whitby (@TomWhitby), and Steven Anderson (@Web20classroom).
---