Good websites
BrainPOP ESL - An Animated Educational Site for English Language Students of all ages - Games, Lesson Plans, Teaching Tools, Activities, Animated Movies, for TESOL, TOEFL, ELL and EFL learners. Play.com (UK): DVDs, Music CDs, MP3s, Video Games, Books, Electronics & Gadgets - Free Delivery. Youtube. PBS Kids. Guest Services. Disney News, Disney Merchandise, Disney Shopping, Discounted Disney Travel, Disney Forums, and Everything Disney! | Magical Mountain. Walt Disney World - Disney World Vacation Information Guide - INTERCOT - Walt Disney World Inside & Out.
Walt Disney World Resort Vacation Planning Information. Home > Walt Disney World This is the year to visit the Walt Disney World Resort!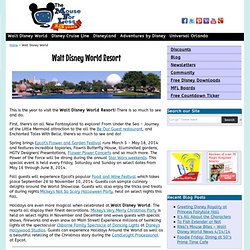 There is so much to see and do. First, there's an all New Fantasyland to explore! My Vacation Countdown Ticker - Disney Vacation Countdown Clock. Welcome to www.MyVacationCountdown.com What is a ticker?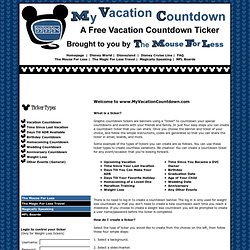 Graphic countdown tickers are banners using a "ticker" to countdown your special countdowns and events with your friends and family. In just four easy steps you can create a countdown ticker that you can share. Once you choose the banner and ticker of your choice, and follow the simple instructions, codes are generated so that you can share the ticker in email, boards, and more. Some example of the types of tickers you can create are as follows. It's A Disney World After All.
Amazon.com: Online Shopping for Electronics, Apparel, Computers, Books, DVDs & more. Cuponbug.com. Makeyourownwebsite.com. Inside the Magic. Santa.com - Write Letters to Santa Claus & Create Christmas Wishlists. FamilyFun Crafts, Activities, Recipes & Other Ideas for Kids & P. Create Something. // Provide alternate content for browsers that do not support scripting // or for those that have scripting disabled.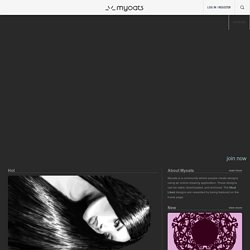 Alternate HTML content should be placed here. This content requires the Adobe Flash Player. <a href=" Get Flash</a>
---