Good websites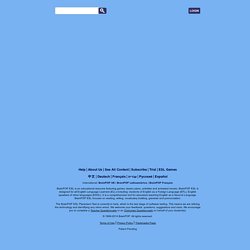 BrainPOP ESL is an educational resource featuring games, lesson plans, activities and animated movies. BrainPOP ESL is designed for all English Language Learners (ELL) including: students of English as a Foreign Language (EFL), English speakers of other languages (ESOL). It is a comprehensive tool for educators teaching English as a Second Language. BrainPOP ESL focuses on reading, writing, vocabulary building, grammar and pronunciation.
Disney News, Disney Merchandise, Disney Shopping, Discounted Disney Travel, Disney Forums, and Everything Disney! | Magical Mountain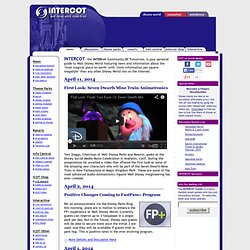 Walt Disney World - Disney World Vacation Information Guide - INTERCOT - Walt Disney World Inside & Out
INTERCOT- the INTERnet Community Of Tomorrow, is your personal guide to Walt Disney World featuring news and information about the "most magical place on earth" with "more information per square megabyte" than any other Disney World site on the Internet. January 2, 2014 INTERCOT Insider Live Disney Podcast - Episode 58: Ian's Got A Toque On, Gary's Got The Anorak
Walt Disney World Resort Vacation Planning Information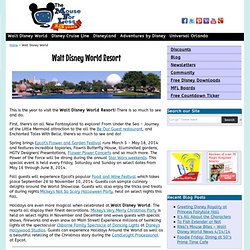 Home > Walt Disney World This is the year to visit the Walt Disney World Resort! There is so much to see and do. First, there's an all New Fantasyland to explore!
Welcome to www.MyVacationCountdown.com What is a ticker? Graphic countdown tickers are banners using a "ticker" to countdown your special countdowns and events with your friends and family. In just four easy steps you can create a countdown ticker that you can share. Once you choose the banner and ticker of your choice, and follow the simple instructions, codes are generated so that you can share the ticker in email, boards, and more. Some example of the types of tickers you can create are as follows.
My Vacation Countdown Ticker - Disney Vacation Countdown Clock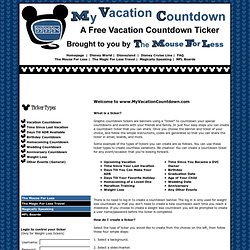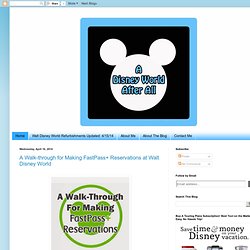 The Disney Details are one of the most important parts in making Walt Disney World s stand out among the rest. They are little touches or experiences that they don't have to include, but the parks would feel somewhat naked if they weren't there. It's time to take a look at some of the smaller details that can be found in probably one of the most themed lands in all of Walt Disney World, Adventureland. Adventureland is the land of daring and mystique. It's the land of jungles, pirates, and tiki culture. While you wouldn't think that these would all work together, they totally do in one fantastic land.
cuponbug.com
makeyourownwebsite.com
Santa.com - Write Letters to Santa Claus & Create Christmas Wishlists
// Provide alternate content for browsers that do not support scripting // or for those that have scripting disabled. Alternate HTML content should be placed here. This content requires the Adobe Flash Player. <a href="http://www.macromedia.com/go/getflash/"> Get Flash</a>