Services
Incarnate
Company Mapper provides a dynamic and interactive map of connections between boardmembers listed on the ASX. The interactive map includes more than 2,000 companies and more than 12,000 people. The data is sourced directy from ThomsonReuters and is updated every 24 hours.
Optimice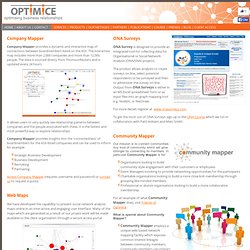 Backupify
Monday is arguably the least popular day of the week. Today, Gmail is definitely not helping the issue. Over the weekend, several hundred thousand Gmail users saw their accounts reset , which is the technical term for "losing everything that was in your Gmail account prior to Feb. 27." This follows on last week's news of Google calendar mysteriously deleting appointments and events .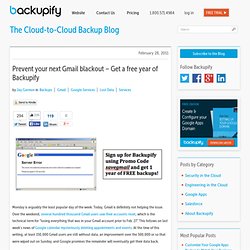 Jun Group
NutshellMail
Augmented Reality
OpenX.org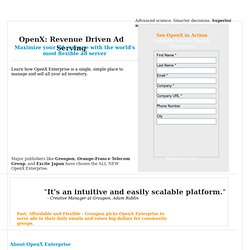 Advanced science. Smarter decisions. Superior monetization. OpenX: Revenue Driven Ad Serving Publishers and Networks serve 350 billion ads per month in 100 countries with OpenX. Grow your business with us.
Idée
Surveillez l'activité de votre site au moment même où elle a lieu : identifiez immédiatement les éléments performants et ceux qui ne le sont pas. En savoir plus Vos investissements dans les médias sociaux méritent mieux que des tâtonnements.