2
Why Can't 3D Sound Be the Future of Movies? It's dark, and it's about to get darker.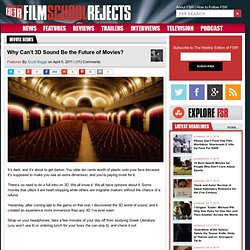 You slide ten cents worth of plastic onto your face because it's supposed to make you see an extra dimension, and you're paying more for it. There's no need to do a full intro on 3D. We all know it. We all have opinions about it. Some movies that utilize it are heart-stopping while others are migraine makers without the chance of a refund. INTERNET ENCYCLOPEDIA OF CINEMATOGRAPHERS - HOME.
Free Screenwriting Software by Plotbot—write screenplays online with friends. Must-See for Amateur Auteurs: Robert Rodriguez's 10-Minute Film School - Culture. Though it's been on YouTube for a while, this "10-Minute Film School," courtesy of acclaimed director Robert Rodriguez, appears to be terribly underappreciated.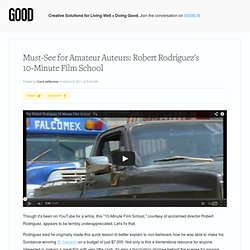 Let's fix that. Rodriguez said he originally made this quick lesson to better explain to non-believers how he was able to make his Sundance-winning El mariachi on a budget of just $7,000. Not only is this a tremendous resource for anyone interested in making a great film with very little cash, it's also a fascinating glimpse behind the scenes for anyone who's ever wondered just how moviemakers do it. For the third installment, in which Rodriguez shares some of the tricks behind his Desperado, go here. RonDexter.com. FILMSECRETS - Film Resource. Storyboard Template.
---