Graphic Design
Sarah Khandjian
Google Image Result for http://vectortuts.s3.amazonaws.com/articles/article_graphic-design_self_taught_stuff_you_should_know/work.jpg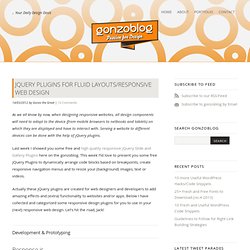 As we all know by now, when designing responsive websites, all design components will need to adapt to the device (from mobile browsers to netbooks and tablets) on which they are displayed and have to interact with. Serving a website to different devices can be done with the help of jQuery plugins. Last week I showed you some free and high quality responsive jQuery Slide and Gallery Plugins here on the gonzoblog. This week I'ld love to present you some free jQuery Plugins to dynamically arrange code blocks based on breakpoints, create responsive navigation menus and to resize your (background) images, text or videos. Actually these jQuery plugins are created for web designers and developers to add amazing effects and (extra) functionality to websites and/or apps. Below I have collected and categorized some responsive design plugins for you to use in your (next) responsive web design.
jQuery Plugins for Fluid Layouts/Responsive Web Design
how to display a logo to clients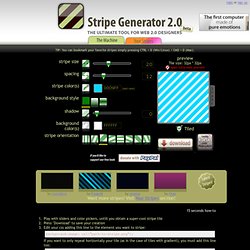 Stripe Generator
TIP: You can bookmark your favorite stripes simply pressing CTRL + D (Win/Linux) / CMD + D (Mac). stripe sizespacingstripe color(s)background styleshadowgradient heightbackground color(s)stripe orientation preview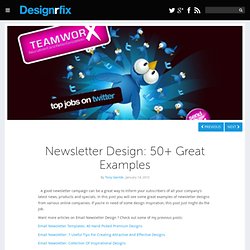 Newsletter Design: 50+ Great Examples
A good newsletter campaign can be a great way to inform your subscribers of all your company's latest news, products and specials. In this post you will see some great examples of newsletter designs from various online companies. If you're in need of some design inspiration, this post just might do the job. Want more articles on Email Newsletter Design ? Check out some of my previous posts: Email Newsletter Templates: 40 Hand Picked Premium Designs
If that sounds a little "all over the place" when it comes to types of books you can make at Blurb, it is. By design. Because if you can think it, dream it, draw it, write it, or photograph it, we can help you turn whatever "it" is into a beautiful print and ebook. We'll never tell you what kind of book to make. Our job is to help you bring whatever book you choose to make into the world and then help you tell the world all about it.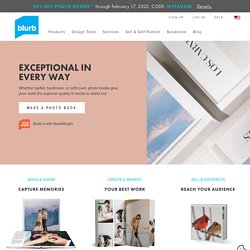 Tools And Resources For Designers, Blog Marketing And Money Making Tips - Smashapps
I'm Beth Joseph. AKA The Beth Joseph. I'm a graphic designer. I develop pieces for print, digital and tablet formats. My background is in identity development and publishing. Sometimes people say nice things about me: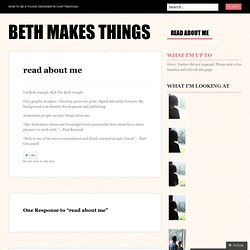 read about me « beth makes things
Resources
Creating grainy textures are great for retro illustrations, typography, and logos. Alternatively, you can incorporate these effects into compelling new styles. You can always scan in similar textures and Live Trace them in Illustrator, but you can pretty easily create this type of effect all inside Illustrator! Final Image Here is a sample image of what these techniques can do.