Food Movies
Like Water for Chocolate (3/12) Movie CLIP - Tita's Magical Meal (1992) HD. Daisies (1966. My Dinner with André (1981. In Louis Malle's captivating and philosophical My Dinner with André, actor and playwright Wallace Shawn sits down with friend and theater director André Gregory at an Upper West Side restaurant, and the two proceed into an alternately whimsical and despairing confessional on love, death, money, and all the superstition in between.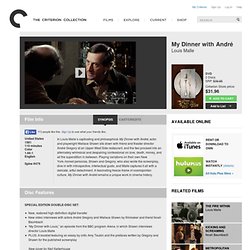 Playing variations on their own New York–honed personas, Shawn and Gregory, who also wrote the screenplay, dive in with introspective, intellectual gusto, and Malle captures it all with a delicate, artful detachment. A fascinating freeze-frame of cosmopolitan culture, My Dinner with André remains a unique work in cinema history. Love Affair, or the Case of the Missing Switchboard Operator (1967. In outline, this is the story of the tragic romance between a young telephonist (Eva Ras) and a middle-aged rodent sanitation specialist (Slobodan Aligrudic) in Belgrade.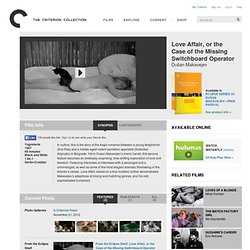 Yet in Dusan Makavejev's manic hands, this second feature becomes an endlessly surprising, time-shifting exploration of love and freedom. Featuring interludes of interviews with a sexologist and a criminologist, as well as some of the most elegant dramatic filmmaking of the director's career, Love Affair, based on a true incident, further demonstrated Makavejev's adeptness at mixing and matching genres, and his odd, sophisticated humanism.
The God Of Cookery食神(1996)-Eng Sub. The Discreet Charm of the Bourgeoisie (Dinner Sequence) The Discreet Charm of the Bourgeoisie (1972. In Luis Buñuel's deliciously satiric masterpiece, an upper-class sextet sits down to dinner but never eats, their attempts continually thwarted by a vaudevillian mixture of events both actual and imagined.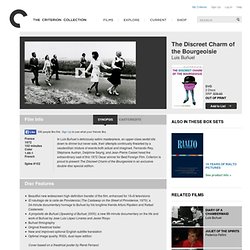 Fernando Rey, Stéphane Audran, Delphine Seyrig, and Jean-Pierre Cassel head the extraordinary cast of this 1972 Oscar winner for Best Foreign Film. Criterion is proud to present The Discreet Charm of the Bourgeoisie in an exclusive double-disc special edition. Test reel - Katz's Delicatessen in New York City. The Cook The Thief His Wife And Her Lover - Part three. Julie & Julia - Are You Spies? La Grande Bouffe - Marco Ferreri 03. Remy Cooks Ratatouille. Ratatouille Ego's Review. BIG NIGHT (1996) - I Secondi. Babette's Feast (part 2)
Food on Film Babette's Feast. Eat Drink Man Woman Opening Scene. Tampopo - ramen master. Oeuf - Tampopo Juzo Itami.
---