Digital Literacy
Gary Kovacs: Tracking the trackers
Keen On... Kevin Kelly: On the Social Revolution
I think it's pretty clear that the future of books is digital. I'm sure we'll always have deckle-edge hardcovers and mass market paperbacks, but I imagine the physical version of books will soon assume a cultural place analogous to that of FM radio. Although the radio is always there (and isn't that nice?), I really only use it when I'm stuck in a rental car and forgot my auxilliary input cord. The rest of the time I'm relying on shuffle and podcasts. I love books deeply.
The Future Of Reading | Wired Science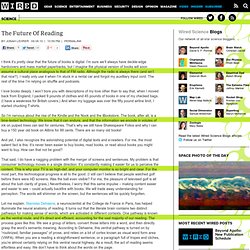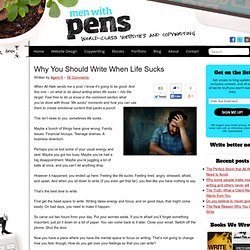 Why You Should Write When Life Sucks
When Ali Hale sends me a post, I know it's going to be good. And this one – on what to do about writing when life sucks – hits the target. Feel free to let us know in the comment section what you've done with those "life sucks" moments and how you can use them to create emotional content that packs a punch. This isn't news to you: sometimes life sucks. Maybe a bunch of things have gone wrong.
Stephen Colbert: The Whole Truthiness and Nothing But
Motivation doesn't have to be conscious; your brain can decide how much it wants something without input from your conscious mind. Now a new study shows that both halves of your brain don't even have to agree. Motivation can happen in one side of the brain at a time. Psychologists used to think that motivation was a conscious process. You know you want something, so you try to get it.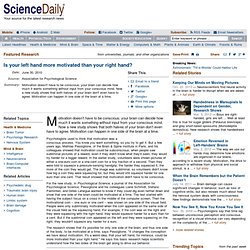 Is your left hand more motivated than your right hand?
"Genius Within: The Inner Life of Glenn Gould," the fascinating new documentary by the Canadian filmmakers Peter Raymont and Michèle Hozer, has won praise for providing insights into Gould's eccentric character. It shows the sad progression of a brilliant, garrulous musician with a fiercely original artistic vision as he becomes increasingly obsessive and isolated. Yet it also provides valuable insights into the inner workings of Gould's distinctive technique and unorthodox interpretive approach. In his chosen repertory, especially Bach, Gould played with uncanny clarity and brought seemingly impossible independence to individual voices. Though Gould was drawn to Baroque music and instinctively cultivated lucid musical textures, the film reveals the extent to which his principal teacher, the Chilean-born pianist Alberto Guerrero, imparted skills that maximized clarity.
'Genius Within' and Glenn Gould's Technique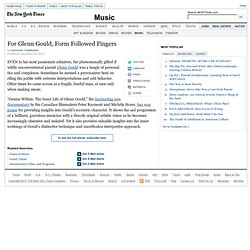 Op-Ed at 40 - Interactive Feature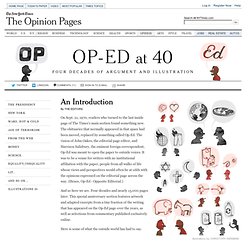 Illustrations by CHRISTOPH NIEMANN An Introduction By THE EDITORS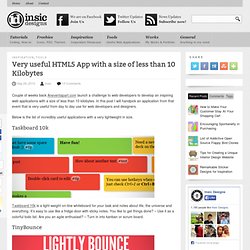 Very useful HTML5 App with a size of less than 10 Kilobytes 
Couple of weeks back Aneventapart.com launch a challenge to web developers to develop an inspiring web applications with a size of less than 10 kilobytes. In this post I will handpick an application from that event that is very useful from day to day use for web developers and designers. Below is the list of incredibly useful applications with a very lightweight in size.
The 1 percent have long had smartphones from Porsche and Vertu to quench their high-end thirst, but when it comes to dual-SIM handsets, the elite have had to settle for something a little more ordinary. For those in need, Gresso created Azimuth, the first dual-SIM luxury handset. Starting at $2,000, the phone is made of titanium, with both the keys and logo crafted out of 18K or white gold. Since appearances are all that matter, you're getting some pretty low-end specs under the hood, including 2GB of "internal memory," a 1.3-megapixel camera, Bluetooth 2.0 and a tiny 1,100mAh battery. To put things in perspective, Samsung's Galaxy S5 starts with 16GB of built-in storage, a 16-megapixel camera and a 2,800mAh battery.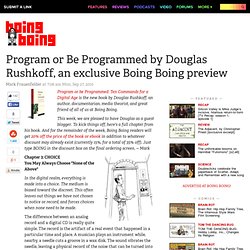 Program or Be Programmed by Douglas Rushkoff, an exclusive Boing Boing preview
Program or be Programmed: Ten Commands for a Digital Age is the new book by Douglas Rushkoff, an author, documentarian, media theorist, and great friend of all of us at Boing Boing. This week, we are pleased to have Douglas as a guest blogger. To kick things off, here's a full chapter from his book. And for the remainder of the week, Boing Boing readers will get 20% off the price of the book or ebook in addition to whatever discount may already exist (currently 15%, for a total of 35% off). Just type BOING in the discount box on the final ordering screen. -- Mark Chapter 3: CHOICE You May Always Choose "None of the Above"
IDEO Reimagines the Future of Personal Banking | Design for Good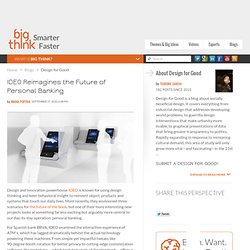 Design and innovation powerhouse IDEO is known for using design thinking and keen behavioral insight to reinvent object, products and systems that touch our daily lives. Most recently, they envisioned three scenarios for the future of the book, but one of their more interesting new projects looks at something far less exciting but arguably more central to our day-to-day operation: personal banking. For Spanish bank BBVA, IDEO examined the interaction experience of ATM's, which has lagged dramatically behind the actual technology powering these machines. From simple yet impactful tweaks like 90-degree booth rotation for better privacy to cutting-edge customization software, the prototype -- which took two years of development -- offers a seamless, highly visual bridge between physical and virtual. The goal was not how to further automate the teller but, rather, how to humanize the machine."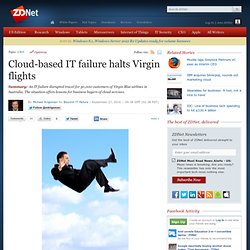 A catastrophic systems failure at cloud-based software provider, Navitaire, a business process outsourcing (BPO) unit of Accenture, disrupted travel for 50,000 customers of Virgin Blue airlines in Australia. The situation offers important lessons for buyers of cloud-based outsourcing services. Related: Virgin's cloud failure: Rebuttal and a deeper perspective Virgin Blue provided details in a press release: Navitaire is the supplier of Virgin Blue's reservation and distribution software platform and also hosts that platform on its own server infrastructure at a data centre in Sydney.
Cloud-based IT failure halts Virgin flights
William Smith was born in 1769, as the industrial revolution was getting under way. Enclosures, coal mining, canal building and drainage work were building blocks to Smith's maps; as a young man he became involved in surveying as a result of enclosures around his birthplace of Churchill, near Oxford. Following this experience in surveying he became involved in coal mining in Somerset. Here he saw directly the strata beneath the surface and learnt their individual character.
Book review: The Map that Changed the World
The Institute's Blog: Nonpartisan. Timely. Transparent.
Australia welcomes first Aboriginal federal MP
We know they're big. But let's get technical: If we could freeze frame a hurricane in the sky just for an instant, how many pounds of water is it carrying up there? Here's an approximate answer: In our radio broadcast on Morning Edition, Andy Heymsfield of the National Center for Atmospheric Research used elephant–sized units of water to measure hurricanes, storm clouds and little white puffies. Years ago, in a story I did on ABC, another cloud measurer used elephant units, too. But for our new cartoon, Odd Todd and I switched to blue whales.
How Much Does A Hurricane Weigh? : Krulwich Wonders…
The Lumina Foundation for Education has announced nineteen grants totaling $14.8 million to help advance adult degree attainment through a series of interconnected projects that aim to engage, motivate, and help students to return to college to complete their degrees. According to the foundation, thirty-seven million adults between the ages of 25 and 64 (more than 20 percent of the working-age population) have not earned a degree or credential despite having attended a college. The grants, which range from $250,000 to almost $1.3 million, provide support for large-scale projects that aim to educate and retrain workers who need to improve their skills in order to compete for jobs that will be created over the next decade, most of which will require some form of postsecondary education degree or credential.
PND - News - Lumina Foundation Announces Grants to Advance Degree Completion
For the first time, monkeys recognize themselves in the mirror, indicating self-awareness
Trick of the Light Turns Small Phones Into Big Devices: Tech News «
How to use categories and tags in your nonprofit blog - Social media and inbound marketing for non-profits
Share photos on Twitter
Digital Identity Tour Part-2: Digital Identity Tuner 7.0
Tim Leberecht: 3 ways to (usefully) lose control of your brand
How crowdsourcing is changing business, advertising and cause marketing
Video: Multi-Tasking is Bad For Your Brain. Here's How To Fix It: Tech News «
Ray Kurzweil - Exponential Learning & Entrepreneurship
Jay Rosen @ Sciences Po: Who is the audience, and what does that make us, journalists? @ Fiction in Truth
If you glow down to the woods today... the moment fireflies turn woods into an enchanted forest
The good, the bad and the ugly truth about social media - AnnArbor.com
Carpenter Ants and Fossilized Mind Control
Green Column - U.S. Plays Catch-Up on High-Speed Rail
Human stem cells restore motor function in mice with spinal cord injuries
unnamed pearl
The Value Of Ruins on Huffduffer
The Twitter I-Open Daily
The Twitter Kurt Vega Daily
Why your brain flips over visual illusions - life - 03 September 2010
11 Predictions That Back to the Future Part II Got Right
Pierre Lévy on Collective Intelligence Literacy
Seven Ages of the Body
unnamed pearl
Origin of The Bee's Knees Expression
Twitter Plans to Hijack EVERY URL on the Web!
Rachel Sussman: The world's oldest living things
White space broadband to be finalized (at last) this month
Supermassive Black Holes Interacting With Dark Matter Observed from Earth
philosophers-quotes.com
Twitter plans to record all links clicked | Privacy Inc.
A World Without E-mail: One Man's Vision of a Social Workplace
William Gibson On the Future of Book Publishing
How To Start a Blog, From The New York Times — silencematters — Jeremy Zilar
CG121