Recipes
Flat Belly Diet Recipes: Healthy Chicken Dinner Recipes. Stir-fry is fast, easy and delicious.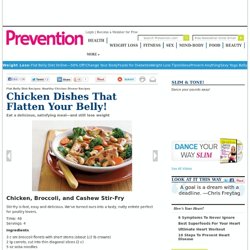 We've turned ours into a tasty, nutty entrée perfect for poultry lovers. Time: 40 Servings: 4 Ingredients 3 c sm broccoli florets with short stems (about 1/2 lb crowns) 2 lg carrots, cut into thin diagonal slices (2 c) 5 oz soba noodles 1 Tbsp olive oil 1 Tbsp minced fresh ginger 3 lg cloves garlic, minced 2 boneless, skinless chicken breast halves (6 oz each), sliced crosswise 1 Tbsp reduced-sodium soy sauce 1 tsp toasted sesame oil 3 med scallions, thinly sliced (about 1/2 c) 1/2 c reduced-sodium, fat-free chicken broth 1/2 c raw, unsalted cashews (3 oz), lightly toasted (MUFA) Directions.
Www.familyfreshcooking.com/wp-content/uploads/2012/03/Project-Lunch-Box-30-Days-Family-Fresh-Cooking.pdf. Bourbon Chicken. You know in the food court at the mall when they hand out those tasty samples at the asian restaurants?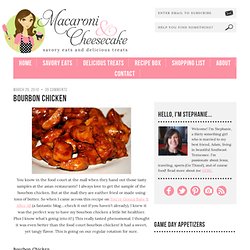 I always love to get the sample of the bourbon chicken. But at the mall they are eaither fried or made using tons of butter. So when I came across this recipe on You're Gonna Bake It After All (a fantastic blog…check it out if you haven't already), I knew it was the perfect way to have my bourbon chicken a little bit healthier. Plus I know what's going into it! Honey Spiced Glazed Chicken. Honey Spiced Glazed Chicken This delicious honey spiced glazed chicken is made with chicken thighs and cooked under the broiler.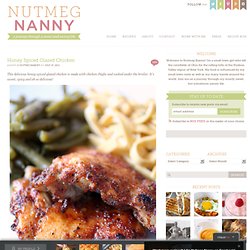 It's sweet, spicy and oh so delicious! The other day I was set on not going to the grocery store. Toasted Sesame Ginger Salmon. Heeeey.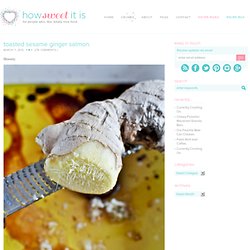 Right now, I'm staring blankly at this picture of hairy ginger. Sort of freaky right? How to Make Dinner with Stuff You Already Have. After two epic failures in the kitchen this week (Slow Cooker BBQ Chicken that turned into shoe leather, and a Mango Lassi that tasted like air) I was semi scrambling to find something to share with you for dinner tonight.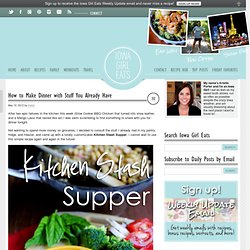 Not wanting to spend more money on groceries, I decided to consult the stuff I already had in my pantry, fridge, and freezer, and came up with a totally customizable Kitchen Stash Supper. I cannot wait to use this simple recipe again and again in the future! The Kitchen Stash Supper has four parts which are all made with kitchen and pantry staples: pasta, protein, and veggies, which are enveloped in a quick, 5 minute pan sauce. Not only can it be made with anything and everything you already have on hand, but it's healthy, inexpensive, and damn good, to boot. :) Let's get started, shall we? Part 1: The Pasta. Spinach "burgers" - The Domestic Mama. I promised something a bit more "booty-friendly" and here it is!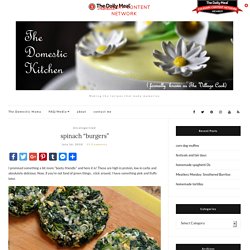 These are high in protein, low in carbs and absolutely delicious. Now, if you're not fond of green things.. stick around. I have something pink and fluffy later. spinach burgers Mix well in a bowl like this: Honey Glazed Carrots Recipe : Sunny Anderson : Recipes. Yukon Gold Potatoes: Jacques Pepin Style Recipe : Rachael Ray : Recipes. Lemon-Garlic Herb Rubbed Chicken. Springtime in southwest Idaho is strange.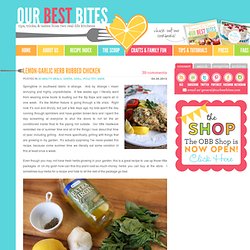 And by strange I mean annoying and highly unpredictable. A few weeks ago I literally went from wearing snow boots to busting out the flip flops and capris all in one week. It's like Mother Nature is going through a life crisis. Right now it's cool and drizzly, but just a few days ago my kids spent the day running through sprinklers and have golden brown tans and I spent the day screaming at everyone to shut the doors to not let the air conditioned inside float to the piping hot outside. Our little heatwave reminded me of summer time and all of the things I love about that time of year; including grilling. Tuna Pasta in Creamy Tomato Sauce. It's been a long time since I last posted what I been cooking in my kitchen.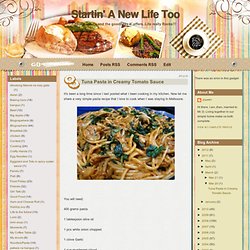 Now let me share a very simple pasta recipe that I love to cook when I was staying in Melboune. You will need; 400 grams pasta 1 tablespoon olive oil. » Recipe #31: TUNA PESTO PASTA with Clara Olé Mga Luto Ni Lola. Before we begin cooking, let me tell you briefly what happened last Sunday.
I had the chance to portray one of my dream jobs — to be a cook show host, hah! Well, I didn't exactly host a show. But I got the chance to prepare a sumptuous meal in front of a live audience during Clara Ole 's Share Eat! Tuna Pasta With Garlic And Tomatoes | Recipes | Yummy.ph - the Philippine online recipe database. Here's a healthy pasta recipe that you can enjoy when you're on a tight budget.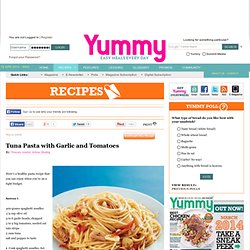 Serves 6 400 grams spaghetti noodles1/4 cup olive oil4 to 6 garlic heads, chopped3 to 4 big tomatoes, seeded cut into strips2 cans tunasalt and pepper to taste 1 Cook spaghetti noodles. Set aside. Heat olive oil in a pan. General Tso's Chicken. Nick Stellino - Breaded Ham and Cheese Sandwich.
---