Curriculums
A creative resume is fairly important. Because it resembles your personality but also speaks your capability and creativity,No doubt its a complete portfolio.I have done list of 30+ CV Resume Design Inspiration must check it out. 1- Micheal Anderson 2- Borris Rizhamadze
30+ CV Resume Design Inspiration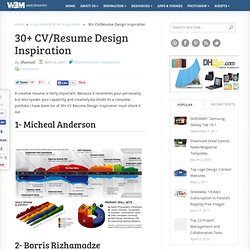 20 Smart and Creative Resume Design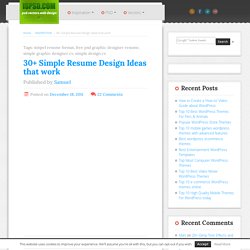 Resume Designs doesn't matter when you are applying for a job, in which you have enough skill. But bad resumes make a different impression. If you have come up with a design which has lot of elements/info in it, first thing to do is show it to some of your friends and find out, if it works. If you are looking for simple resume desgins for your job/project ,here are some inspirational ideas for you .
40 Creative Resume Design
7 Ingenious Resumes That Will Make You Rethink Your CV
You love resumes. You really do. When we published "10 Creative Social Media Resumes To Learn From" in May, our readers enthusiastically responded by sharing it with friends, commenting on it and sending us links to their own snazzy resumes. We sifted through those links, picked our favorites and placed them in the gallery below.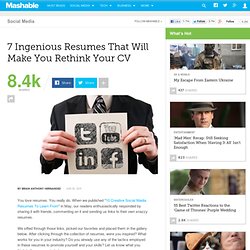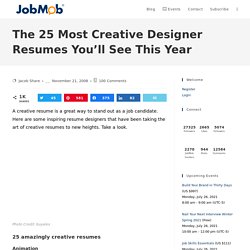 The 25 Most Creative Designer Resumes You'll See This Year
The Job Tips Newsletter Will Teach You How To Find A Job NOW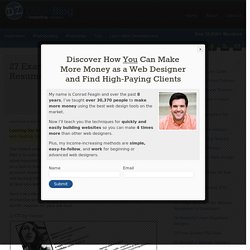 Learn how to earn $125 or more per hour as a freelancer - Click Here Looking for hosting?. We recommend MediaTemple for web hosting. Use Code MTLOVESDESIGN for 20% off
In these tough economic times, many designers find themselves applying for jobs and freelance gigs on a regular basis. So, how can we stand out from the rest and grab the attention of a design agency when they're usually bombarded with hundreds of applications? The best way to do this is in the design of your resume. Assuming that you have the skills that they're looking for, a striking and visually appealing resume will go a long way at getting you the creative job that you want.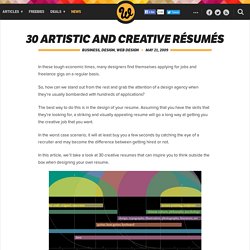 Are you one of those job seekers who have been sending far too many resumes and been hit with far too many disappointment? The problem may not lie with your qualification or skills set. Employer filters tons of resumes on daily basis, only the outstanding ones get noticed. A creative resume is fairly important.