Curriculums
A creative resume is fairly important. Because it resembles your personality but also speaks your capability and creativity,No doubt its a complete portfolio.I have done list of 30+ CV Resume Design Inspiration must check it out. 1- Micheal Anderson 2- Borris Rizhamadze
30+ CV Resume Design Inspiration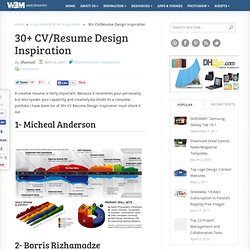 20 Smart and Creative Resume Design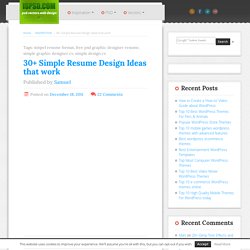 Resume Designs doesn't matter when you are applying for a job, in which you have enough skill. But bad resumes make a different impression. If you have come up with a design which has lot of elements/info in it, first thing to do is show it to some of your friends and find out, if it works. If you are looking for simple resume desgins for your job/project ,here are some inspirational ideas for you .
40 Creative Resume Design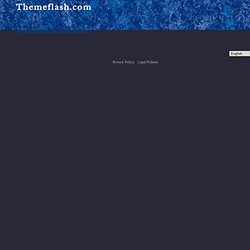 A Resume is a document that contains a summary of relevant job experience and education for specific employment search.
Been a while since you dusted off your resume, added in your most recent work and gave it a facelift? Before you do that, check out these examples for inspiration. A well-crafted resume is a great way to stand out as a candidate, and it's not the easiest task to balance form and function with the opportunity to show off your design chops. Have a look at what other designers are doing before you head back to the drawing board, and remember: a resume's most important function is give a potential employer a good idea of your experience as quickly as possible.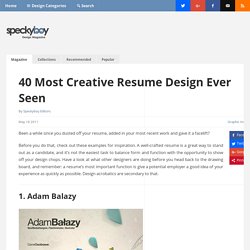 7 Ingenious Resumes That Will Make You Rethink Your CV
You love resumes. You really do. When we published " 10 Creative Social Media Resumes To Learn From " in May, our readers enthusiastically responded by sharing it with friends, commenting on it and sending us links to their own snazzy resumes. We sifted through those links, picked our favorites and placed them in the gallery below.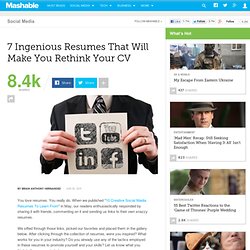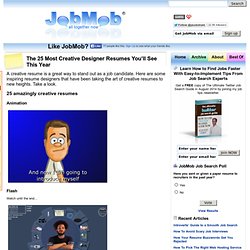 The 25 Most Creative Designer Resumes You'll See This Year
A creative resume is a great way to stand out as a job candidate. Here are some inspiring resume designers that have been taking the art of creative resumes to new heights. Take a look. Animation Flash Watch until the end…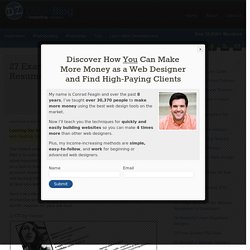 Learn how to earn $125 or more per hour as a freelancer - Click Here The fastest way to compromise your chance of landing a job in a creative field is to submit a traditional resume. A resume is as good as an advertisement for oneself,Creative professionals need to use their resumes as a tool to show their creativity and design abilities. ,A resume is your single greatest asset and first impression.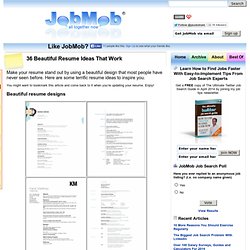 Make your resume stand out by using a beautiful design that most people have never seen before. Here are some terrific resume ideas to inspire you. You might want to bookmark this article and come back to it when you're updating your resume. Enjoy! Beautiful resume designs Bonus designer alternative resume
Creative Resumes are very popular among job seekers and when it comes to job hunting, the first thing which comes to our mind is a resume. And when we think of creating a resume, we mostly think of something that is clean and contains every bit of information to impress the employers. But now time has changed, if you want to stand out and grab the attention of a employer, you need to be creative in every aspect. This is specially in the case of designers where design agencies are usually bombarded with hundreds of applications. So, the resume is the biggest opportunity for them to show their creativeness in the first glance. There are some applicants out there who wants to set themselves apart from the crowd and dare enough to try something unique.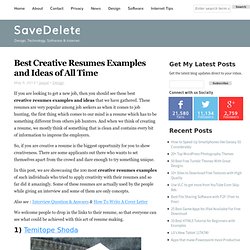 In these tough economic times, many designers find themselves applying for jobs and freelance gigs on a regular basis. So, how can we stand out from the rest and grab the attention of a design agency when they're usually bombarded with hundreds of applications? The best way to do this is in the design of your resume. Assuming that you have the skills that they're looking for, a striking and visually appealing resume will go a long way at getting you the creative job that you want.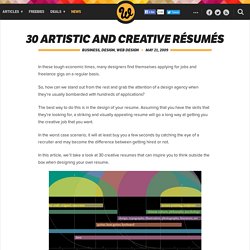 Are you one of those job seekers who have been sending far too many resumes and been hit with far too many disappointment? The problem may not lie with your qualification or skills set. Employer filters tons of resumes on daily basis, only the outstanding ones get noticed. A creative resume is fairly important.