Art
I posted this tutorial a few years ago and it has become somewhat of a tradition to bring it back every year! One of our family Easter traditions is dying eggs with pieces of silk. I saw a cute lady show Martha how to do it a few years ago and I ran upstairs right then to steal a tie! It's way cooler than those cups of neon liquid that end up all over your clothes, your furniture and your hands plus it gives you an excuse to rid a man's closet of ugly ties. Here's the run-down: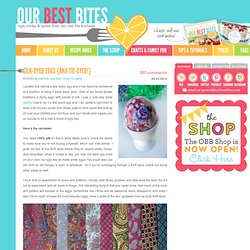 #DIY create images by poking small holes in a dark lampshade
DIY Heart of String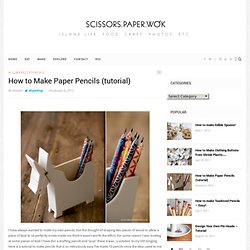 I have always wanted to make my own pencils, but the thought of shaping two pieces of wood to allow a piece of lead to sit perfectly inside made me think it wasn't worth the effort. For some reason I was looking at some pieces of lead I have (for a drafting pencil) and "pop" there it was.. a solution to my DIY longing. Here is a tutorial to make pencils that is so ridiculously easy I've made 10 pencils since the idea came to me yesterday!
Our Quirky Hidden Rooms | Happy Chaos
We have a…. Pin It So why all the secret rooms?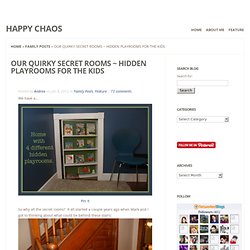 This is a tricky DIY but also a quick one if you get your head / fingers around it. You probably have all you need at home already, i.e. a couple of hoodie strings or any other rope or string. String necklaces are extremely popular this season and there are so many different types you can make yourself in no time. I can easily say I ♥ this one – for obvious reasons ! Voilà un tutorial un peu complexe en apparence mais en réalité rapide et simple. Vous avez certainement déjà tout ce qu'il vous faut chez vous, c'est à dire de la ficelle ou des lacets de pull à capuche.
DIY : Celtic heart knot necklace // Collier ficelle à noeud en coeur | Clones 'n' Clowns