Business Articles
Get flash to fully experience Pearltrees
Google is having a big hiring year — its biggest ever , in fact. This week we spoke with Bryan Power , a people operations manager at Google, for advice on getting hired by the tech giant. Power oversees sales hiring in the North and South America regions. Previously, he led recruiting for the product management and engineering groups, giving him familiarity with hiring practices in multiple areas of the company.
Instagram announced yesterday that they are rolling out profile pages on the web within the next week or so.
From Levi's to the local craft foods shop, businesses of all sizes are flocking to Facebook's free photo-sharing app Instagram , hoping to get noticed by its 80 million active users and expand their reach. What makes Instagram different from other social media sites such as Facebook, Pinterest or Twitter?
Droga5 turned Prudential's retirement story from rags-to-riches into one of rebirth. You think you're being all clever and original with your brand storytelling.
New media has changed the way we interact and communicate.
Early birds get all the credit. Research indicates that morning people tend to be more active and goal oriented , and such larks as Steve Jobs, Craig Newmark of Craigslist, and 25-year old David Karp, founder of the Tumblr blogging platform suggest that climbing the ladder of success is easier before breakfast .
All you need is 10 minutes--and some very thick skin.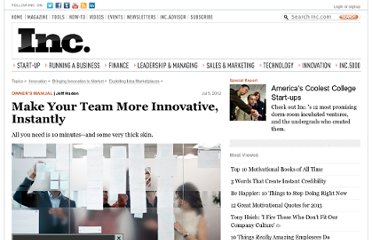 Mastering small talk will help you find common ground to create a mini-bond with new contacts. Small talk may feel trite and unimportant, but it's the small talk that leads to the big talk. Ideally small talk will uncover common interests, business alignments, the six degrees that separate you, potential need for your product or service, and basically whether or not you enjoy each other's company.
Zappos, Trader Joe's, Amazon.com, Method, Red Bull, The Body Shop, Google, and SodaStream all built their brands without advertising. Their brand advocates are their marketing department. "We've built this entire business, and an entire category in fact, on the power of our brand advocates," says Kristin Harp, U.S. marketing manager at SodaStream, which turns tap water into sparkling water and soda.