Business Articles
What My Goofy Dog Taught Me about People. 8 Subconscious Mistakes Our Brains Make Every Day--And How To Avoid Them. Editor's Note: This is one of the most-read leadership articles of 2013.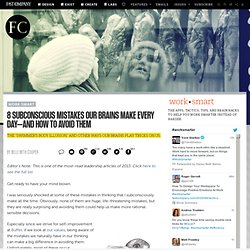 Click here to see the full list. Get ready to have your mind blown. I was seriously shocked at some of these mistakes in thinking that I subconsciously make all the time. The Secret to Marketing to Busy People Who Don't Have Time to Read (Infographic) Image credit: Shutterstock In an age of information overload, it's easy for your marketing message to get lost in the noise.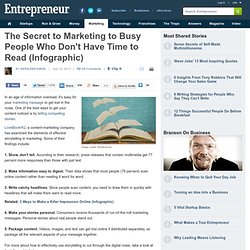 One of the best ways to get your content noticed is by telling compelling stories. LookBookHQ, a content-marketing company, has examined the elements of effective storytelling in marketing. Measuring the ROI of a Good Customer Experience. The 5 Most Persuasive Words in the English Language. HOW TO: Land a Job at Google. Google is having a big hiring year — its biggest ever, in fact.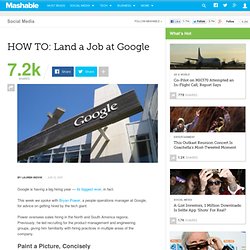 This week we spoke with Bryan Power, a people operations manager at Google, for advice on getting hired by the tech giant. Power oversees sales hiring in the North and South America regions. Previously, he led recruiting for the product management and engineering groups, giving him familiarity with hiring practices in multiple areas of the company. Instagram Announces Web Profiles & What This Means for Marketers. Instagram announced yesterday that they are rolling out profile pages on the web within the next week or so.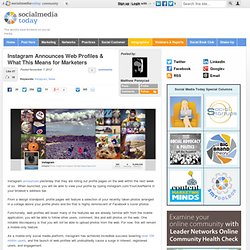 When launched, you will be able to view your profile by typing instagram.com/YourUserName in your browser's address bar. From a design standpoint, profile pages will feature a selection of your recently taken photos arranged in a collage above your profile photo and bio that is highly reminiscent of Facebook's cover photos. Functionally, web profiles will boast many of the features we are already familiar with from the mobile application; you will be able to follow other users, comment, like and edit photos on the web. 5 Ways Instagram Can Boost Your Marketing Plan. From Levi's to the local craft foods shop, businesses of all sizes are flocking to Facebook's free photo-sharing app Instagram, hoping to get noticed by its 80 million active users and expand their reach.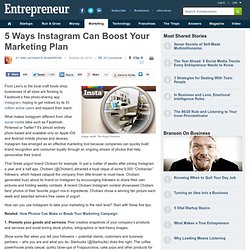 What makes Instagram different from other social media sites such as Facebook, Pinterest or Twitter? It's almost entirely photo-based and available only on Apple iOS and Android mobile phones and devices. Instagram has emerged as an effective marketing tool because companies can quickly build brand recognition and consumer loyalty through an ongoing stream of photos that help personalize their brand. That Greek yogurt brand Chobani for example. In just a matter of weeks after joining Instagram a year and a half ago, Chobani (@Chobani) attracted a loyal clique of some 9,000 "Chobaniac" followers, which helped catapult the company from little-known to must-have. The funnel is dead. The new consumer decision journey. 7 Basic Types of Stories: Which One Is Your Brand Telling? Droga5 turned Prudential's retirement story from rags-to-riches into one of rebirth.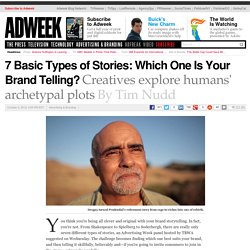 You think you're being all clever and original with your brand storytelling. In fact, you're not. From Shakespeare to Spielberg to Soderbergh, there are really only seven different types of stories, an Advertising Week panel hosted by TBWA suggested on Wednesday. The challenge becomes finding which one best suits your brand, and then telling it skillfully, believably and—if you're going to invite consumers to join in the story—extremely carefully.
TBWA's global creative president, Rob Schwartz, led the discussion, which was based around author Christopher Booker's contention, in his book Seven Basic Plots, that seven archetypal themes recur in every kind of storytelling. Marketing's Next Five Years: How to Get From Here to There | News. The 3 Worst Ways to Use Social Media to Grow Your Business (And What You Should Do Instead) New media has changed the way we interact and communicate.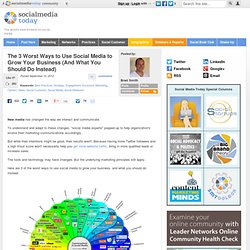 To understand and adapt to these changes, "social media experts" popped up to help organization's evolve their marketing communications accordingly. But while their intentions might be good, their results aren't. Because having more Twitter followers and a high Klout score won't necessarily help you get more website traffic, bring in more qualified leads or increase sales.
Start With Why. What Successful Night Owls Get Done Before Bed. Early birds get all the credit.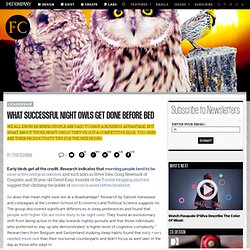 Research indicates that morning people tend to be more active and goal oriented, and such larks as Steve Jobs, Craig Newmark of Craigslist, and 25-year old David Karp, founder of the Tumblr blogging platform suggest that climbing the ladder of success is easier before breakfast. So does that mean night owls are at a disadvantage? Research by Satoshi Kanazawa and colleagues at the London School of Economics and Political Science suggests no. The group discovered significant differences in sleep preferences and found that people with higher IQs are more likely to be night owls. They found an evolutionary shift from being active in the day towards nightly pursuits and that those individuals who preferred to stay up late demonstrated "a higher level of cognitive complexity." How to Boost Creativity & Innovation in 10 Minutes. Trying to be innovative feels, at least for most people, nearly impossible.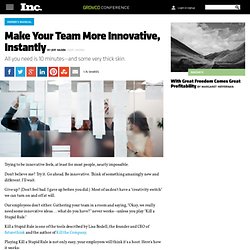 Don't believe me? Try it. Go ahead. Hate Small Talk? These 5 Questions Will Help You Work Any Room. Let's be honest: Many folks in tech take a dim view of marketing.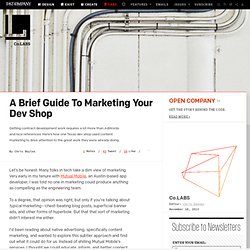 Very early in my tenure with Mutual Mobile, an Austin-based app developer, I was told no one in marketing could produce anything as compelling as the engineering team. To a degree, that opinion was right, but only if you're talking about typical marketing--chest-beating blog posts, superficial banner ads, and other forms of hyperbole. But that that sort of marketing didn't interest me either. I'd been reading about native advertising, specifically content marketing, and wanted to explore this subtler approach and find out what it could do for us. 10 Things to Never Put on Your Resume. 5 Ways To Foster Fanatical Brand Advocates. Zappos, Trader Joe's, Amazon.com, Method, Red Bull, The Body Shop, Google, and SodaStream all built their brands without advertising. Their brand advocates are their marketing department. "We've built this entire business, and an entire category in fact, on the power of our brand advocates," says Kristin Harp, U.S. marketing manager at SodaStream, which turns tap water into sparkling water and soda.
---