It's So Cool
Lighter Fun. Back to the future. Article by James Pond I am the owner of Pondly.com / art lover / electrical engineer / software developer / MBA in e-business student.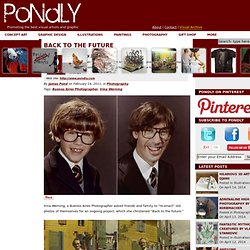 I blog for pleasure and love to share my Internet findings. Web site: Irina Werning, a Buenos Aires Photographer asked friends and family to "re-enact" old photos of themselves for an ongoing project, which she christened "Back to the Future." Did you like these photos? Thing in a Jar. Thing in a Jar 7 inches by 4 inches, mason jar Pictured above is the Thing in a Jar that's usually sitting in my office at work.
The coolest thing about the Thing is that everyone responds to seeing it by asking questions.
---