Virtual Worlds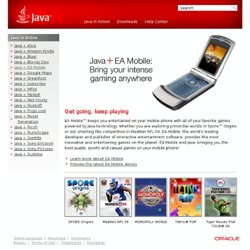 in Action: Java + EA Mobile
EA Mobile™ keeps you entertained on your mobile phone with all of your favorite games powered by Java technology. Whether you are exploring primordial worlds in Spore™ Origins or out smarting the competition in Madden NFL 09, EA Mobile, the world's leading developer and publisher of interactive entertainment software, provides the most innovative and entertaining games on the planet. EA Mobile and Java: bringing you the best puzzle, sports and casual games on your mobile phone!
Globes virtuels, images satellites
Virtual Worlds and Resources
in Action: Java + Sudokia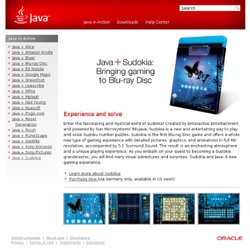 Enter the fascinating and mystical world of Sudokia! Created by Enteractive Entertainment and powered by Sun Microsystems' BD-Java, Sudokia is a new and entertaining way to play and solve Sudoku number puzzles.
in Action: Java + Mplayit
in Action: Java + Google Maps
in Action: Java + Blu-ray Disc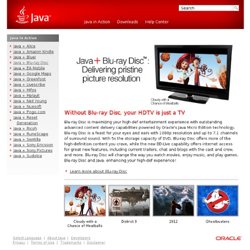 Blu-ray Disc is maximizing your high-def entertainment experience with outstanding advanced content delivery capabilities powered by Oracle's Java Micro Edition technology. Blu-ray Disc is a feast for your eyes and ears with 1080p resolution and up to 7.1 channels of surround sound.
in Action: Java + Ricoh
Ricoh's multifunctional devices bring greater levels of functionality and versatility to your home or office with Embedded Software Architecture.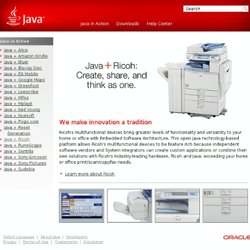 in Action: Java + Linc Volt
in Action: Java + Neil Young
Rock legend Neil Young is bringing you the most comprehensive, dynamic and interactive career archive ever released with the help of Java technology. His amazing archive, releasing on Blu-ray Disc,™ is like a time capsule of his career in high definition. With seamless Java powered navigation, you can browse through photos, articles, video clips, and memorabilia, and even have Internet connectivity, all while listening to his legendary music delivered in 192 Khz, 24-bit PCM—for the best possible audio experience.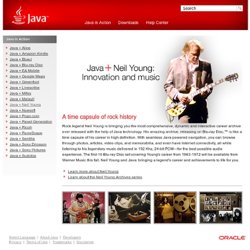 in Action: Java + Nuesoft Technologies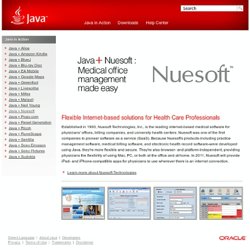 Established in 1993, Nuesoft Technologies, Inc., is the leading internet-based medical software for physicians' offices, billing companies, and university health centers. Nuesoft was one of the first companies to pioneer software as a service (SaaS).
in Action: Java + Reset Generation
Reset Generation is a game for people who grew up with and love video games. Want to reminisce about the classic video games of the past?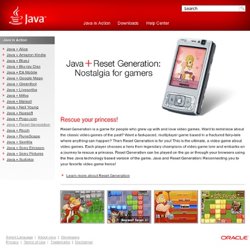 The Bible , Study , ResearchTools
Virtual Worlds and Resources
Welcome To Hive7
Globes virtuels, images satellites
in Action: Java + Mifos
Microfinance institutions help power developing economies by creating access to loans and other financial services for low-income entrepreneurs.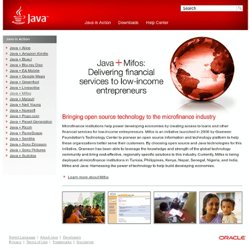 Kindle is the revolutionary wireless reading device that allows you to think of a book and start reading it in 60 seconds. The all-new Kindle, introduced in August 2010, is smaller, lighter, and faster than ever, and has 50% better screen contrast than before.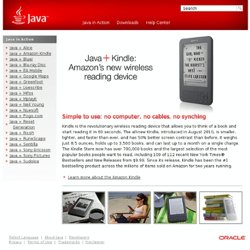 in Action: Java + Amazon Kindle
in Action: Java + Livescribe
in Action: Java + BlueJ
in Action: Java + Alice