Mise en page CSS JS
Get flash to fully experience Pearltrees
Here on Online Font Converter we support the web developer that is making a hard work! Developing for an older browser is a pain in the as!
Le format PNG permet de gérer des images RVB dotées d' une couche alpha, c'est à dire d'indications de transparence graduelle . Contrairement au format GIF, il ne s'agit pas d'une transparence binaire (un pixel est soit transparent, soit opaque), mais bien d'une transparence graduelle: chaque pixel peut être un peu, beaucoup ou pas du tout transparent (256 nuances).
Présentation de l'API ? Google propose son API qui vous permet de faire vos propres graphiques très simplement. Tout comme l'API Google map ou Google Search ce service est gratuit.
This article first appeared in issue 211 of .net magazine - the world's best-selling magazine for web designers and developers. If you've ever been tasked with the job of writing and maintaining the style sheets of a medium-to-large website, you know that it is no small feat. CSS has a very simple syntax.
Ce tutoriel présente des solutions pour centrer verticalement des éléments de tailles variables dans des conteneurs de hauteur fixe ou fluide. Les techniques exposées sont compatibles avec tous les navigateurs actuels, à partir d'Internet Explorer 7 (IE6 n'est volontairement pas abordé) et n'utilisent ni <table> , ni JavaScript. Sommaire Introduction Le temps du valign=middle sur nos tableaux de mise en page est bel et bien révolu.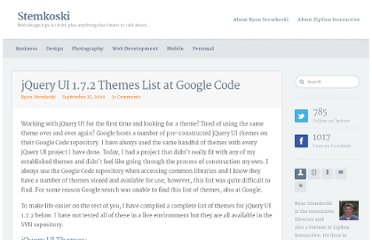 Working with jQuery UI for the first time and looking for a theme? Tired of using the same theme over and over again? Google hosts a number of pre-constructed jQuery UI themes on their Google Code repository. I have always used the same handful of themes with every jQuery UI project I have done.
JSizes ― jQuery extension plugin for CSS properties JSizes is a small plugin for the jQuery JavaScript library which adds convenience methods for querying and setting the CSS min-width , min-height , max-width , max-height , border-*-width , margin , and padding properties. Additionally it has one method for determining whether an element is visible.