Food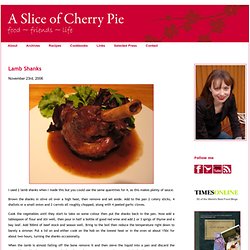 Lamb Shanks | A Slice of Cherry Pie
I used 2 lamb shanks when I made this but you could use the same quantities for 4, as this makes plenty of sauce. Brown the shanks in olive oil over a high heat, then remove and set aside. Add to the pan 2 celery sticks, 4 shallots or a small onion and 2 carrots all roughly chopped, along with 4 peeled garlic cloves. Cook the vegetables until they start to take on some colour then put the shanks back in the pan. Now add a tablespoon of flour and stir well, then pour in half a bottle of good red wine and add 2 or 3 sprigs of thyme and a bay leaf. Add 500ml of beef stock and season well.
General Tao's Tofu
Fresh Lemon Rice
Zucchini Bisque Recipe
Creamy Au Gratin Potatoes Recipe
Peach Cobbler
Preheat oven to 350 degrees. Combine the peaches, 1 cup sugar, and water in a saucepan and mix well. Bring to a boil and simmer for 10 minutes. Remove from the heat. Put the butter in a 3-quart baking dish and place in oven to melt.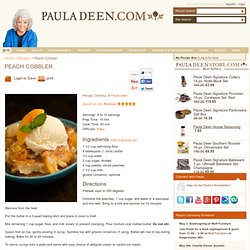 I love writing for Serious Eats and constantly creating new recipes but since I'm producing well over 50 grilling recipes a year , I rarely find myself revisiting these blogged recipes. That's a shame because there are so many great ones—these ribs done in a Vietnamese-inspired marinade, then slow smoked over cherry wood are a fine example. This was actually one of my first creations in my shiny new smoker years ago. Even though they were pretty stellar, I quickly delved into deeper exploration of different styles of barbecue ribs and these became a forgotten memory. Until a couple weeks ago!
Barbecue: Cherry-Smoked Vietnamese-Flavored Ribs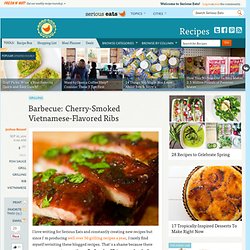 Ingredients 3 pounds potatoes, scrubbed 2 sticks butter 1 1/4 cups hot milk Freshly ground black pepper 1 head cabbage, cored and finely shredded 1 (1-pound) piece ham or bacon, cooked the day before 4 scallions, finely chopped Chopped parsley leaves, for garnish Directions Steam the potatoes in their skins for 30 minutes. Peel them using a knife and fork. Chop with a knife before mashing.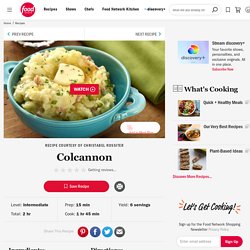 Colcannon Recipe :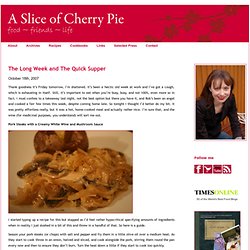 The Long Week and The Quick Supper | A Slice of Cherry Pie
October 18th, 2007 Thank goodness it's Friday tomorrow, I'm shattered. It's been a hectic old week at work and I've got a cough, which is exhausting in itself.
Spaghetti Carbonara II Recipe
Lemon-Baked Cod Recipe - Food.com - 135272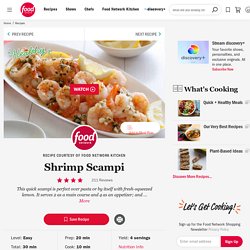 Ingredients 1 1/2 pound jumbo shrimp, shelled and deveined Kosher salt and freshly ground black pepper 2 tablespoons unsalted butter 2 teaspoons minced garlic 1/4 cup dry white vermouth 1 tablespoon freshly squeezed lemon juice 2 teaspoons finely chopped flat-leaf parsley leaves 1/4 teaspoon grated lemon zest Directions Put the shrimp on a large pie pan or plate and pat them completely dry with a paper towel. Arrange the shrimp so they lay flat and are evenly spaced. Heat a large skillet over medium heat.
Shrimp Scampi Recipe : Food Network Kitchens
Search the Site from here: Sole Meuniere (miller's wife), is a classic and simple French fish dish, now mainly forgotten. The miller's wife would have had access to plenty of flour to coat her Sole before cooking and was probably a good plain cook with few airs and graces. Nowadays in our constant search for new and exciting cuisines from all over the World a lot of old rustic style cooking is being lost forever: Bad Idea! We have adapted the original recipe just a little with the addition of Olive oil and Garlic and the result is something very special.
Sole Meuniere - The Classic French Mediterranean Recipe - Easy and Authentic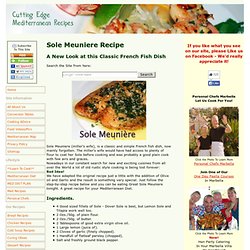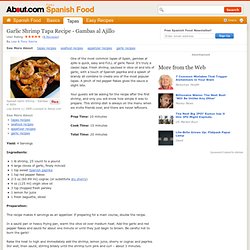 Shrimp in Garlic Recipe - Gambas al Ajillo Recipe Tapas - Spanish Garlic Shrimp Tapa
One of the most common tapas of Spain, gambas al ajillo is quick, easy and FULL of garlic flavor. It's truly a classic tapa . Fresh shrimp, sauteed in olive oil and lots of garlic, with a touch of Spanish paprika and a splash of brandy all combine to create one of the most popular tapas . A pinch of red pepper flakes gives the sauce a slight bite. Your guests will be asking for the recipe after the first shrimp, and only you will know how simple it was to prepare. This shrimp dish is always on the menu when we invite friends over, and there are never leftovers.
Cook shallots and ginger in oil in a small heavy saucepan over medium heat, stirring occasionally, until softened and golden, about 5 minutes. Stir in vinegar and boil until reduced by about half, about 2 minutes. Add soy sauce, preserves, and 1/4 teaspoon each of salt and pepper and simmer, uncovered, stirring occasionally, 15 minutes. Purée sauce in a blender until smooth (use caution when blending hot liquids), then cool to room temperature. Divide chicken between 2 large sealable bags and pour marinade over chicken. Seal bags, pressing out excess air, and marinate, chilled, turning bag over occasionally, at least 8 hours.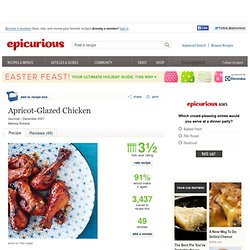 Apricot-Glazed Chicken Recipe at Epicurious
Asian Glazed Drumsticks
These Asian inspired drumsticks are finger lickin' good! It's hard to believe they are low in points (my husband kept asking me if they were WW friendly as he cleaned the bones!) The glaze would also be great with thighs or wings. I served this with steamed vegetables to make this a complete low fat meal and drizzled the remaining glaze over the vegetables. Also would be wonderful over rice. Thighs would also work great in this recipe, but chicken breast would get too tough.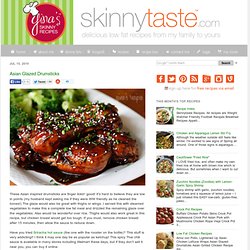 Chicken Legs Grilled Recipe - Food.com - 97340
Dinner Recipe: Baked "Fried" Chicken | Apartment Therapy The Kitchn
Who doesn't love fried chicken? It's a favorite treat among many, and definitely this household. But sadly, my waist has been voicing some objections as of late — something about vats of oil and whatnot. And yet I have found a way to have my juicy, crispy "fried" chicken — guilt-free. Fried chicken has firmly kept its place on my list of favorite foods, since for our weeknight "fried" chicken fare we fake it by coating the buttermilk-bathed chicken in crushed, spiced-up puffed rice cereal.
Spring seems to have finally settled in down South, and my cooking has already started to reflect the change in the seasons. But just because the weather has warmed up doesn't mean my cravings for hearty food have completely disappeared. We had a series of torrential April showers blow across the Southeast this weekend that made me want to stay home and pull a blanket over my head.
Southern Dinner Recipe: Country Captain Chicken | Apartment Therapy The Kitchn
This popular French chicken dish, made with vinegar, shallots, and white wine is quick and easy to make. Red wine vinegar gives it an intense, tangy flavor, that mellows as it simmers. Shallots are similar to onions, and are always a staple in my house along with onions and garlic. They can transform any ordinary dish and make it extraordinary. The ease of this dish makes it perfect for a busy weeknight dinner. I hope you all had a wonderful holiday.
Skinless Chicken Thighs with Shallots in Red Wine Vinegar (Poulet Au Vinaigre)
Chicken Noodle Casserole Recipe - Tasty Chicken Casserole With Noodles and Mushrooms
Try this tasty chicken noodle casserole. It's made with chopped vegetables, sliced mushrooms, and a little white wine, baked with herb and butter bread crumbs on top. Ingredients: 4 ounces medium noodles 4 tablespoons butter 6 to 8 ounces sliced mushrooms 1/2 cup thinly sliced celery 1/2 cup chopped onion 1 small carrot, grated 4 tablespoons flour 1 teaspoon salt 1/4 teaspoon pepper 1/2 teaspoon herb seasoning mixture or dried leaf thyme 1 1/2 cups milk 1/2 cup chicken broth 2 cups cooked diced chicken 4 ounces egg noodles, cooked and drained 1/4 cup dry white wine - or substitute more chicken broth 1/2 cup fine dry bread crumbs 1 tablespoon melted butter 2 tablespoons green onions or freshly chopped parsley, optional
Dry Soup
Cheeseburger Soup: Dinner for $10 ...Want to work up a little wizardry in the kitchen to wow your kids? Take cheeseburgers, take soup ..., and with a bit of behind-the-scenes alchemy -- presto! -- you've got Cheeseburger Soup .
Bacon Wrapped Pesto Chicken Recipe
Chicken Piccata with Capers Recipe
Chicken and Chorizo Pasta | A Slice of Cherry Pie
Chicken with Mushroom Cream Sauce Recipe
A Classic French Dish Adapted for the British Kitchen | A Slice of Cherry Pie
Rose Wine Chicken
Beef and Red Wine Stew with Dumplings | A Slice of Cherry Pie
Kalbi (Korean Barbequed Beef Short Ribs) Recipe :
Lemon/Rosemary Steak Rub Recipe