Philosophy
Summary of Pythagorean Theology V: Theurgy. A Summary of Pythagorean Theology © 2004, John Opsopaus Contents The Pythagorean Succession In ancient times mystical and magical traditions were passed on orally from teacher to student.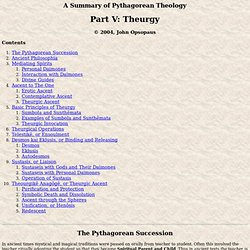 Often this involved the teacher ritually adopting the student so that they became Spiritual Parent and Child. Kingston Parish Church - Jamaican Photos from the District Grand Lodge of Mark Master Masons of Jamaica & Cayman Islands. These windows were erected in memory of RW Bro Robert Hamilton, the first District Grand Master of the Craft in Jamaica who was also District Grand Master of the Mark and Most Excellent Grand Superintendent of the Royal Arch.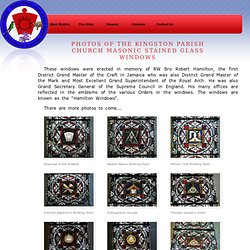 He was also Grand Secretary General of the Supreme Council in England. His many offices are reflected in the emblems of the various Orders in the windows. Антропософско Общество в България - Антропософски книги, лекции и статии. History - British History in depth: The Legend of the Holy Grail Gallery. Some Mistakes Of Moses. Why I Am No Longer a Christian. In this series the author (YouTuber Evid3nc3) explains his life as a born-again Christian, his deconversion, and his life as an atheist.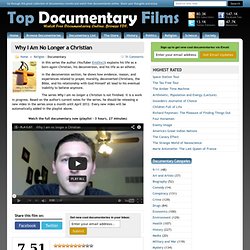 In the deconversion section, he shows how evidence, reason, and experiences related to prayer, morality, deconverted Christians, the Bible, and his relationship with God Himself all lead to his eventual inability to believe anymore. The series Why I am no longer a Christian is not finished. It is a work in progress. Based on the author's current notes for the series, he should be releasing a new video in the series once a month until April 2012. Michael Shermer: The Believing Brain (Lecture) The Center for Inquiry-New York City and NYC Skeptics hosted noted skeptic and bestselling author Michael Shermer for a talk about his new book, The Believing Brain: From Ghosts and Gods to Politics and Conspiracies - How We Construct Beliefs and Reinforce Them as Truths.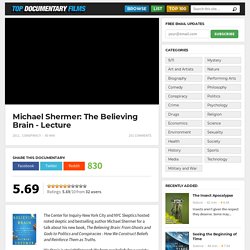 His thesis is straightforward: We form our beliefs for a variety of subjective, personal, emotional, and psychological reasons in the context of environments created by family, friends, colleagues, culture, and society at large; after forming our beliefs we then defend, justify, and rationalize them with a host of intellectual reasons, cogent arguments, and rational explanations. Beliefs come first, explanations for beliefs follow. Dr. Shermer also provides the neuroscience behind our beliefs. The brain is a belief engine. Online Reader. Online Book Catalog => Book Search -- Recent Books -- Top 100 -- Offline Catalogs -- My Bookmarks Main Page Project Gutenberg needs your donation!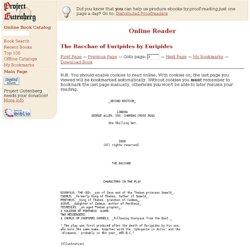 More Info. Хановете - Безплатна онлайн средновековна военна стратегическа игра. Pliny the Elder, The Natural History, BOOK VII. <a id="note-link1" href="#note1">1</a> MAN, HIS BIRTH, HIS ORGANIZATION, AND THE INVENTION OF THE ARTS., CHAP. 24. (24.)—MEMORY. <a href="#note-link1">1</a> We here enter upon the third division of Pliny's N. Costs prices fees for ayurveda yoga at Ayurveda Yoga Villa in Kerala, India. ZooBorns: Bearcat. Frans de Waal: Moral behavior in animals. Letters.
---