Blogging
Some of the best UK and Ireland Bloggers offer their advice on b
We often get asked what our top tips are for running a good blog, especially by people who are just starting out and want advice on how to write good posts, what they should be writing out and how to make sure people want to come back again and again. We thought we'd throw it out to you by asking what one piece of advice you would give to someone starting a blog. Here's what you said... Will McInnes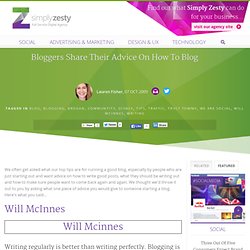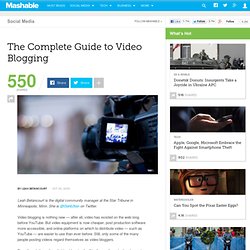 The Complete Guide to Video Blogging
Leah Betancourt is the digital community manager at the Star Tribune in Minneapolis, Minn. She is @l3ahb3tan on Twitter. Video blogging is nothing new — after all, video has existed on the web long before YouTube. But video equipment is now cheaper, post production software more accessible, and online platforms on which to distribute video — such as YouTube — are easier to use than ever before. Still, only some of the many people posting videos regard themselves as video bloggers.
Yes, Twitter will start earning some income this year. Co-founder Biz Stone said the company is in the first phase of rolling out commercial accounts that will entice business users to pay for premium services like detailed analytics. After that, the company might move into building business-oriented application programming interfaces (APIs), creating a "commercial layer" over the social network.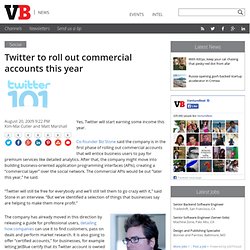 Twitter to roll out commercial accounts this year | VentureBeat
40 Ways to Deliver Killer Blog Content | chrisbrogan.com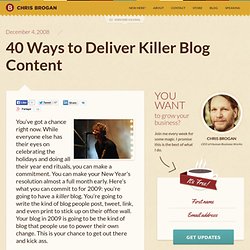 You've got a chance right now. While everyone else has their eyes on celebrating the holidays and doing all their year end rituals, you can make a commitment. You can make your New Year's resolution almost a full month early. Here's what you can commit to for 2009: you're going to have a killer blog. You're going to write the kind of blog people post, tweet, link, and even print to stick up on their office wall. Your blog in 2009 is going to be the kind of blog that people use to power their own change.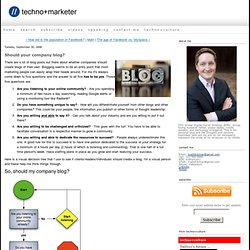 There are a lot of blog posts out there about whether companies should create blogs of their own. Blogging seems to be an entry point that most marketing people can easily wrap their heads around. For me it's always come down to five questions and the answer to all five has to be yes. Those five questions are:
Techno//Marketer: Should your company blog?