Mac n' Cheese
Mac and Cheese Cups. Share this image Share It Pin It When I first graduated from college, and was living in a dreary little apartment, mac and cheese was one of my few specialties.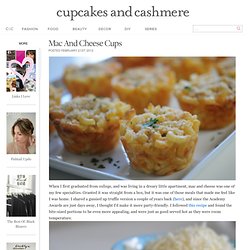 Sassy Simmerings: Lip Smackin' Lighter Mac 'n' Cheese. By Ms.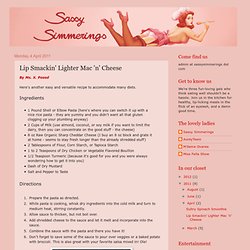 X. Posed Here's another easy and versatile recipe to accommodate many diets. Ingredients. "Over The Rainbow" Macaroni and Cheese. I have been wanting to blog about this dish for a very long time.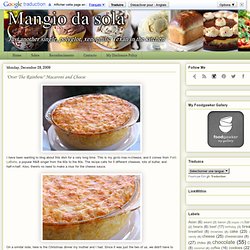 This is my go-to mac-n-cheese, and it comes from PattiLaBelle, a popular R&B singer from the 60s to the 80s. The recipe calls for 5 different cheeses, lots of butter, and half-n-half. Stove-top Macaroni and Cheese. Forget the boxes, the mixes, and don't even think of waiting an hour for macaroni and cheese on a week night.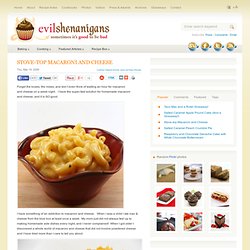 I have the super-fast solution for homemade macaroni and cheese, and it is SO good. I have something of an addiction to macaroni and cheese. High Five Recipe: Creamy Mac and Cheese. I've been searching my whole life (give or take) for a good homemade mac and cheese recipe.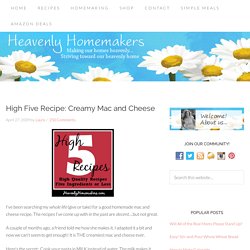 The recipes I've come up with in the past are decent….but not great. A couple of months ago, a friend told me how she makes it. I adapted it a bit and now we can't seem to get enough! It is THE creamiest mac and cheese ever. Easy Homemade Mac 'n Cheese. If you follow me on Twitter or Facebook, you know the other day I had a craving for Kraft Macaroni and Cheese.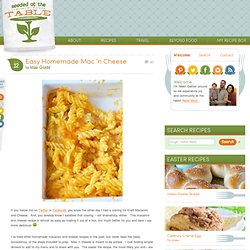 And, you already know I satisfied that craving – not shamefully, either. This macaroni and cheese recipe is almost as easy as making it out of a box, but much better for you and dare I say more delicious! I've tried other homemade macaroni and cheese recipes in the past, but never liked the taste, consistency, or the steps included to prep. Mac 'n cheese is meant to be simple.
---