Katiebug464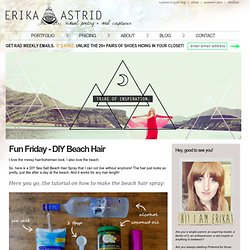 Fun Friday - DIY Beach Hair - asuyeta [ah-soo-yeh-tah] clothes & accessories. handmade with love.
I love the messy hair/bohemian look. I also love the beach. So, here is a DIY Sea Salt Beach Hair Spray that I can not live without anymore! The hair just looks so pretty, just like after a day at the beach.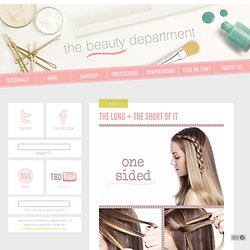 THE LONG + THE SHORT OF IT - thebeautydepartment.com - StumbleUpon
photos: justin coit + thebeautydepartment.com post designed by kristin ess Remember when Lauren's go-to hairstyle was the bang braid? Well, lately this little lady's had a new favorite. Check out this gem.
How To Style a Side Braid
Here's a brand new, extra magical hair how-to by Katie of Skunkboy. 1.Start with a dramatic side part. 2. Separate a small section of hair on the side. This will be the beginning of your braid. 3.Taking that section, separate it into two smaller sections. 4. Using a fishtail braid method, begin braiding. 5.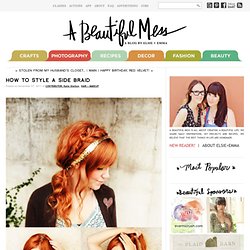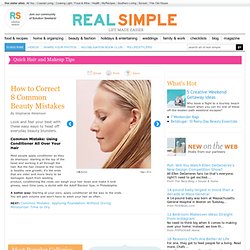 How to Correct 8 Common Beauty Mistakes
By Stephanie Abramson Look and feel your best with these easy ways to head off everyday beauty blunders. Common Mistake: Using Conditioner All Over Your Hair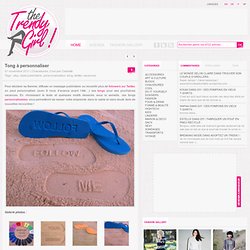 Pour déclarer sa flamme, diffuser un message publicitaire ou recueillir plus de followers sur Twitter, on peut personnaliser (avec 8 mois d'avance avant l'été…) ses tongs pour ses prochaines vacances. En choisissant le texte et quelques motifs dessinés sous la semelle, ces tongs personnalisables vous permettront de laisser votre empreinte dans le sable et sans doute faire de nouvelles rencontres ! Galerie photos : Découvrir plus en détails la boutique FlipSideFlops sur Etsy.via
Tong à personnaliser
JOE'S JEANS | Premium Denim
How To Tie a Wind and Fushnicken Resistant Scarf Knot
Hair Bow Inspiration
Sea of Shoes: HAIR HOW-TO
I am sometimes asked how I style my hair, and while my method is far from perfect, I thought I'd show you how! My hair is pretty straight and fine naturally and I always let it air dry. Since I go about three days between washes, I like to curl it on the first day and let it mellow out into some nice waves over the next two. Let's get started! If your hair doesn't hold curl very well then you may want to put a palmful of curling mousse in it when it is halfway dry.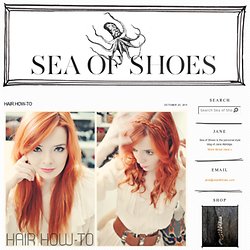 Hard Candy
Pamper and Primp - StumbleUpon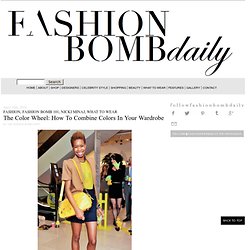 The Color Wheel: How to Combine Colors in your Wardrobe & The Fashion... - StumbleUpon
Ever wonder how some of your favorite fashionistas put colors together to create eye-catching and fabulously colorful outfits? Well so does Fashion Bombshell Kendra who wrote in asking, "As a recessionista engineer, I cannot afford to buy a new wardrobe for the spring/summer. I have great pieces in my wardrobe already so I want to know how to make the most of my wardrobe by playing around with different color combinations. My mom gave me a color wheel as a gift.
How To Style Maiden Braids - A Beautiful Mess - StumbleUpon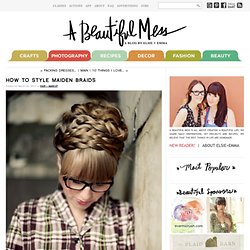 Last month I did a makeover story with Kelsie and had many requests for a maiden braid tutorial. Yesterday she came in and we photographed these simple step by steps. Kelsie has extremely long and thick hair, but anyone with shoulder length or longer can do these braids (see my photo below for an example). Steps 1-2: Braid two strands on each side of a center part.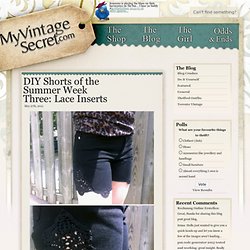 May 27th, 2012 Lace inserts are a popular denim DIY this summer. Usually done with white lace and light denim I wanted to mix it up and try it with black! Sources: (Top Left – Right) 1. Clones 'N' Clowns 2. Refinery29 3.
Blog
{a glamorous little side project}
thebeautydepartment.com -
Indian Vanity Case
Hair Romance
Sephora: Beauty, Skin Care, Makeup, Hair, & Fragrance
Elle and Blair
Beauty Tips, Hairstyles, Makeup Tutorials and Reviews - Beautylish