Social Media Monitoring and Management Tools
7 traits of stellar social media marketers—and tools to help. There are so many fantastic social media tools available to help your business, but it's very difficult to find time to check them out.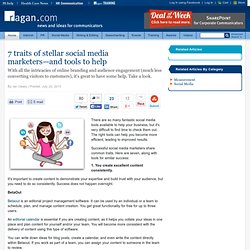 The right tools can help you become more efficient, leading to improved results. Successful social media marketers share common traits. 7 Essential Social Media Tools To Stand Out Online. Best Social Media Metrics: Conversation, Amplification, Applause, Economic Value. Janrain | user management platform for the social web. Dashboard - Buffer. 5 Tools to Battle Social Media Content Overload. This is a guest blog post by Leo Widrich, co-founder of Buffer, a Twitter publishing application.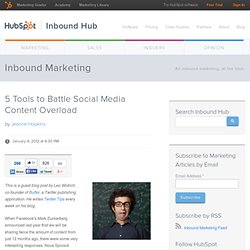 He writes Twitter Tips every week on his blog. When Facebook's Mark Zuckerberg announced last year that we will be sharing twice the amount of content from just 12 months ago, there were some very interesting responses. Nova Spivack mentioned that this will cause a Sharepocalypse to happen. Finding the right filters to optimize both sharing and consuming content is one of the most important ways of dealing with this information overload. The current landscape of tools available to you is abundant, so let's narrow it down to 5 awesome tools that will help you battle social media content overload. Purchase Tweet Adder, Powerful, Easy Twitter Promotion Tool | Twitter Adder - Professional Twitter Marketing Tools - Automatic Twitter Software - Automate Twitter Posts, Auto Twitter Follow, Automate Unfollow, Mass Tweets, Twitter Search, more ..
Tools to Boost Your Social Media Productivity » SocialOomph.com. Social Network Monitoring, Tools and Reporting – Social Report. Home | Shoutlet. 3.4.2 - Free Social Media Marketing Dashboard for Business.
---