Linkbuilding Tools
Have you ever received the dreaded message in Google Webmaster Tools? You know, the one that reads: Dear site owner or webmaster,We've detected that some of your site's pages may be using techniques that are outside Google's Webmaster Guidelines.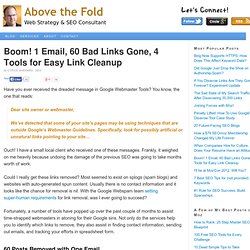 Boom! 1 Email, 60 Bad Links Gone, 4 Tools for Easy Link Cleanup
30 Day Free Trial | Rank Ranger
Social Media Tools | Social Media Analytics | Social Crawlytics
Link Building Tools - BuzzStream
2.7K Flares2.7K Flares × Think you need dozens of tools for link building? Think again. Two weeks ago I asked 55 SEO experts and prolific bloggers a simple question:
55 SEO Experts Reveal 3 Favourite Link Building Tools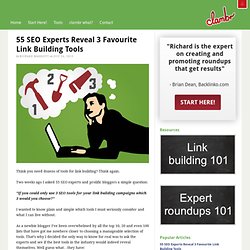 Tons of DataFor Content MarketingAnd Link Building Dozens of data points are includedin the Instant Prospector CSV exports. Ontolo Gathers Contact Information for You You get several pieces ofcontact information on each page.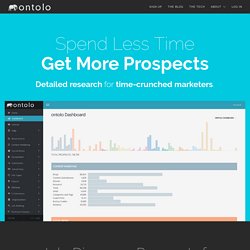 Backlink History Checker Our Backlink History tool allows SEOs to determine the number of backlinks detected by our sophisticated web robots for given domains, subdomains or URLs. Registered users can compare up to 5 domains simultaneously, allowing SEOs to compare our backlink discovery growth rate for competing domains! Link Intelligence API We are the ultimate custodians of the data behind world's most advanced link intelligence map.
I love reading articles about which tools different people use for link buildng purposes. In trying to put together a recommended list of tools for a client who wants to do part of his own link building in-house, I realized that this might be a helpful way for someone to easily build a nice little arsenal to help make the most of his or her link campaign. I'm a firm believer in the idea that no one will care as much about your site as you will. I've also never been annoyed when a client suggests an idea or gives me feedback on my links. The more we all think about link building, the better.
20 Resources To Add To Your Link Tool Arsenal Right Now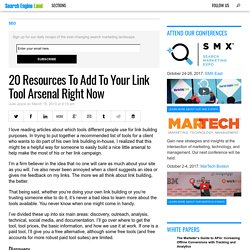 Broken Link Builder | Campaigns
Build Links Faster The Link Prospector uses the latest techniques to uncover the links that will improve your rankings. Our Link Target Score algorithm ensures the best opportunities are at the top of your list. Try it Free Our Link Target Score algorithm floats the best link opportunities to the top of your prospect list to ensure that you don't waste time chasing links that won't improve your rankings. Identify your keywords, and use our presets to discover thousands of link building and outreach prospects.
Link Prospector | Citation Labs Link Prospector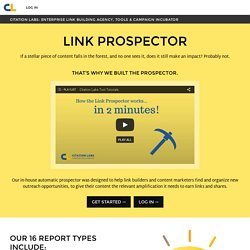 Link Detective
Your Current Link Metrics Tell Less Than Half of the Story Most link metrics tell a story you already know -- people are ranking with authoritative links and heavy use of anchor text. No matter how you slice that, it doesn't get more actionable. The challenge is figuring out where you can GET THOSE LINKS! That's where Link Detective comes in. Link Detective rifles through a backlink profile using semantic markup and URL naming conventions to group links by type.
Link Detective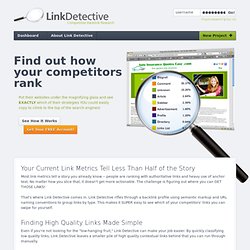 Loading ... The "Google Penguin Update" hit thousands of SEOs and webmasters and took some major income streams with it. I want to show how Google uses co-citations and co-linking analysis to identify link networks. Why would YOU want to identify link networks?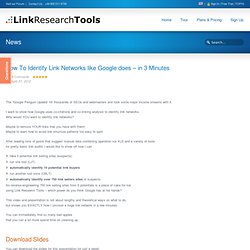 How To Identify Link Networks like Google
Link Extractor - Find Outgoing Links
Flow Metrics will change the way you look at links
Flow Metrics™ will change the way you look at links By Dixon Jones May 14, 2012 Oh wow are we excited. We have been working on this for months… and months… and months.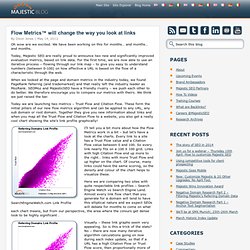 9 Free Tools For Link Discovery & Content Creation
Every day it seems that there's a new tool out there to monitor, measure, track, and suggest what we should be doing. Many of these are free or offer free trials, which I love, but finding the time to test out a new tool in order to see if it suits you isn't always easy. My objective in using these tools is, of course, building links, so I'll go over the tools that I use and show you how I'd use them. And hey, they're all free!! For the record, I'm not interested in competitive analysis, analyzing sites, using social media (with one notable exception, and my exclusion here is only because that topic has been well covered both on this site and elsewhere) or examining existing backlinks.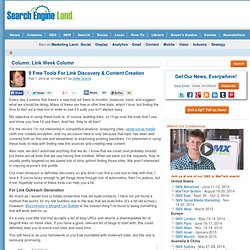 Link Building Tool Review: Majestic SEO
Next up in our tool review series is Majestic SEO's suite. There are 4 levels of access with one being free (and limited) and the others being grouped by the amount of reports/access to their API needed. (Note: the free package may still require you to register in order to see a fuller dataset.)
Video: This Stuff Really Works! Blogging Underground Targeted Traffic System
Special Offer - Get a Quarterly BU Membership for $99. every 3 months - that's only $33. a month! You get 100% FULL ACCESS and SAVE OVER 50% with this Special Deal + a Bigger Bonus! For more details on the Quarterly and Annual Packages and Big Bonuses CLICK HERE! Watch my video where I go DOMAIN HUNTING!
Whether you are link build­ing for one web­site, or 100 web­sites, organ­i­sa­tion will make-or-break how suc­cess­ful you are in achiev­ing your pre­de­fined cam­paign objectives. There is a cog­ni­tive limit to the num­ber of peo­ple with whom one can main­tain sta­ble relationships. If you are try­ing to do this en masse, on behalf of what might be sev­eral web­sites at once, then it's fair to say that you will have your work cut out.
Better Link Building with BuzzStream | eat.sleep.search.
Link building is full of time consuming, repetitive tasks. I've written once before about humanistic scaling, which works great as a strategic approach to link building, but ultimately, there will always be a degree of heavy lifting that requires someone to sit down and work through a bunch of repetitive tasks. This includes tasks like advanced searches, prospecting, contact detail discovery, following up with content writers, sending emails, reminding yourself to follow up, and copying information from tool to tool or source to tool with no streamlined workflow. I'd like to share some useful tools that can help you scale these tasks (some of them I use all the time, others I've poke around with at times, and others are just cool and useful when needed). Quix + Bookmarklets Bookmarklets are a great way to speed up repetitive and straight-forward tasks by writing them out in JavaScript.
18 Tools to Speed Up Link Building | Justin Briggs
Backlink Indexing Service Comparison Case Study -
Link Building Tool Review: Raven Tools
Link Building Tool Review: SEOmoz PRO
Improve Search Engine Rankings with PostLinks.com Automated Link-Building Software
Check My Links Chrome Extension - A Link Builder's Dream - YOUmoz
Steve & Tim's IMA Membership Program
SpinProfit - Free Article Spinning Service
One Way Links
SEO Link Reports Demo